Fairview Community Center
Introduction
Fairview Community Center is a historic community center in Fairview, Oklahoma. It was constructed in 1939 under the auspices of the Public Works Administration, a New Deal program. The building was designed in the Art Deco style by John C. Hope, an architect from Oklahoma City. It is listed on the National Register of Historic Places.
Images
Fairview Community Center Image credit: https://www.nps.gov/nr/feature/places/15000873.htm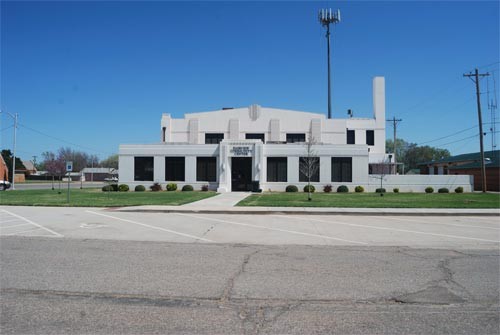 Backstory and Context
The Public Works Administration (PWA) was a New Deal program designed to stimulate employment by providing grants to local governments for the construction of public buildings. After receiving applications, the PWA would grant 45% of the cost of a project which would then be constructed by a local private company. The PWA provided grants for 4,237 buildings including 302 in Oklahoma.

In the years leading up to 1939, desire for a new city hall had been growing in Fairview. An example of this sentiment can be found in an editorial of August 13, 1936 in the Fairview Republican entitled "How One Taxpayer Sees Community Building. In the editorial, Henry Bower lays out reasons for constructing a new community center including a need for better performance space, more office space, room for conventions, and the incentive provided by the PWA grant.

A bond was approved by the voters of Fairview to build a new community center in September of 1938, and ground was broken in December. The building was designed by Oklahoma City architect John C. Hope in the Art Deco style. It included offices, a library, and an auditorium with a 1,500 person capacity. It was one of three buildings constructed in partnership with the WPA; the others were a fire station which no longer survives and the Major County Exhibit/Livestock Building, which has been heavily altered. After a period of closure, the building was re-opened in 2010 and serves as an event space for the City of Fairview.



Sources
Archambo, Allison. "Fairview Community Center." National Register of Historic Places Registration Form. National Park Service. US Department of the Interior. https://www.nps.gov/nr/feature/places/pdfs/15000873.pdf. Accessed October 21, 2018.