Old Ship Street Historic District
Introduction
Between 1631 when the first ship constructed at Medford was launched into the Mystic River and 1873 when the final Medford vessel was completed, Medford was one of many Massachusetts communities that were tied to shipbuilding. The height of Medford's shipbuilding industry took place during the nineteenth century when over 560 trade ships were constructed in the yards which lined what is today known as Riverside Avenue. During that time, over a quarter of all the shipbuilders in Massachusetts were employed in Medford, which was famous for its speedy clipper ships. Now a residential neighborhood, Medford's Old Ship Street Historic District was both workplace and home to shipyard owners, carpenters and joiners, blacksmiths, and other tradesmen and their families who made their living in the shipbuilding industry from the late 17th to the late 19th century.
Images
Construction of The Pilgrim, 1873 (image from the Medford Historical Society)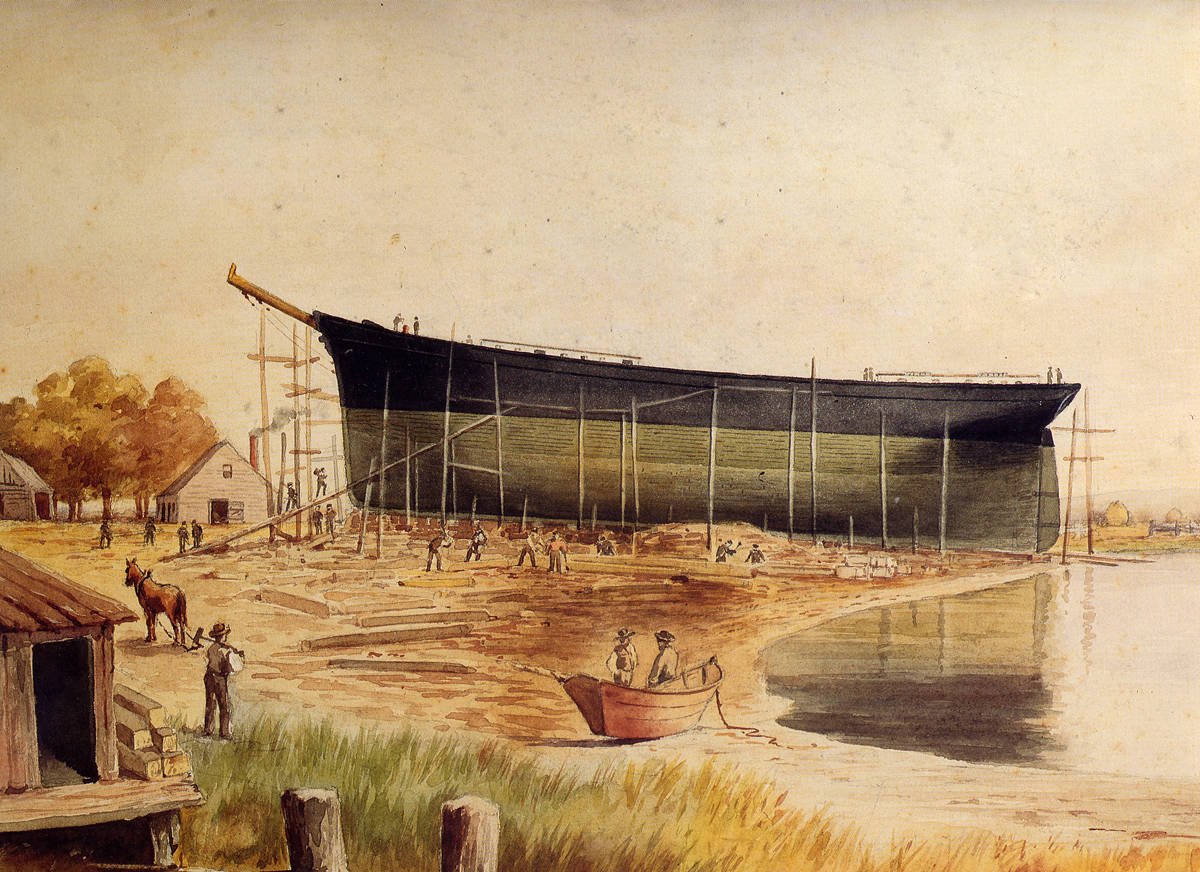 Thatcher Magoun (image from the Medford Historical Society)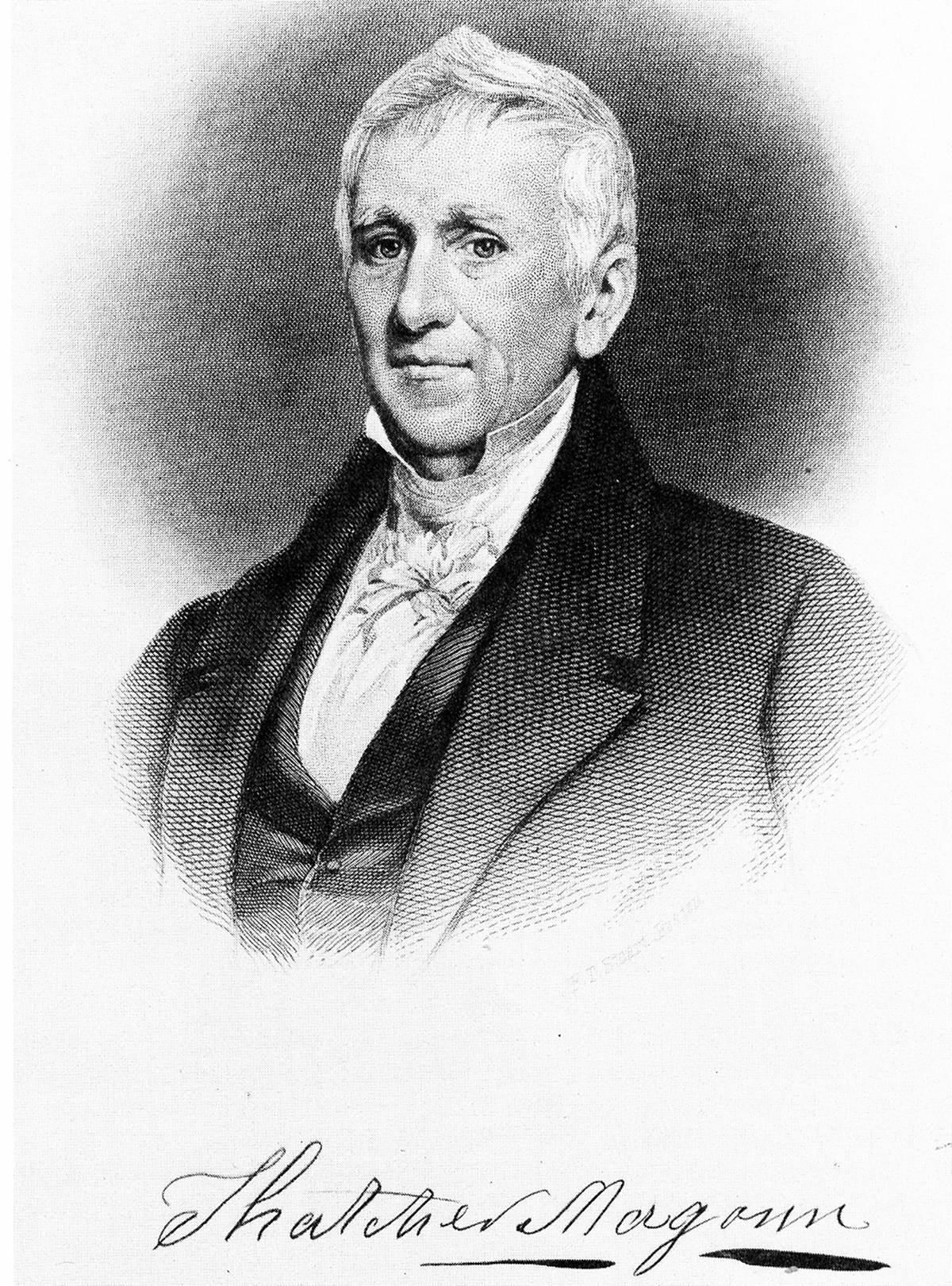 Backstory and Context
A Brief History of Shipbuilding in Medford
The Medford thoroughfare first known as Town Road or River Road and today known as Riverside Avenue was, from 1829-1872, known as Ship Street. In the mid-1600s, only a farmhouse and two brick homes were located on the road. The first ship built at Medford, The Blessing of the Bay, was a barque commissioned by Governor John Winthrop in 1631. Matthew Craddock had three more large sailing ships built over the course of the next two years, and a shipbuilders' company was formed in 1644; however, most of the ships built in Medford before the nineteenth century were small sloops and schooners known as "lighters". Cargoes included bricks, rum, salt and sugar, salted meats and fish, vegetables, chocolate and molasses, iron, steel, lead, and guns and powder.
The Middlesex Canal, which connected Boston and the Mystic River at Medford to the Merrimack River, opened in 1804, causing a boom in Medford's ship-building industry. Just two years before, Thatcher Magoun (1775-1856) had moved to the town from Pembroke, Massachusetts and built the first large-scale shipyard in Medford.
Magoun had worked as a ship carpenter in Salem, then Charlestown, before deciding to begin his own shipbuilding business. Medford land was inexpensive, and the tides and riverbed of the Mystic at Medford were ideal. With the opening of the Middlesex Canal, the upper Merrimac area could transport lumber cheaply and easily to Medford. Magoun's first vessel, the Mt. Aetna, was constructed in 1803, based on a model he had built while working in Charlestown; between 1803 and 1836 Magoun's yard made 84 of the 568 ships built in Medford in the 19th century. Specializing in ships and brigs of 250 tons and larger, Magoun's vessels were designed for trade with China. He built a fortune from both construction and ownership of these trade ships, moving from Park Street to a mansion on High Street (now the Medford Public Library) in 1835.
Magoun's shipyard was the first and largest in Medford, but there were many others along the one-mile stretch of riverfront along Ship and South Streets: the yards of Turner and Briggs, Samuel Lapham, Jotham Stetson, James Ford, Sprague and James, Waterman and Ewell, James O. Curtis, Paul Curtis, Cudworth and Hayden (who took over Magoun's yard), and Joshua T. Foster.
Many of the homes of these shipbuilders, who lived along and in the vicinity of Pleasant Street, were constructed by carpenter Oakman Joyce, who taught his trade to Faphet Sherman. Sherman subsequently worked as a finisher for ship's cabins and designed the interiors of the homes of prominent Medford citizens including James Tufts, George Stearns, and Edward Brooks. Sherman also served on the Volunteer Fire Department and helped prevent an arson attempt in 1855, served on the Board of Trustees, and was a keen naturalist.
Samuel Lapham apprenticed with Magoun before starting his own business in 1830, and also served as the first chief of the Medford Fire Department. Galen James, Waterman, Ewell, and Paul Curtis also apprenticed with Magoun, and Deacon Roland Jacobs in turn apprenticed with Sprague and James before working in the navy yard of Magoun during the Civil War and, later, Foster's yard. Joshua Foster served as captain of the Medford militia in the 1830s, as a selectmen, as an assessor, and as a representative in the Legislature. Foster's shipyard was Medford's last, beginning in 1852 when he took over proprietorship of the yard of his employers, Sprague and James; from this yard, in 1873, the last Medford ship, The Pilgrim, was launched.
Medford's specialties were clipper ships and a "new type of ship" which could be handled by a crew of 18, carrying 450 tons at a speed one and a half times greater than that of a British-Indianman of 1500 tons. The clipper ships of Medford were famous for making the fastest passages to California. The shipbuilding industry employed approximately 350 Medford men in the mid-nineteenth century, a quarter of all shipbuilders in the state of Massachusetts (3). One ship took around 60 men working sunrise to sunset six months to complete, and on launch days the citizens and schoolchildren would come to watch crews slide the ships into the Mystic River.
Shipbuilding in Medford declined as wooden ships were replaced by iron steam-powered vessels, and as foreign ports became cheaper than American ports for the construction of ships. After Foster launched The Pilgrim, he turned his shipyard into a lumber yard, and he petitioned the city to change the name of Ship Street to Riverside Avenue.

Sources
1. Clemson, John D. "A History of the Development Of The Glenwood Section Of East Medford." East Medford Historical Properties Survey. 2016. Accessed October 14, 2018. https://medfordhistoricalcommission.files.wordpress.com/2018/04/history-of-east-medford-clemson.pdf. 2. Gleason, Hall. "Old Ships and Ship-Building Days of Medford 1630-1873." West Medford, 1936. Reprinted 1998, Medford Co-Operative Bank. Accessed October 20, 2018 at http://www.medfordhistorical.org/wp-content/uploads/2016/01/Old-Ships-and-Ship-Building-Days-of-Medford-1630-to-1873_1936.pdf. 3. Seaburg, Carl and Alan Seaburg. "Making Bricks in Medford." From Medford on the Mystic. The Medford Historical Society, April 1980. Accessed September 30, 2018 at http://www.medfordhistorical.org. 4. Woolley, Fred H. C. "Old Ship Street." Presentation to the Medford Historical Society, 1901. Accessed through Tufts University October 14, 2018 at http://www.perseus.tufts.edu/hopper/text?doc=Perseus%3Atext%3A2005.05.0004%3Achapter%3D17.

Additional Information