Integrating Basketball Historical Marker: Bill Garrett
Introduction
Located outside the Wildermuth Intramural Center on Indiana University's campus, this historical marker is dedicated to Bill Garrett, the first African American to play basketball in the Big Ten. In his first year playing on the varsity team, Garrett led all players on his team in scoring which helped convince coaches and officials throughout the Big Ten to integrate their teams. Garrett's impact as a trailblazer also reached other parts of the campus. Once he broke the color barrier on the court, swimming pools, dorms, and diners also opened up to other Black students at Indiana University.
Images
This is side one of Bill Garrett's historical marker.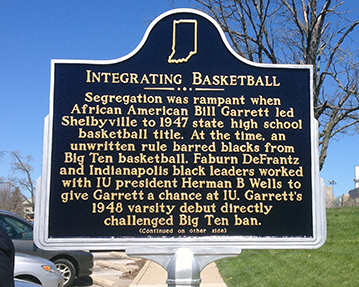 This is side two of Bill Garrett's historical marker.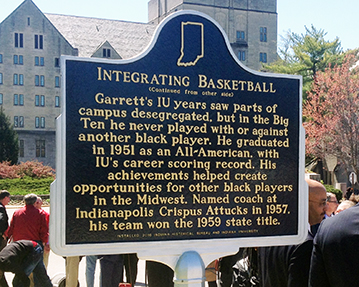 This is an image of Bill Garrett, the first Black basketball player in the Big Ten Conference.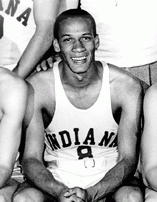 Backstory and Context
In the mid-1940s, segregation was still a factor in Shelbyville, Indiana, but William Leon Garrett was going to change minds and make history on the basketball courts in Shelbyville, Indiana and at Indiana University. Garrett's talent on the court allowed him the opportunity to play basketball for Indiana University and become the first African-American to be a regular starter on a Big Ten Conference team. Allowing Garrett the opportunity to be a starter on the varsity squad opened the doors for other African-American basketball players, and it also improved the living conditions for other students and athletes at Indiana University. Bill Garrett's contribution to breaking the color barrier in college basketball is honored by a historical marker outside the coliseum where he first began playing basketball.
Born in 1929, William Leon Garrett, better known as Bill Garrett, attended segregated schools, such as Booker T. Washington Elementary School and was only one of a few Black students in his class at Shelbyville High School. His God-given gifts on the basketball court won over the hearts of fans despite the color of his skin. On his high school basketball team, Garrett was one of three African American players that led the Shelbyville Golden Bears to the school's first state high school basketball championship his senior year where he set a new high school scoring record of ninety-one points in the tournament. He was also named "Mr. Basketball" that year. That award goes to the best high school basketball player in the state or region. During his senior year, he led the Indiana's state All-Star team to a victory over Kentucky All-Stars as well.
With all of his high school basketball accomplishments, his college career was still in doubt because of the unwritten "gentleman's agreement" that barred African American students from playing college basketball in the Big Ten Conference. Garrett hoped to play at Indiana University or Perdue, but both schools adhered to the unwritten rule. His next option was to play basketball in California until Faburn DeFrants, Executive Director of the Senate Avenue YMCA in Indianapolis, and other Black civil rights leaders traveled to Indiana University on his behalf. The leaders met with the University's President, Herman Wells, who agreed to discuss the issue with the college's basketball coach, Branch McCracken. In 1947, he made the freshman team and played with them before breaking the color barrier by joining the varsity team his sophomore year. His first game as a regular starter came in December 1948 when the Indiana Hoosiers defeated DePauw, 61-48. Garrett's entry into the game was the beginning of the end for the "gentleman's agreement". While playing for the Indiana University Hoosiers, some of his accomplishments elected to the All-Big Ten First Team, his teammates voted him MVP his senior year, led all players in scoring with two hundred twenty points, and coaches elected him to the College All-Star team as a write in after his name was left off the ballot. Garrett was also named to the Race Relations Honor Roll in 1950 for his role in breaking the color barrier.
When Bill Garrett broke the color barrier in college basketball, it helped improve race relations all over the state where fans cheered their favorite players despite the color of the player's skin. Race relations on campus improved as well. Students began sharing diners, swimming pools, and dorms to name a few changes that occurred due to the color barrier being broken. After college, the Boston Celtics drafted him which made him only the third Black athlete to be drafted to the National Basketball Association, (NBA), but he never got the chance to play in the NBA because he was drafted into the U.S. Army during the Korean War. After his stent in the Army, he played a couple years for The Harlem Globetrotters and became a high school basketball coach in his home state of Indiana.
Sources
Bill Garrett Has Historical Marker Dedicated. Indiana University Men's Basketball. April 08, 2017. Accessed October 29, 2018. https://iuhoosiers.com/news/2017/4/8/mens-basketball-bill-garrett-has-historical-marker-dedicated.aspx.

Neddenriep, Kyle. Bill Garrett to be Honored for Integrating Big Ten Basketball 70 Years Ago. Indy Star. April 17, 2017. Accessed October 15, 2018. https://www.indystar.com/story/sports/high-school/2017/04/07/bill-garrett-honored-integrating-big-ten-basketball-70-years-ago/100100312/.


Additional Information