Finch Building
Introduction
This beautiful Renaissance Revival building was erected in 1899 as the headquarters of the International Correspondence School (ICC), an organization that pioneered the concept of distance learning by offering coal miners in the state to take classes by mail. Over its long history, a number of tenants have occupied the building including the Hudson Coal Company. Hudson was a leader in the Pennsylvania coal industry and played an important role in Scranton's history. Given the building's architectural significance and its association with the International Correspondence School and the coal industry which was central to Scranton's economic growth, the building was added to the National Register of Historic Places in 1976. Today, the Finch Building is home to apartments.
Images
The Finch Building is a fine example of Renaissance Revival architecture and is significant for its association with the International Correspondence School and the coal industry.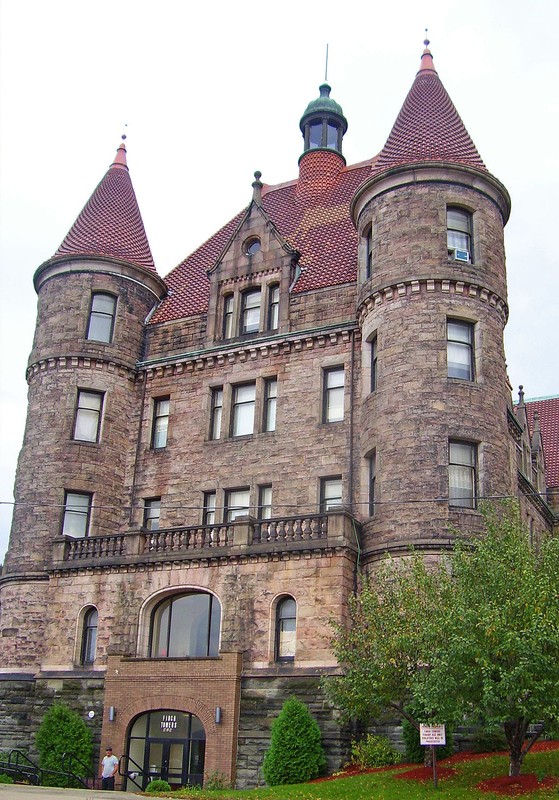 Backstory and Context
The International Correspondence School was established in 1891 by Thomas J. Foster, publisher of a journal called Colliery Engineer and Metal Miner. Alarmed at the high number of accidents in coal mines, clearly something had to be done. The state legislature passed the Mine Safety Act in 1885, which required miners and inspectors to pass safety exams. However, many miners were foreigners and did not speak much English and few had little education.

So in response, Foster started to publish a question and answer column in the journal. Miners were asked to send in questions as well. Before long, Foster and his staff received far too many questions to handle themselves. It was at this point that Foster decided to create the Correspondence School. Gradually, enrollment grew from 500 in the first class to over 190,000 students within eight years. A variety of courses were offered as well. Also, for a short time the school even offered class space in Scranton for those who wanted to take classes in person. The school's popularity continued to grow, totaling over a million cumulative enrollments by 1910, and four million by 1930. During World War II, the War Department awarded the school a contract to develop the department's training manuals.

By the mid-1990s, the role of correspondence schools had declined. The ICC changed its name a few times and is now called the Penn Foster Career School, which is an accredited post-secondary distance education school.
Sources
"International Correspondence Schools of Scranton, Pennsylvania - 1891 to the Present." The University of Scranton Special Collection and Archives. Accessed October 9, 2018. https://www.pennfoster.edu/why-penn-foster/about/mission-and-history.

Horlacher, Thomas C. "The Finch Building." National Park Service - National Register of Historic Places Nomination Form. http://www.dot7.state.pa.us/CRGIS_Attachments/SiteResource/H000627_01H.pdf.

"Mission & History." Penn Foster Inc. Accessed October 9, 2018. https://www.pennfoster.edu/why-penn-foster/about/mission-and-history.

Photo: Wikimedia Commons