Owen Park and The Oldest House in Tulsa
Introduction
Created in 1920, Owen Park is Tulsa's first public park. It is 24 acres in size and features a rustic stone bridge, a monument to Native Americans, the Tulsa Children's Museum Discovery Lab, and Tulsa's oldest house, which was built in the 1880s. The surrounding neighborhood features early 20th-century middle-class residential architecture. The emergence of the city's middle class was the direct result of Tulsa's rise as an important center of oil production. The park is named after Chauncey A. Owen (1847-1930), who was one of Tulsa's prominent citizens, earning his wealth in ranching and farming. Owen owned lots of land including what is now the park. He decided to sell it to the city in 1909 since there was little public interest in the land. As a result, the park was created a year later. The park was added to the National Register of Historic Places in 1999.
Images
The oldest house in Tulsa was built in the mid-1880s and is located in Owen Park, which was created in 1910 as the city's first park.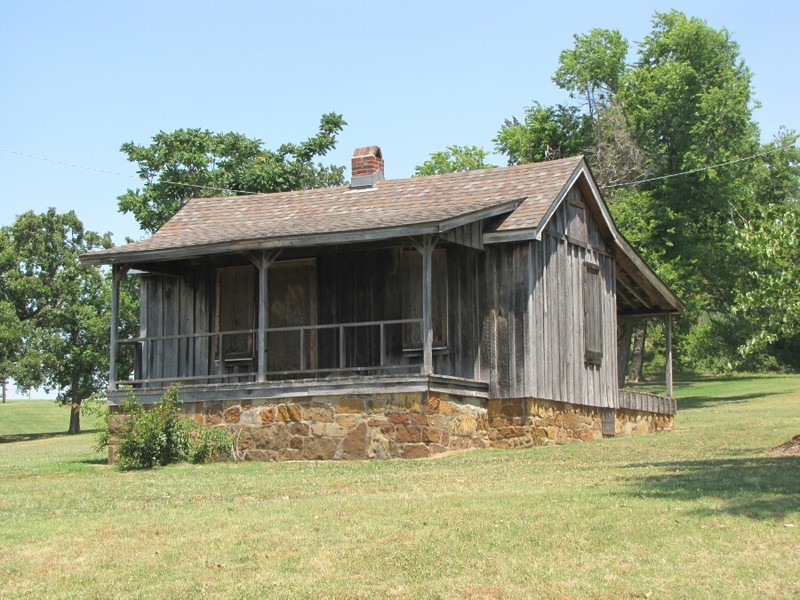 Backstory and Context
The oldest house in Tulsa was built by Rev. Sylvester Morris, who was a Methodist missionary and founder of several churches in the Tulsa area. Designed in the "Folk" style, which typically features a simple rectangle shape and an open porch with a shed roof. It was moved to the park in 1976. Tragically, Morris was shot and killed by lawmen who thought he was selling whiskey. The house is also significant for the fact that it pre-dates the Land Rush of 1889, the first time ceded lands (from Indian tribes) were opened up to settlers, who lined up before being allowed to "rush" into the territory to claim pieces of land.

One of the other interesting sites in the park is the aforementioned Native American monument, which was erected in 1935. Just a few hundred feet to the east of the monument was the boundary of territory belonging to the Osage Indians. In June 1825, the Osage and the U.S. government signed a treaty allowing Cherokee and Creek tribes to settle here. The monument commemorates this event.

Sources
"Indian Memorial." The Historical Marker Database. Accessed October 7, 2018. https://www.hmdb.org/marker.asp?marker=111583.

Kellv L. Molloy & Susan A. Kline. "Owen Park Historic District." National Park Service - National Register of Historic Places Nomination Form. September 9, 1999. https://npgallery.nps.gov/GetAsset/fdf751ba-a142-410a-b421-8ccdd9edc14e.

"The Oldest House in Tulsa, 1885." Historic Tulsa. June 26, 2009. http://historictulsa.blogspot.com/2009/06/oldest-house-in-tulsa-1885.html.

"Tulsa's Oldest House." Tulsa Architectural History. December 8, 2008. http://tulsaarchitecture.blogspot.com/2008/12/tulsaa-oldest-house.html.

Photo: Wikimedia Commons
Additional Information