NIH Building 2
Introduction
Building 2 was built for the NIH's Division of Industrial Hygiene. It contained the first labs in the U.S. built solely for the study of the health and safety of workers in the workplace, responsibilities which now belong to OSHA, NIOSH, and the EPA. Construction of Building 2 was handled by the George A. Fuller Company and completed on December 15th, 1938. The red-brick walls, slate roof, and double chimney "pents" are based on colonial Maryland architecture. Currently, there are no labs in Building 2. Instead, the building houses the Office of Intramural Training and Education, the Office of Loan Repayment and Scholarship, the Office of AIDS Research, and the Office of Equal Opportunity.
Images
Building 2 shortly after completion on December 15th, 1938.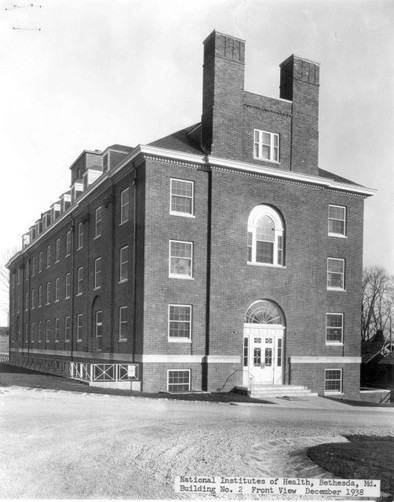 c. 1938. Laboratories in Building 2 were state-of-the-art for the time. Note the fume hoods and exhaust pipes in the background. The valves in the foreground gave researchers easy access to gas, water, and compressed air.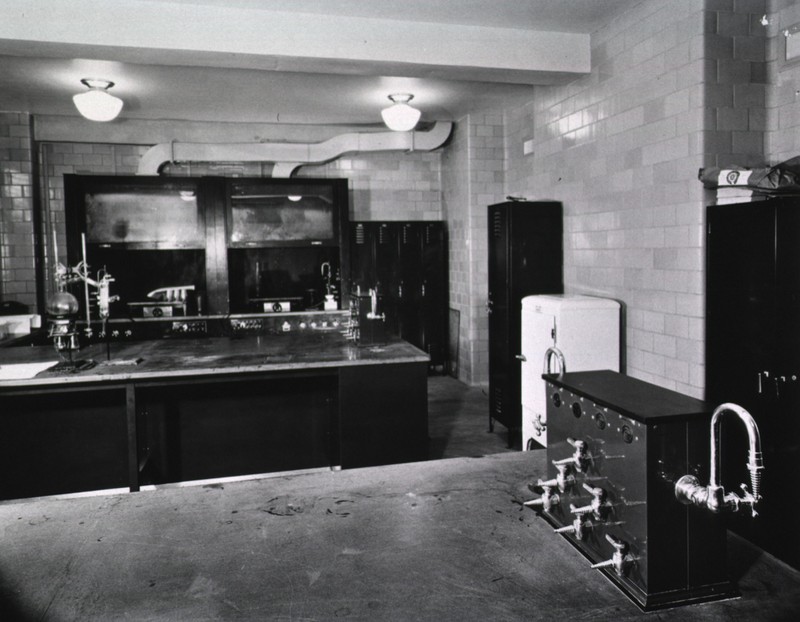 Kewaunee Manufacturing Co. valve designs had no trademarks on them, but due to an error in manufacturing, they were on the finished valves. Discrepancies between design and product were not allowed, an error that cost KMC $111.80.
These electrical panels were installed to give researchers better control of electrical equipment in the laboratories. They allowed for researchers to easily turn on or turn off individual pieces of equipment.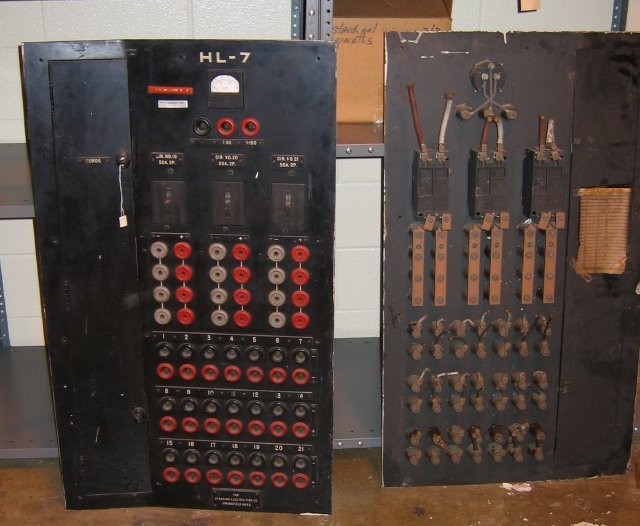 These venetian blinds are an example of how researchers were involved in the design of NIH laboratories. The scientists worked with contractors to ensure that the blinds were made from wood with metal tape – materials which would not corrode easily.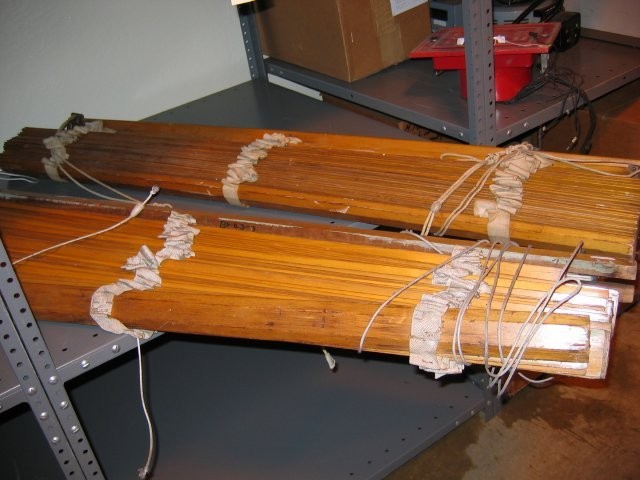 1938. Dr. Sanford Rosenthal's research on mercury poisoning in the American hat-making industry led him to develop a treatment for mercury poisoning.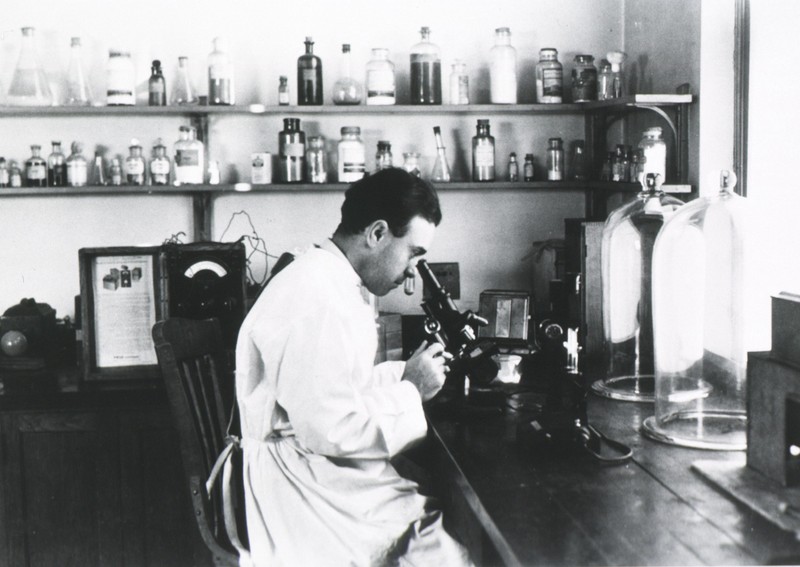 1938-1939. Bausch & Lomb built this spectrometer to Dr. Frederick Brackett's design. The device contains two of the largest natural quartz prisms in the world. For more information, follow the link "Brackett Spectrometer" at the bottom of the page.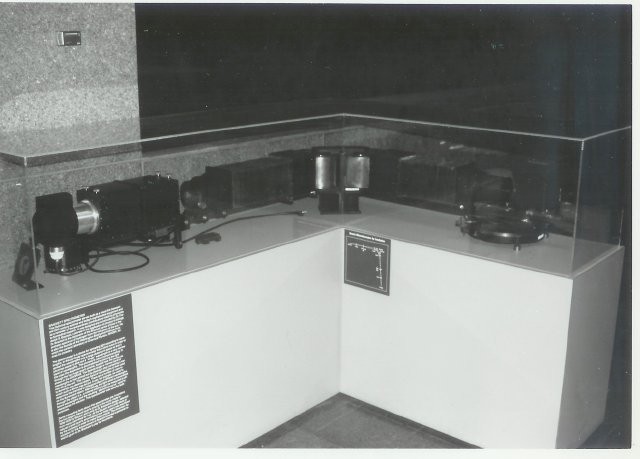 Backstory and Context
Mines without proper ventilation are filled with dust, truck drivers get tired when driving long distances, and mercury is poisonous. This information is readily available to us today, but, in the early 1900s, these facts were relatively unknown. In response to the rapid industrialization of those years, the NIH (National Institute of Health – then singular) began emphasizing research into the causes of workers' illnesses. Furthermore, the looming crisis of World War II led to a boom in the number industrial workers and an urgency to keep them healthy. This research into the health and safety of workers is called industrial hygiene.
Building 2 contained the first laboratories in the U.S. dedicated to industrial hygiene research, and NIH researchers were involved in the design process. These state-of-the-art labs provided scientists with hot and cold running water and proper ventilation. Built-in fume hoods and air hoses kept noxious chemicals from building up in the air. Electricity was wired through conduits contained in service panels (see photo above) which allowed researchers to easily patch in cables for various pieces of equipment. Each piece could be controlled as necessary. Even the venetian blinds were designed according to researcher's specifications: wood with metal tape to ensure that corrosion would not be an issue.
There were labs in Building 2 built to study air and water quality in factories, workers' exposure to chemicals, and worker fatigue and metabolism. During World War II, there was even an altitude chamber for research on how altitude affected the performance of airplane pilots. Footage of some of these labs, including the altitude chamber, can be seen below in the 1941 Public Health Service (PHS) film "Save a Day".
The Industrial Hygiene scientists often invented their own research instruments. Newer industries such as airplane construction had hazards never seen -- or studied – before. And new technology allowed the hazards in older industries such as mining to be studied more completely. One such dangerous older industry, which the division tackled in the late 1930s, was hat-making.


Mad as a Hatter:
Mercury poisoning had been an issue in the hat-making industry since the 17th century when mercurial salts were introduced as a method of matting wool fibers to make felt for hats. Among other symptoms, mercury poisoning causes tremors, irritability, depression, and possibly suicide. These mental health problems in the hat-making trade are the reason for the phrase "mad as a hatter".
Despite legislative bans in other countries such as Britain and France, the use of mercury salts in American hat-making continued well into the 20th century. Because most Americans then wore hats every day, hat-making was a massive industry. Mercury poisoning among these workers was still common in the 1930s, when Dr. Sanford Rosenthal, a researcher in the Division of Industrial Hygiene, developed a treatment for the disease. He discovered that sodium formaldehyde sulphoxy could be used to degrade mercury into less toxic compounds. His treatment, hailed in newspapers all over the country, was used until the development of Dimercaptosuccinic acid and chelation therapy to remove the metals from the body.
Rosenthal was aided in his research by other Division of Industrial Hygiene scientists who developed methods to measure mercury in the air and spectrographically measure mercury in urine. Using these methods, the Division was able to determine how much mercury could be in the air before becoming dangerous. They determined that any amount greater than 1mg of mercury per 10 cubic meters of air could lead to the development of symptoms.
In 1940, the Division issued a Public Health Bulletin which described these findings and recommended methods for the control and prevention of mercury poisoning. One year later, on December 1st, 1941, the Public Health Service used the Division's findings to negotiate a ban on the use of mercury in the hat-making process.
Sources
"A Short History of the National Institutes of Health." Accessed October 10, 2018. https://history.nih.gov/exhibits/history/docs/page_05.html.

"Building 2." National Institutes of Health. Accessed October 10, 2018. https://www.orf.od.nih.gov/AboutORF/BFM/Pages/02.aspx.
"Building Group is Designed for Health Institute," Washington Post. August 27, 1937: p. 15
"Ground Broken for New Home of National Institute of Health," Washington Post. January 12, 1938: p. 17
Lyons, Michele. 70 Acres of Science: The National Institute of Health Moves to Bethesda. 2006. Accessed September 24, 2018. https://history.nih.gov/research/downloads/70acresofscience.pdf.
"Parran Launches Health Institute," Washington Evening Star. January 11, 1938: p. A2
Wajda, Shirley T. "Ending the Danbury Shakes: A Story of Workers' Rights and Corporate Responsibility." Accessed October 10, 2018. https://connecticuthistory.org/ending-the-danbury-shakes-a-story-of-workers-rights-and-corporate-responsibility/.
Wedeen, Richard P. "Were the Hatters of New Jersey "Mad"?" American Journal of Industrial Medicine, 16, no. 2 (1989): 225-33. doi:10.1002/ajim.4700160213.
Additional Information