The City of Rehoboth Beach
Introduction
Rehoboth Beach, Delaware, consisting of 1.18 square miles of land and 47 square miles of water, is nicknamed "the Nations Summer Capital." It was founded in 1873 as an area for beach camp meetings, and has grown to what magazine Readers Digest has proclaimed as one of the "Best of America" in a May 2006 article. Also, it has been named by the company AARP as "One of the five best places to retire."Rehoboth has a mild humid subtropical climate which includes hot summers and cool winters. The beach, paired with its mile-long boardwalk full of shops, restaurants, and other attractions has grown to be a family favorite summer beach destination.
Images
Rehoboth Beach Marker. (describes its founding and history)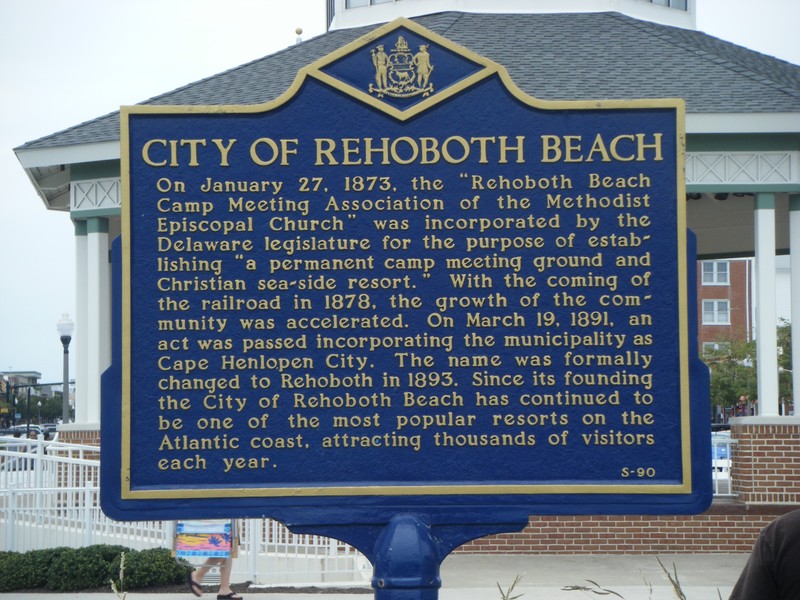 Rehoboth Beach City Square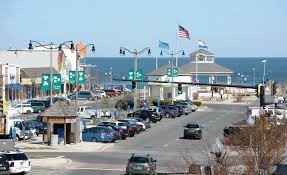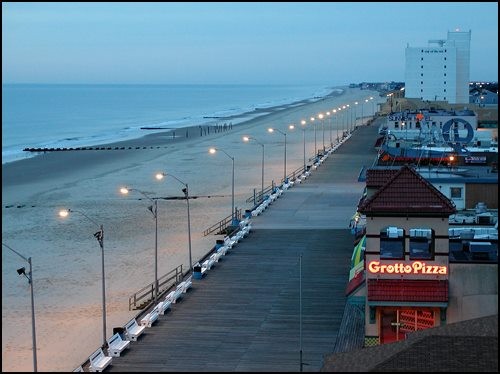 Backstory and Context
The area of present-day Rehoboth Beach was inhabited in about 10,000 B.C. The first Europeans arrived in the 17th Century. American Indian tribes such as the Lenape, Sikkonese, Nantioke and Assateagues all lived in the area. It is thought to have been the most important Native American village on the Middle Atlantic Coast. However, pressure from the English and Dutch settlers caused the Lenape tribes to migrate to northern New York. The Sikkooknese and Assateagues weren't as fortunate, and were extirpated but the Nantioke still reside in the area today. The English and Dutch settlers had control of the land from 1650 to 1675 and the land became home to farmers until the mid 19th Century when they were struggling to make a living off the area due to the poor, sandy infertile soil. It later on became a part of New York state along with the Providence of Pennsylvania and is now in what Is in present day Delaware.
Rehoboth Beach was officially founded in 1873 as the Rehoboth Beach Camp meeting association by Rev. Robert Todd from St. Paul's Methodist Episcopal Church of Wilmington, Delaware. They used the area for camp meetings like the camps that were held along the Jersey Shore and Ocean Grove. The center of camps and city life moved to nearby Baltimore Avenue and stopped its meetings in 1881 and Rehoboth was incorporated by the General Assembly of Delaware as Cape Henolopen City and in 1893 was renamed as Rehoboth Beach.
The first boardwalk was constructed in 1873 and was one mile in length. The junction and Breakwater railroad constructed a line, Lewes, south to Rehoboth in 1878 allowing visitors from northern Delaware and Pennsylvania to come, starting its popularity as a tourist destination. Highway construction between Georgetown and Rehoboth was built in 1925, which helped bring in visitors from Washington, D.C, Baltimore, MD, and Virginia continuing its popularity growth.
Rehoboth Beach is often called the "nations summer capital "because it is a destination for many residents from Washington D.C. Visitors are drawn to Rehoboth's unique boardwalk which is filled with amusement games and rides, attractions, restaurants and shops. In fact, the popular pizza chain Grottos Pizza chain was founded in Rehoboth and now has 23 other locations throughout Washington D.C, Maryland, and Pennsylvania. They also have no sales tax which intrigues visitors to check out the popular Tanger Oulets also located in the city. The outlet includes over 130 stores and has bus tours available for day trips. Rehoboth also is seen as a LBGTQ friendly beach, one reason being its large amount of LGBTQ business owners. Also, LGBTQ residents and visitors in the area go to the LGBTQ part of the beach nicknamed "poodle beach" by its goers.
Sources
"A Brief History of Dewey and Rehoboth Beaches, Delaware." Berkshire Hathaway HomeServices Gallo Realty, www.gotogallo.com/community/visit-our-towns/rehoboth-beach-delaware/brief-history-dewey-and-rehoboth-beaches-delaware.
Chamber, Rehoboth Dewey. "Home - Rehoboth Beach Resort Area." Rehoboth Beach & Dewey Beach Chamber of Commerce and Visitors Center, www.beach-fun.com/.
Fine Line Websites & IT Consulting. "Rehoboth.com." Rehoboth.com - For All Vacation Information about Rehoboth Beach Delaware, Rehoboth.com, www.rehoboth.com/community/town-history/34-rehoboth-beach-early-history.html.
Rosenstein, Peter D. "Rehoboth Beach Delaware; a Very Gay Friendly Resort." The Huffington Post, TheHuffingtonPost.com, 28 June 2017, www.huffingtonpost.com/peter-d-rosenstein/rehoboth-beach-delaware-a_b_10699542.html.
Additional Information