Colt Stadium 1962-1964
Introduction
This short-lived baseball stadium was completed in 1962 and home to the Houston Colts for three seasons before the land was repurposed as the north parking lot of the Houston Astrodome. the former stadium was purposely built to only last three years and was demolished shortly before the Astrodome was complete.
Images
The Houston Colts stadium in 1963.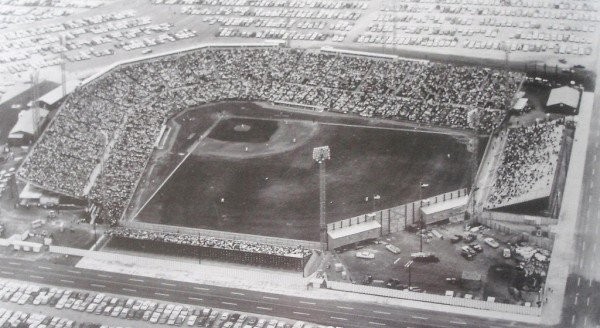 An overview look of the Stadium when it was built.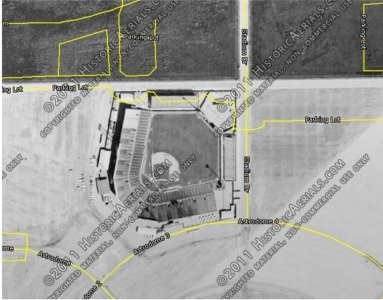 The Stadium and Astrodome after it's last MLB game in 1964.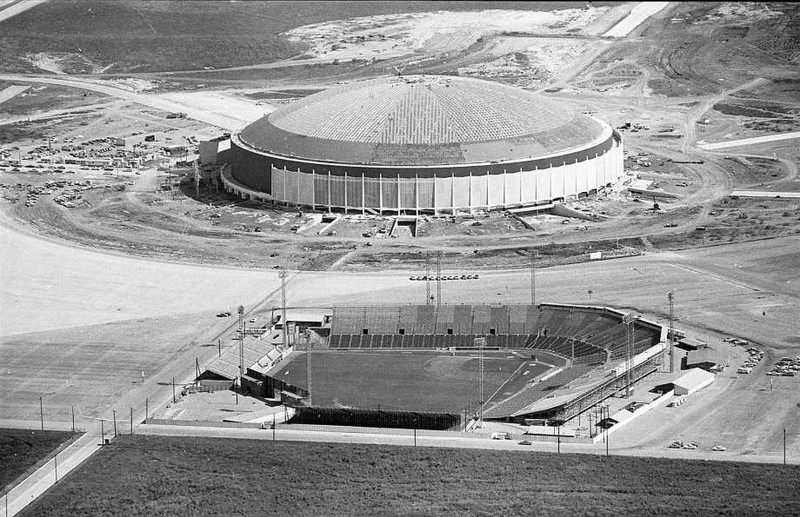 Backstory and Context
In 1960, investors in Houston were awarded a National League franchise by Major League Baseball. The team was known as the Colts and played their home games here starting in 1962 while their future home, the Astrodome, was being planned and constructed.

Colt Stadium was constructed at a cost of around two million dollars and offered a capacity of 33,000 people. The stadium was designed to be modular and temporary, and most of the seats were bleachers and these seats stretched from foul pole to foul pole. The scoreboard was located in the center field with bleachers to the left and right of it as well. Houston summers are notoriously hot, so the single deck-stadium was often quite hot as the design was focussed more on economy than comfort.

The last game held at the Colts Stadium was played on September 27, 1964. The Colts later changed their name to the Astros and moved to the Astrodome. For five years the seats and other portions of the former Colts Stadium were placed in storage. In 1970 team owner Roy Hofheinz sold the temporary stadium to a minor league team in Mexico for $100,000 dollars and the former Texas stadium was dismantled and moved to Torrean, Mexico.
Sources
"Colt Stadium - History, Photos and More of the Houston Astros Former Ballpark." Ballparks of Baseball - Your Guide to Major League Baseball Stadiums. Accessed September 30, 2018. https://www.ballparksofbaseball.com/ballparks/colt-stadium/
"Colt Stadium / Houston Colt .45s / 1962-1964." Ballpark Digest. September 28, 2016. Accessed September 30, 2018. https://ballparkdigest.com/200904041698/major-league-baseball/visits/colt-stadium-houston-colt-45s-1962-1964.

Hlavaty, Craig. "This Week in 1964, Colt Stadium Hosted Its Last MLB Game." Houston Chronicle. September 27, 2017. Accessed October 01, 2018. https://www.chron.com/sports/astros/article/1964-Colt-Stadium-final-Houston-game-9292180.php.
Additional Information