Playhouse Square
Introduction
Playhouse Square is a theater district consisting of five theaters at Euclid Ave and East 14th Street. It was opened in between February 1921 and November 1922. Joseph Laronge worked with business magnate Marcus Loew and others to found a partnership called Loew's Ohio Theaters to develop this theater district. Today, this great and luminous district is owned by a company called the Cleveland Playhouse and is open to all to see any live play, musical, or concert perform for a night of beauty and style and is the biggest theater district outside of New York City.
Images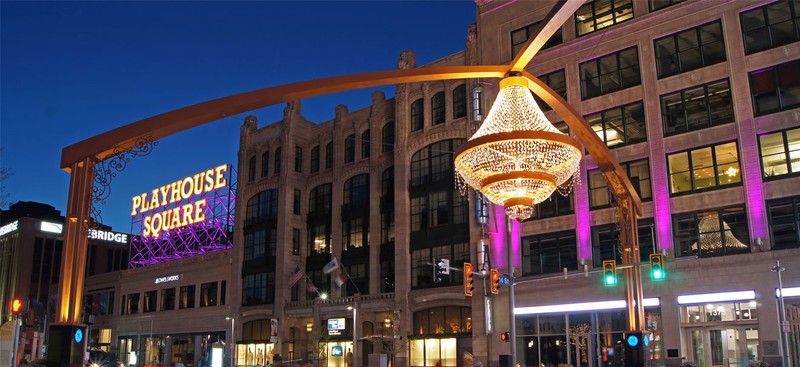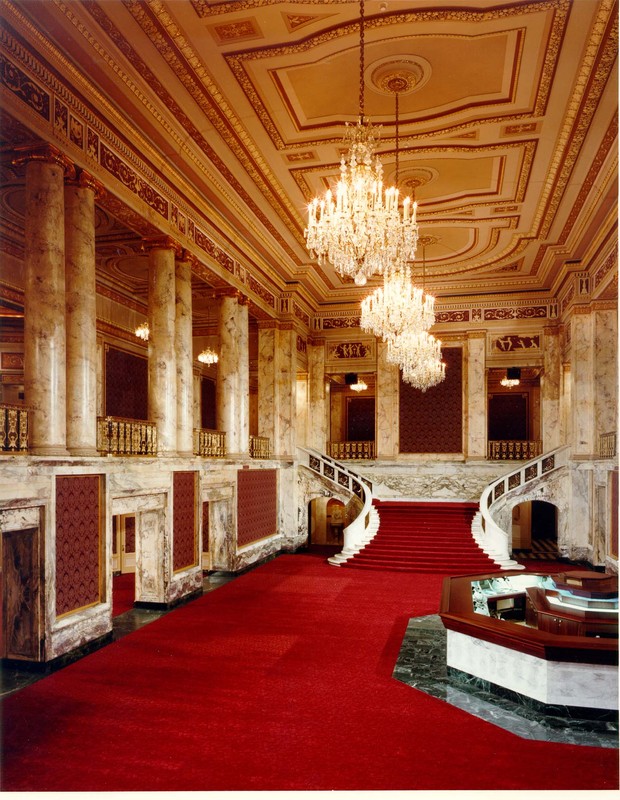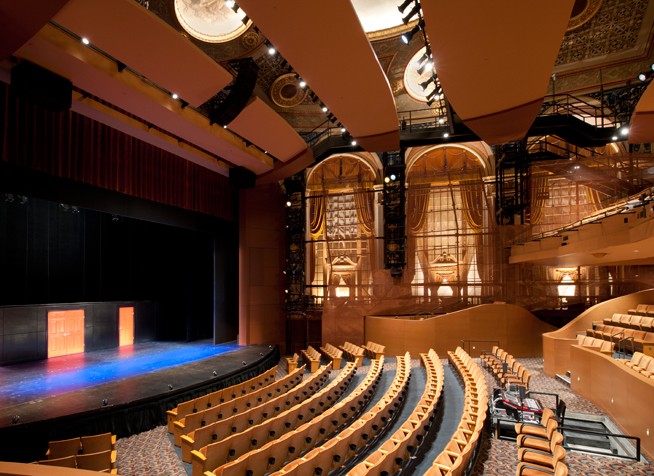 Backstory and Context
After WWI, Joseph Laronge had a vision of five theaters on Euclid Ave. With the help of Marcus Loew and others, Loew's Ohio Theaters was formed and the planned district took shape between 1921 and 1922. In February 1921, the first two theaters that opened were the State and Ohio Theaters. The next month, the Hanna Theater opened in the annex of the Hanna Building. In April, the Allen theater opened in the Bulkley Building next door to the Ohio and State Theaters. It was originally dubbed "Playhouse Square", but the Euclid Square Association interfered and wanted to call it "Euclid Square". This was unsuccessful, and so it officially remained "Playhouse Square". The 8-story commercial and office building contained an innovative enclosed parking garage right behind the theater. Compared to other exotic movie palaces in the 1920s, the relatively early Playhouse Square theaters were in a restrained classic style, with the lavish use of marble, murals, expensive woods, tapestries, and plaster relief.


The Palace Theater was the final theater to be opened in November, 1922 and Playhouse Square was officially opened. After more than four successful decades of stage plays, motion pictures, Cinerama, and vaudeville, the Allen, Palace, Ohio, and State Theaters were all closed in 1969 due to the rising popularity of TV. In 1970, a nonprofit group, the Cleveland Playhouse Association, was formed along with the support from the Junior League of Cleveland, Inc. In 1973, the Cleveland Playhouse Association was created to carry out the operation, restoration, and management of the theaters. By 1991, the Palace, State, and Ohio Theaters were reopened. Three years later, the Allen Theater reopened as well. By 1999, the Hanna Building and Theater were reopened and Playhouse Square came back to life. In 2005, One Playhouse Square Building at 1375 Euclid Ave., was refurbished and reopened as the Idea Playhouse Square.
Sources
Playhouse Square. case.edu. . .
https://case.edu/ech/articles/p/playhouse-square.
Playhouse Square. clevelandhis. September 22, 2010. .
https://clevelandhistorical.org/items/show/61.
History. playhousesquare.org. . Accessed October 05, 2018.
http://www.playhousesquare.org/about-playhousesquare-main/history..
Additional Information