1892 School Building and Museum; Kutztown Area Historical Society
Introduction
Located in Kutztown's historic 1892 public school building, this small museum features artifacts that preserve and share the history of the community thanks to the efforts of volunteers from Kutztown Area Historical Society. The school was the first in the state to offer central heating and is listed on the National Register of Historic Places for its role in shaping the community and for architectural features such as its bell tower. In addition to items related to the school and the local community, highlights of the museum include colonial-era artifacts, a Pennsylvania long rifle that is over two centuries old, and a newspaper from 1799 that announces the death of George Washington.
Images
This former school is home to a small local history museum operated by local volunteers.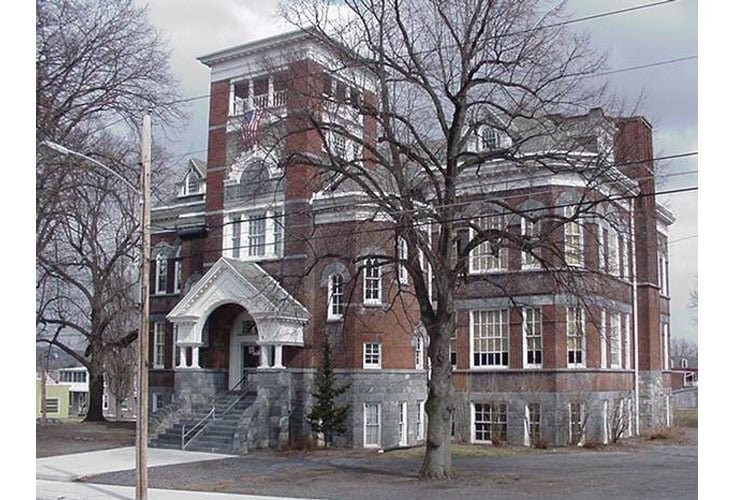 Backstory and Context
Kutztown traces its roots back to 1779 when local landowner George Kutz began surveying his land and planning for the creation of a town given the ideal location of his land along a creek and major road between Reading and Allentown. The predominantly German community grew slowly in the early 1800s, becoming a borough in 1815 and a city thirty-two years later. By the late 19th century, the community had grown and leaders of the public school began construction of this expansive public school building in 1890.

The Victorian structure was designed by architect Milton Bean between 1892 and its dedication in the fall of 1893. The school was celebrated for its arched entrance and three-story bell tower, as well as the sturdiness of the structure that came from using local hardwoods and marble from a Pennsylvania quarry. The building served as a public school or as a public school annex until 1977. In 1979, the Kutztown Area Historical Society purchased the building for use as its headquarters and public events as well as a small local history museum.
Sources
History of Kutztown. Kutztown Area Historical Society. Accessed September 27, 2018. http://www.kutztownhistory.org/history-of-kutztown1.html.

Shelley, Susan. Kutztown Area Historical Society building was once a public school. Reading Eagle. November 01, 2016. Accessed September 30, 2018.


Additional Information