Logan House (Blair County) Historical Marker
Introduction
This historical marker commemorated a railroad hotel that stood at this location between 1854 and 1927. The hotel was built by the Pennsylvania Railroad and is most famous for a meeting that occurred here from September 24-26, 1862. That meeting, the Conference of Northern War Governors, met and proclaimed their support for President Lincoln and the Union cause. The meeting was convened by Governor Andrew Curtin and was held shortly after Abraham Lincoln announced his plans to issue the Emancipation Proclamation unless the South ended the war. The hotel closed in 1927 and the property was sold to the federal government for the construction of a post office.
Images
Gutekunst, Frederick, 1831-1917, photographer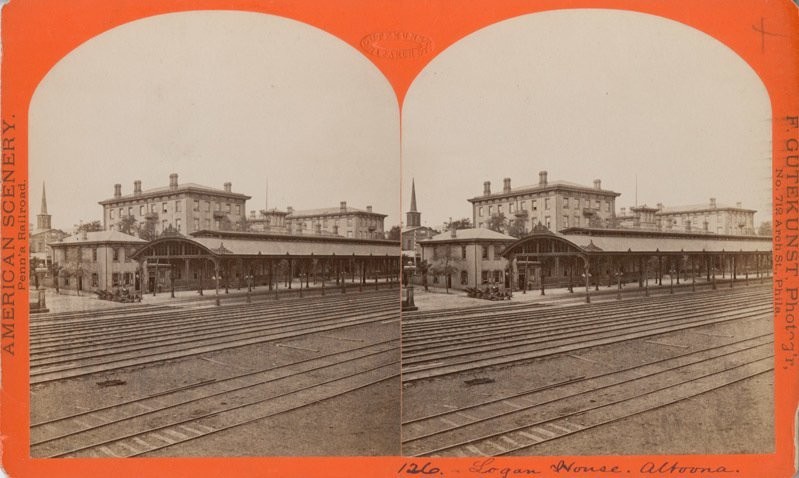 The Logan House, circa 1865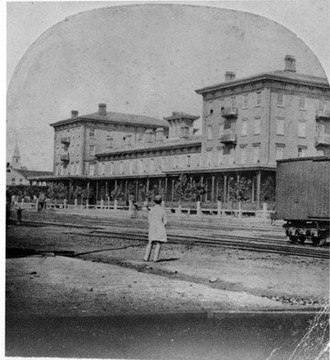 The Logan House marker. Unfortunately, the marker is between a parking garage wall and a USPS chain link fence.
Backstory and Context
Logan House was built in 1854 by the Pennsylvania Railroad and was renowned for its luxurious accommodations that were as good or better than any that could be found along the railroads of Europe. The hotel was almost named the "Verandah House" owing to its expansive porch but was instead named in honor of Native American leader Chief Logan.
The hotel had 106 rooms and was considered by some to be one of the grandest hotels between Philadelphia and Pittsburgh. It had an ornate porch made out of primarily iron and many of the leading citizens of the era frequented the hotel.

Logan House's most historically significant event came eighteen months into the Civil War. Northern support was weakening at that time and Pennsylvania Governor Andrew Curtin decided to organize a meeting to express support for Lincoln and the Union cause. In almost complete secrecy, Governor Curtin assembled the meeting for governors of Union states. Fourteen governors attended the meeting in Altoona, Pennsylvania, on September 24 and 25. This meeting was significant as the Union army hat faltered and Abraham Lincoln had announced plans for emancipation which was not universally supported in the North as a war aim. At this conference, the governors unanimously supported Lincoln which gave the beleaguered President an important victory second only to the battlefield victories in the West and in the Battle of Antietam.
Sources
Logan House, Altoona. The Library Company of Philadelphia.


Additional Information