Little Walden Cottage - 122 North Oak Avenue
Introduction
The Little Walden Cottage was built for Dr. Robinson in 1889. James Walden purchased the Doctor's cottage and began preparations to move it to his lot. The structure was disassembled and moved to its current location in 1905. The home represents a fine example of Folk Victorian Frame Vernacular architecture.
Images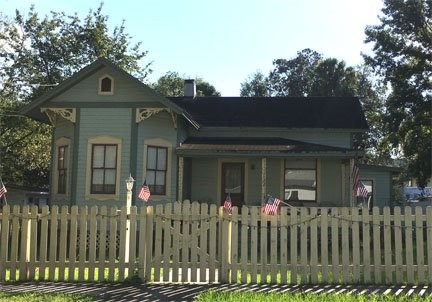 Backstory and Context
This residential structure was constructed in 1889 for Dr. Ebenezer Turner Robinson, his wife Emma L. and their son Benjamin. The gable front and wing design represents a subtype of Folk Victorian architecture, which is characterized by the presence of Victorian decorative detailing on simple folk house forms. Folk Victorian structures are identified by porches with spindlework detailing (turned spindles and lace-like spandrels) or flat, jigsaw cut trim; cornice-line brackets are also common. This structure lacks textures and varied wall surfaces characteristic of a true Queen Anne Victorian design.
Originally, the house was built at a different location, possibly on East French Avenue. When Mr. and Mrs. James Walden purchased the house in August 1904, they relocated the dwelling to its current location in 1905. After the relocation of the house, the Walden's lived in the house for one year while their new house was being built next door at 110 North Oak.
The Little Walden Cottage survived Orange City's devastating fire on March 11, 1909, as did the Walden House. Along with these new structures, oak and palm trees were planted in the right-of-way of Oak and East Graves Avenues. The scenic streetscape is an excellent example of Orange City's historic roots.
Sources
Orange City (2018).Tour of Historic Homes and Buildings Saturday, December 8,2012 [Brochure].
Savage McAlester, Virginia. A Field Guide to American Houses. Edition Second. New York. Alfred A. Knopf, 2017.
Additional Information