Paul Hornung Statue
Introduction
Dedicated in 2006, this statue honors Paul Hornung, a Heisman Trophy winner and pro football star in the late 1950s and 1960s. Hornung began his football career as a high school student in Louisville under coach Paulie Miller and won the Heisman for his performance in the offensive backfield at Norte Dame. the fullback and running back was a leading player on Vince Lombardi's Green Bay Packers championship teams in the 1960s. He is best-known today as a highly versatile player and colorful performer who went by the nickname "Golden Boy."
Images
Paul Hornung Statue. Photo: clarkegrizzer - WordPress.com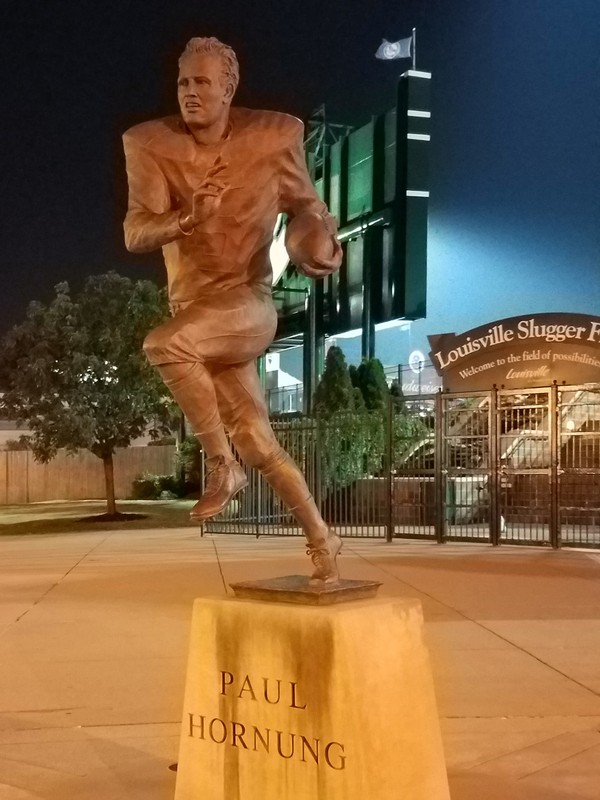 Paul Hornung as a member of Vince Lombardi's Green Bay Packers. Photo: Pro Football Hall of Fame.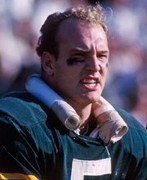 Backstory and Context
The Paul Hornung Statue commemorates one of Louisville's most famous athletes, Paul Hornung. It was unveiled in 2006, to honor Hornung's pro and college football accomplishments and his continued credit he brought to Louisville. Local sculptor Raymond Graf designed the sculpture using a trading card from Hornung's early Green Bay Packers career. Graf also has statues of Pee Wee Reese, J. Graham Brown and Al Schneider, located in downtown Louisville.

Hornung won the 1956 Heisman Trophy for his performance at Notre Dame and remains the only Heisman Trophy winner from a team with a losing record. After college, he was a fullback and running back for the Green Bay Packers and helped lead the team to multiple championships. Nicknamed the "Golden Boy," Hornung ran, threw the ball, kicked field goals and extra points.

Hornung was enshrined by both the College and Pro Football Halls of Fame, but he began both his collegiate and pro careers on teams that fell short of expectations. Hornung began his career as a member of another losing teams in Green Bay until the team hired Vince Lombardi. The future Hall of Fame coach found success when he made Hornung his left halfback in tandem with Packers legend Jim Taylor in the offensive backfield. During Hornung's career Lombardi and the Packers won the NFL Title (before the Super Bowl era) in 1961, 1962, 1965, and 1966. They won the first Super Bowl in 1966 but Hornung did not play because of an injury. The team also made an NFL Title game appearance in 1960, losing to the Philadelphia Eagles. Hornung led the way in scoring, amassing an astounding 176 points in a 12-game schedule, then a record.
Sources
Flatter, R. Hornung excelled on the field and had fun off it. ESPN Classic. Accessed August 20, 2018. http://www.espn.com/classic/biography/s/Hornung_Paul.html.
Golden Boy bronzed: New downtown statue memorializes Paul Hornung. Leo Weekly. (2006). Accessed August 20, 2018. https://www.leoweekly.com/2006/04/golden-boy-bronzed-new-downtown-statue-memorializes-paul-hornung/.
Paul Hornung. Pro Football Hall of Fame. Accessed August 20, 2018. http://www.profootballhof.com/players/paul-hornung/biography/.
Paul Vernon Hornung. College Football Hall of Fame. Accessed August 20, 2018. https://www.cfbhall.com/about/inductees/.
Additional Information