Bellefontaine Cemetery
Introduction
Bellefontaine Cemetery was established in 1850, becoming the first designed large-scale rural cemetery west of the Mississippi. The parcel reached its largest size, 336 acres, in 1865, the year the American Civil War ended (it stands at 314 acres today). Its design combines elements of the rural cemetery concept, modeled on Boston's 1831 Mount Auburn Cemetery (which was itself derived from Père Lachaise cemetery in Paris) and the landscape-lawn movement, pioneered by Adolph Strauch in Cincinnati's Spring Grove Cemetery in the 1840s. Designed and originally supervised by Almerin Hotchkiss, the designer of Green-Wood Cemetery in Brooklyn, New York, the landscape features rolling hills, trees, and man-made lakes, around which many imposing funerary monuments and mausoleums are arranged. Over 87,000 people are interred here, many of them in unmarked gravesites. The cemetery was entered in the National Register of Historic Places in August 2014. The cemetery is also an accredited arboretum, the only one in St. Louis.
Images
The Busch Mausoleum is one of several large elaborate tombs in the cemetery.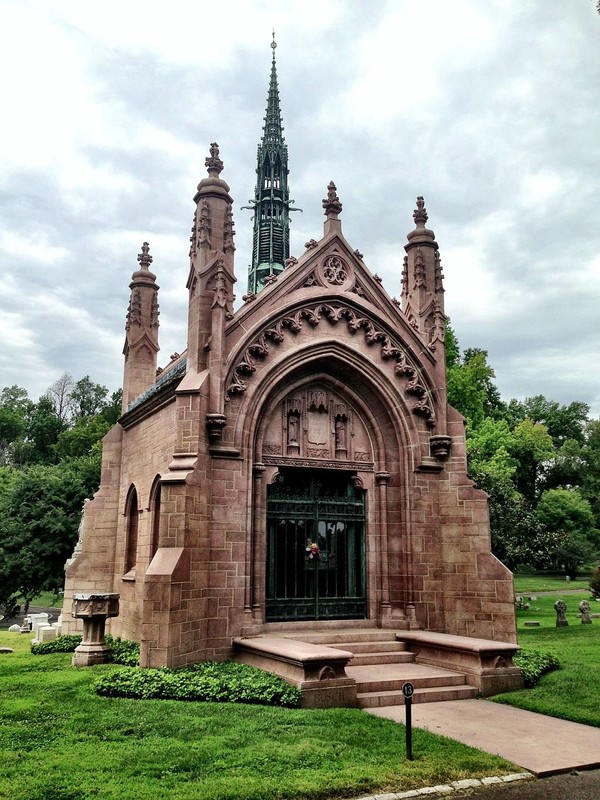 The Wainright Tomb is listed on the National Register of Historic Places for its architecture. It was designed by Louis Sullivan, who also designed the Wainright Building in the downtown area.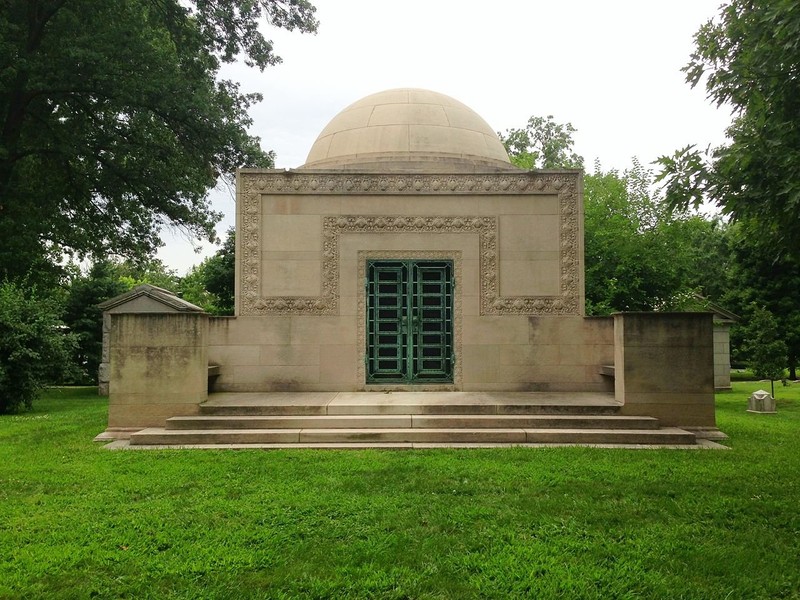 Backstory and Context
The individuals involved in the organization and direction of the new rural cemetery in St. Louis in 1849 were the cream of the young city's elite, involved in railroads, banking and real estate – businessmen, lawyers, politicians... and more than a few opportunists. Prior to that date, there had been more than twenty informal burial grounds scattered throughout St. Louis, which were in the way of the city's rapid expansion.

By that time, St. Louis had existed for exactly 100 years, and the goal of the directors was to see their city compete with the most prestigious metropolises of the eastern U.S., including Philadelphia, Boston and even New York. These older cities had modern cemeteries, and the St. Louis directors wanted one equally modern and refined. (The cemetery was named after Fort Bellefontaine, originally located a few miles north of St. Louis, as well as Bellefontaine Road, which connected the city to the fort.) The need to bury the city's dead had also become more urgent: in 1849 seven percent (one source says 10 percent) of the total population, over 4000 people, succumbed to the cholera epidemic.

The directors looked for inspiration to both Europe (Père-Lachaise Cemetery in Paris, the first rural cemetery, opened in 1804) and the East Coast, which boasted, among others, Boston's Mount Auburn Cemetery and Brooklyn's Green-Wood Cemetery. These new cemeteries have been described as "didactic landscapes, repositories for history and knowledge, showcases for fine art and horticulture, schools for the living." The superintendent of Green-Wood cemetery was a young man named Almerin Hotchkiss (born 1816), who expanded the site's original 178 acres by more than 200 acres. One of the directors from St. Louis came east to hire him, and Hotchkiss moved west soon thereafter. Though he would later plan sites in Illinois as well, including the community of Lake Forest, Bellefontaine became the chief work of his career.

Many well-known figures are buried here, including Gen. William Clark (of the famous Lewis & Clark expedition); Thomas Hart Benton, Missouri's first U.S. Senator; Adolphus Busch, founder of the Anheuser-Busch brewery; Brig. Gen. Richard B. Mason, the first military and civil governor of California; Charles Henry Peck, who was both an architect and a railroad and banking baron; and the notorious brewer Ellis Wainwright, whose monument for his wife and himself was designed by legendary architect Louis Sullivan.

Many prominent African-American figures are buried here as well including John Berry and Merry Meachum, who taught Black children how to read and write even though that was illegal; Rev. John Anderson, founder of the Second Baptist Church who reportedly helped white abolitionist printer Elijah Lovejoy print ant-slavery pamphlets (Lovejoy was killed by pro-slavery mob and is also buried at the cemetery); and William and Francis Roberson, the inventors of barber scissors that made them wealthy before the Civil War.

Sources
"History." Bellefontaine Cemetery. Accessed June 24, 2019. http://bellefontainecemetery.org/destination/history.

Holleman, Joe. "Plots at Bellefontaine Cemetery hold stories of both famous and forgotten Black St. Louisans. St. Louis Post-Dispatch. February 3, 2018. https://www.stltoday.com/news/local/columns/joe-holleman/plots-at-bellefontaine-cemetery-hold-stories-of-both-famous-and/article_c213dcfa-f099-56b0-a2f1-3e1e16e0bf72.html.
Additional Information