Page Brothers Building
Introduction
The Page Brothers Building in Chicago represents a transition for Chicago, both in its local history and architectural history. Erected in 1872 as the first commercial construction after the Great Chicago Fire of 1871, the building features a cast-iron facade facing Lake Street and stands as the oldest remaining structure of its kind in the city. Not long afterwards, State Street supplanted Lake Street - even growing to become one of Chicago's most noteworthy locations. As well, the Chicago School of Architecture grew famous for no-longer building small five-story cast-iron buildings, but instead pushed the envelope and usher in the age of the skyscraper. The Page Brothers Building was added to the National Register of Historic Places on June 5, 1975 and designated a Chicago Landmark on January 28, 1983.
Images
Page Brothers Building as viewed from State Street. The famous Chicago Theater, also on State, is located to its right (south) along State Street.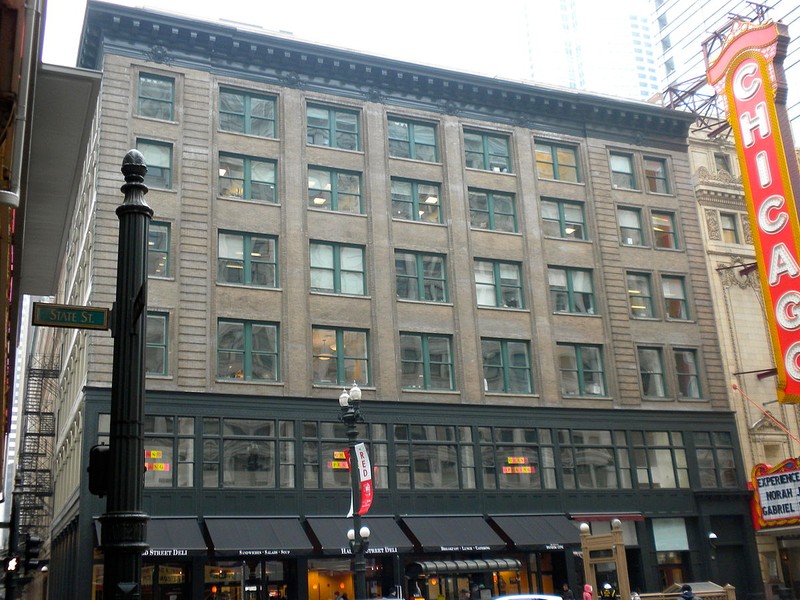 Backstory and Context
The Page Brothers Building (1872), which shares a southern wall with its famous State Street Chicago Theater neighbor, is the last remaining cast-iron front building in Chicago. It's one of the city's first buildings to arise after the Great Chicago Fire (1871). However, it's also one of the last to face Lake Street instead of State Street, and it emerged just prior to Chicago's emergence as a center for skyscraper construction and innovation -- the Chicago School of Architecture arrived after Page Brothers opened its doors. As such, it's a monument to Chicago's pre-skyscraper existence.

Though iron enjoys a long history, its inclusion as a structural element in construction did not emerge until the late eighteenth century, first as part of bridge engineering and then as part of beams in commercial development. By the middle of the nineteenth century, architects began to combine iron and glass, demonstrated by the Page Brothers Building.
The Page Brothers Building is an essential example of an architectural transformation that mainly took place in Chicago before spreading to other parts of the nation, and then the world. The first buildings comprised of cast-iron fronts emerged in Chicago during the late 1840s with a dozen erected by 1857, mainly along Lake Street. These iron fronts were usually five stories tall and enjoyed a cast-iron front wall and masonry back and side walls, with large glass windows fitting between iron beams on the first floor, perfect for retailers.
Though State Street grew famous in Chicago later, its position concerning the Chicago river initially made it unappealing; thus the street did not enjoy prominence. However, in 1867, Potter Palmer bought a three- quarter plot of land along State Street and began to promote the street and convince the city to widen the road. He succeeded and afterward built a hotel on State Street, and then he convinced Field, Leiter, and Company to leave Lake Street and focus on State Street by creating a new store there.
The Great Fire proved to be a help for State Street, too, as it allowed for investors to re-think where to put their money when financing new construction. Within a few years after the fire, State Street had won the competition by attracting mercantile enterprises away from Lake Street and to the now famous State Street; most of the first buildings enjoyed cast-iron facades.
When the Page was built, the move away from Lake to State was, at best, in its infancy. Hence, The Page Brothers Building, located on the corner of State and Lake, exemplifies the transition as its cast-iron facade was located on Lake Street while its brick facade pointed towards State Street. Page was first building after the fire, but within decades State Street was a booming economic center point for Chicago supporting hotels, stores, theaters and more.
Page Brothers has been remodeled, expanded, and altered numerous times but the cast-iron facade remains largely untouched. As well, Chicago's Elevated Train (the "EL"), runs along Lake Street, noting that Lake Street is more about function than asthetics in today's Chicago. Indeed, after Page Brothers opened its doors, Chicago School architects moved towards skeletal construction and took advantage of numerous other technologies that allowed for buildings to rise to new heights - the skyscraper was born, and the Chicago school of Architecture became famous.
To view the Page Brothers is to see the Old Chicago, both because its primary focus pointed towards Lake Street rather than the now-famous State Street and because it remained at five stories and relied on cast iron as its front-facing wall. Just as Page Brothers turned the corner at Lake and State, it's the building that was constructed as Chicago was turning the corner towards architectural distinction.

The Page Brothers Building was added to the National Register of Historic Places on June 5, 1975 and designated a Chicago Landmark on January 28, 1983.
Sources
Gapp, Paul. "A Page From History: Restoring Chicago`s Last Cast-iron Building."
Chicago Tribune
(Chicago)December 20, 1987. . http://articles.chicagotribune.com/1987-12-20/entertainment/8704040593_1_cast-iron-front-iron-fronte....
Michael, Vincent L. "Commercial Buildings."
Newberry Library: Encyclopedia of Chicago.
Accessed July 27, 2018. http://www.encyclopedia.chicagohistory.org/pages/316.html
"Page Brothers Building: Preliminary Summary of Information." Commission on Chicago Historical and Architectural Landmarks. November, 1982. https://archive.org/stream/CityOfChicagoLandmarkDesignationReports/PageBrothersBuilding#page/n0
Photo Source

Page Brothers Building as viewed from State Street: By Smallbones - Own work, Public Domain, https://commons.wikimedia.org/w/index.php?curid=9426010
Additional Information