Stephen Harris House
Introduction
Benefit Street is the oldest street in Providence and home to the oldest house in the city. Constructed in 1763, this house once belonged to prosperous merchant Stephen Harris. The handsome 18th century clapboard has been well-preserved. The house A terrible tale full of dark deeds, horrible hauntings and fantastic fiction that has caused 135 Benefit Street to be known, both locally and world-wide, as the "Shunned House".
Images
Stephen Harris House at 135 Benefit Street.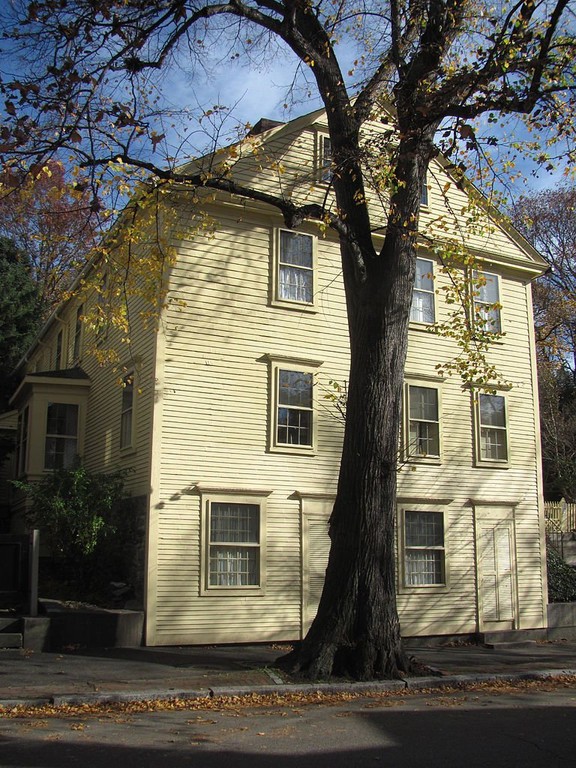 An artist's rendering of the house from the Lovecraft story's first publication.

The cover of the magazine where "The Shunned House" made its first appearance in print.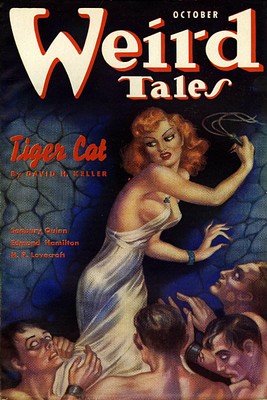 Backstory and Context
The home was originally built for John Mawney who was born into a wealthy family of Huguenots, French Protestants who emigrated due to religious persecution. Mawney was still a boy, likely only twelve or thirteen years old at the time of the home's construction. He inherited his father's wealth at the age of three, and it is likely that his guardian arranged to have the house constructed for him.
Mawney would later be involved in the Gaspee Affair of 1772 when a group affiliated with the Sons of Liberty movement attacked and burned a British customs ship that had run aground on a sandbar in Narragansett Bay. This incident led the colonists one step further towards rebellion, and when war broke out, Dr. Mawney, by then having obtained a medical qualification, would serve as a regimental surgeon with the 3rd Company of Providence, Second Regiment, Providence County Militia.
Dr. Mawney sold the Benefit Street house in 1784 to Stephen Harris who was married to Mawney's sister Hannah. By all accounts, Harris and his wife did not live a long and happy life here. Harris's shipping business began to fail after several of his ships were lost at sea, and Hannah had several stillborn children. Local legend has it that Hannah also then lost her mind, and was confined to the attic. Hannah died in 1789 and Mawney remarried in 1792 and his second wife and several of their children lived in the home until the latter part of the 19th century.
By 1890, the last member of the Harris family listed as owning the house had passed away, but the tax rolls still show the property as part of her estate up until 1924. There was also at this time a co-owner named Sophia Babbitt with her resident caretaker, Lillian Phillips. Ms. Phillips resided at 135 Benefit Street from 1919 through 1920, and during this time she was frequently visited by her nephew, Howard Phillips Lovecraft. Although he was fond of his aunt, Mr. Lovecraft (better known by his initials H.P.) found the house somewhat creepy. The house, which Lovecraft referred to in his correspondence as the Babbitt House, would play a starring role in a novella he published in a 1937 issue of pulp magazine Weird Tales. The home became known as "The Shunned House" owing to his fictional story that took some of its details from a legend about a curse that had afflicted Hannah Mawney.
The house passed through several owners and was in poor repair by the early 1970s. Thanks to a new owner who financed extensive renovations in 1971, the home has increased in value. The new owners must have known something of the house's horror story connection and had a sense of humor about the urban legend as they held a grand housewarming party on Halloween of that year.
Sources
Linton, Joe. Read Before Providence #9: Introducing The Shunned House. Facts in the Case of Alan Moore's Providence. May 25, 2016. Accessed July 24, 2018. https://factsprovidence.wordpress.com/2016/05/25/read-before-providence-9-introducing-the-shunned-ho....

Raven, Rory. The Shunned House. Quahog.org. . Accessed July 24, 2018. http://www.quahog.org/attractions/index.php?id=139.

Grundhauser, Eric. Stephen Harris House. Atlas Obscura. . Accessed July 24, 2018. https://www.atlasobscura.com/places/stephen-harris-house.

Concannon, John. Dr. (Col.) John Mawney (1751-1830). Gaspee Virtual Archives. . Accessed July 24, 2018. http://gaspee.org/MawneyBio.html.

History of 135 Benefit (Assessor's Plat 10, Lot 200). Gaspee Virtual Archives. . Accessed July 24, 2018. http://gaspee.org/History%20of%20135%20Benefit.doc.

Bucklin, Leonard. Research at the Old North Burial Ground on Providence, RI. Gaspee Virtual Archives. . Accessed July 24, 2018. http://www.gaspee.org/ONBG.html.

Muise, Peter. The Shunned House: Facts As Strange As Fiction. New England Folklore. July 28, 2013. Accessed July 24, 2018. http://newenglandfolklore.blogspot.com/2013/07/the-shunned-house-facts-as-strange-as.html.

Lovecraft, Howard Phillips. The Shunned House. Project Gutenberg. . Accessed July 24, 2018. http://www.gutenberg.org/files/31469/31469-h/31469-h.htm.

The North Burial Ground Setting. North Burial Ground Project. . Accessed July 24, 2018. http://www.ric.edu/northburialground/tours_hplovecraft-setting.html.

The house from H.P. Lovecraft's story "The Shunned House" is for sale. The Lovecraftsman. April 20, 2011. Accessed July 24, 2018. http://www.thelovecraftsman.com/2011/04/home-from-hp-lovecrafts-story-shunned.html.

153 Benefit St, Providence, RI 02903. Realtor.com. . Accessed July 24, 2018. https://www.realtor.com/realestateandhomes-detail/135-Benefit-St_Providence_RI_02903_M48437-99675.

Stephen Harris House, 135 Benefit Street, Providence, Providence County, RI. Library of Congress. . Accessed July 24, 2018. https://www.loc.gov/item/ri0204/.




Additional Information