Potter-Lumb House and William W. Tripp Funeral Home
Introduction
This Pawtucket home was constructed between 1917 and 1919 as a gift for the daughter of one of the city's leading industrialists. Mary Potter, daughter of Potter & Johnston Machine Company president James C. Potter married local entrepreneur Ralph Gledhill Lumb when he was working as the assistant treasurer of the Lumb Knitting Company. Mr. Potter provided this mansion as a gift to the new couple. In addition to assisting with the financial operations of the Lumb Company which produced garments ranging from women's undergarments to suits and "infant's wrappers," Ralph patented an invention for an early type of automobile windshield.
Images
The Potter-Lumb mansion has been home to the William W. Tripp Funeral Home for over sixty years.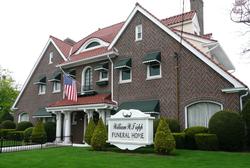 A side view showing more of the tapestry brick detailing.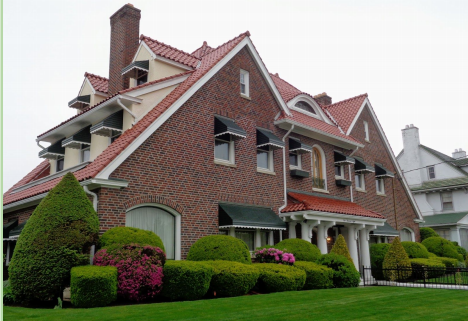 Backstory and Context
The three-story Potter Lumb home was built in the English Tudor style which was popular in affluent neighborhoods at the time, so much so that it would later be nicknamed "stockbroker Tudor." The building material was red tapestry brick arranged to form a decorative chevron pattern. The home took two years to build. Its cornerstone was laid in 1917, and the recently married couple were able to move in to their home in 1919.

Inside, the 9,641 square foot home had everything a wealthy turn-of-the-century couple could wish for, including a library, a sun porch, a sunken-parlor music room complete with baby grand, "summer sleeping quarters" in addition to the main bedrooms, and a nursery for the children. It also had third-floor quarters for servants. The basement had a wine cellar and a game room, and outdoors, there were landscaped lawns, rose gardens, and an enormous play house. In fact, the play house was so large that it was later dismantled and moved to Cape Cod where it was used as a summer home.
The Lumbs lived in this house for nearly 40 years, raising three children: son George and daughters Bettie and Charlotte. By the time both were in their 60s, the couple decided sell the property to another Pawtucket couple, William and Ethel Tripp, who used the mansion as a funeral home. The William W. Tripp Funeral Home has been in business for over 60 years.
Sources
Zdravesky, Barbara. Darlington Neighborhood Tour. Preservation Society of Pawtucket. . Accessed July 18, 2018. http://www.pawtucketpreservation.org/wp-content/uploads/2017/10/Darlington-Neighborhood_2017.pdf.

Who We Are: Our Story. William W. Tripp & Cheetham Funeral Homes. . Accessed July 18, 2018. http://www.trippfuneralhome.com/history.

Pawtucket, past and present; being a brief account of the beginning and progress of its industries and a résumé of the early history of the city. Archive.org. . Accessed July 18, 2018. https://archive.org/stream/pawtucketpastpre00slat/pawtucketpastpre00slat_djvu.txt.

Lumb; Providence County, Rhode Island, United States of America. Find A Grave. . Accessed July 18, 2018. https://www.findagrave.com/memorial/search?firstname=&middlename=&lastname=Lumb&birthyear=&birthyear....

Lumb, Ralph G. Tonneau wind-shield for automobiles. Google Patents. July 12, 1916. Accessed July 19, 2018. https://patents.google.com/patent/US1262364.

Obituaries: 02-17-11. The Herald News. February 17, 2011. Accessed July 18, 2018. http://www.heraldnews.com/x1952953676/OBITUARIES-02-17-11.

Tapestry Brick. The Free Dictionary. . Accessed July 18, 2018. https://encyclopedia2.thefreedictionary.com/tapestry+brick.

Historic Styles: Tudor Style (1890-1940). Wentworth Studio. . Accessed July 18, 2018. https://www.wentworthstudio.com/historic-styles/tudor/.

1008 Newport Ave., Pawtucket, RI 02861. Realtor.com. . Accessed July 18, 2018. https://www.realtor.com/realestateandhomes-detail/1008-Newport-Ave_Pawtucket_RI_02861_M35644-86220.

William W Tripp Funeral Home. Google Maps. . Accessed July 18, 2018. https://www.google.com/maps/place/William+W+Tripp+Funeral+Home/@41.8823826,-71.3545558,15z/data=!4m5!3m4!1s0x0:0xd24d1395834f742d!8m2!3d41.8823826!4d-71.3545558.

Tripp Wm W Funeral Home. Yelp. . Accessed July 18, 2018. https://www.yelp.com/biz/tripp-wm-w-funeral-home-pawtucket?page_src=best_of_yelp.


Additional Information