The Neuville
Introduction
One of the first, luxury, high-rise apartments built in Chicago, notably in its Streeterville Neighborhood located north of downtown. Its existence stands as a monument to Chicago's decades-long transformation from a swampy area to a bustling center of commerce. The area is built on a landfill (1880s) that pushed back Lake Michigan, and then a bridge built in 1920 that connected its now tourist-heavy Michigan Ave to the city's north side. The Neuville, with its 10-room-apartments and hotel amenities, catered to the wealthy when the upper class finally accepted luxury apartments as a status symbol.
Images
The Neuville, Built in 1920. A luxury Hotel-style luxury apartment complex.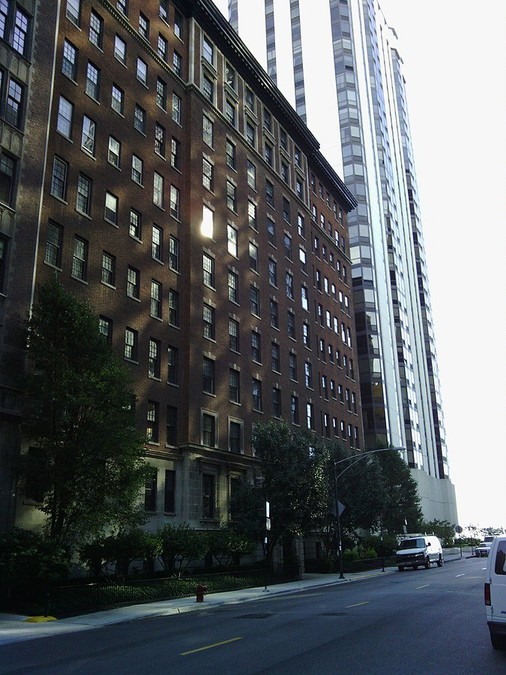 Neuville, from Curbed Chicago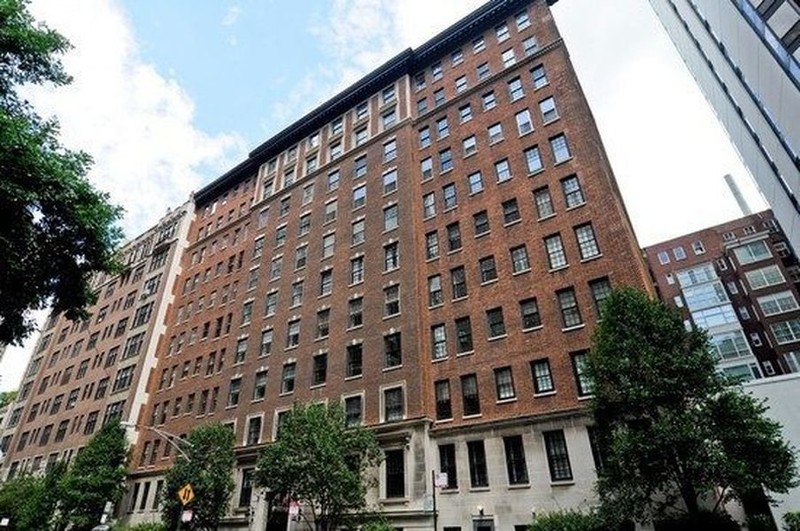 Backstory and Context
The Neuville luxury apartments (1920) are located in Chicago's Streeterville Neighboorhood, an area that speaks to city's continual evolution from a swampy frontier town into a booming metropolis, first with the 1882 construction of a landfill to better delineate the city from its Lake Michigan shoreline and then with opening of Michigan Ave into Chicago's northside in 1920. While the Gold Coast neighboorhood abounds in single-home mansions, The Neuville was the first of many luxury apartments that offered guests sumptuous amenities, but within a multi-dwelling setting.
The neighborhood once stood as a separate city, distinct from Chicago. In 1886, Captain George Wellington Streeter -- a colorful character to say the least -- was a circus and show promoter who was on his way back to Latin America while engaging in gun-running activities. When his boat his a sandbar in what is now the area just east of the Michigan Ave (near the 100-plus-story John Hancock Building), Streeter laid claim to the sandy, swampland. He deemed the area the "District of Lake Michigan," which grew -- both organically and man-made -- to more than 100 acres. In fact, he declared himself governor and refused to adhere to all of Chicago's laws, notably by allowing for liquor sales on Sunday. Obviously, numerous people in Chicago (notable with financial interests) quibbled with Streeter's claim. Though it took nearly thirty years and a few court proceedings, the area became part of Chicago; the Streeterville Neighboorhood of Chicago was born.
In 1920, the plans for Chicago's north side, set in motion by Daniel Burnham in his 1909 Plan for Chicago, finally came to fruition with the Michigan Ave Bridge and subsequent widening of Michigan Avenue into a wide boulevard. Consequently, Chicago travelers could easily move from the Loop (downtown) to areas such as Streeterville and The Gold Coast, which resulted in a population and building boom.
The lack of space and influx of new residents to the north side inspired developers to design multi-dwelling apartments that catered to the middle class and the wealthy, rather than lower class as had been the case for many decades. Fugard & Knapp played a major role in designing many high-rise luxury apartments in Chicago including The Neuville and others in Streeterville. Apartments inside the building regularly consisted of large, ten-room residences, hotel-style amenities, and the latest in technological advances.
The stigma of apartment living forced promoters to work hard to sell the apartments as status symbols. Their success allowed for far more buildings to arise, thus the era of luxury apartments took shape in Chicago during America's Roaring Twenties decade.
Thus, in the end, Chicago's environmental transformation speaks to the society, culture, and economy that shaped it. The natural swamps and waterways once served Native Americans and early settlers well for hunting, fishing, and trapping. To see The Neuville is to see a new vision for the land, one where investors alter the land -- often viewed as a hindrance -- to suit its needs such as altering rivers, creating landfills, changing shorelines, building bridges, and developing luxury high-rise apartments.
Sources
Burnham, Daniel H and Edward H. Bennett. Plan of Chicago. Chicago: The Commercial Club of Chicago. 1909.

Burian, Susan Baldwin. "National Register of Historic Places Registration Form: The Neuville." National Register of Historic Places. August 1, 2012. http://gis.hpa.state.il.us/pdfs/801829.pdf.

McClendon, Dennis. "Chicago's Lakefront Landfill." Newberry Library: Encyclopedia of Chicago. Accessed July 16, 2018. http://www.encyclopedia.chicagohistory.org/pages/3713.html

Stamper, John W. Chicago's North Michigan Avenue Planning and Development, 1900 - 1930. Chicago: University of Chicago Press, 1991.

Photo Source

The Neuville: By dstrut - Own work. This photo was uploaded with Wiki Loves Monuments mobile 1.3 (Android)., CC BY-SA 3.0, https://commons.wikimedia.org/w/index.php?curid=28918765

Neuville, from Curbed Chicago: https://chicago.curbed.com/2013/2/11/10274722/3-buildings-join-illustrious-national-register-of-hist...
Additional Information