Ro-Na Theater
Introduction
The Ro-Na Theater had its grand opening in 1949 with the film "Once More My Darling." The art-deco style theater was one of the finest in Ohio, with extras such as air-conditioning and lounges. It closed in 1978 and collected dust until it was given to the city in 2008. Since then, renovations have replaced the roof, repaired the marquee, and restored other original features. Today, the Ro-Na Cultural Center hosts events such as "Dr. DeKay's House of Screams" as a part of continuing fundraising efforts.
Images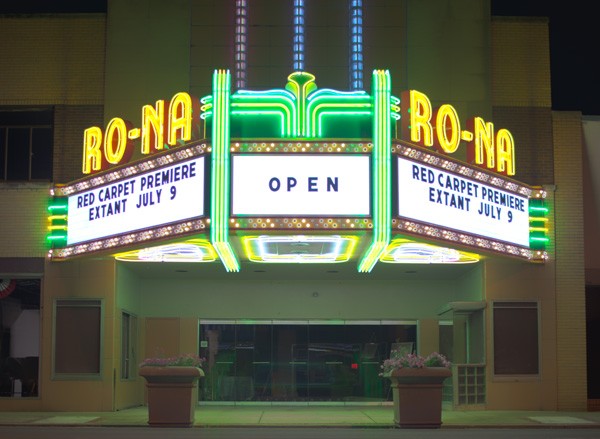 Ron-Na during renovations in 2008. The marquee would be reinstalled and relit in May 2014.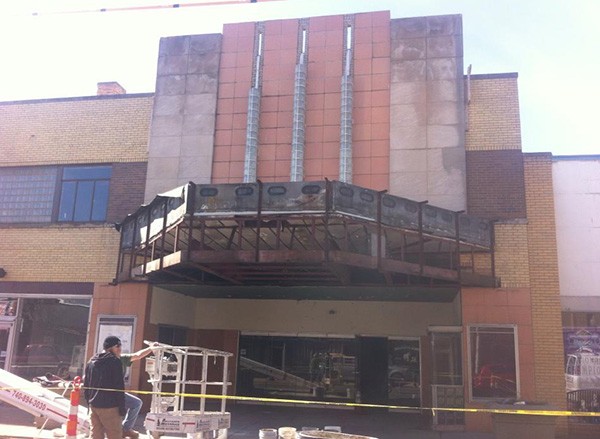 The Ro-Na theater before its grand opening in 1949.
The Ro-Na Theater and Restaurant in 1949.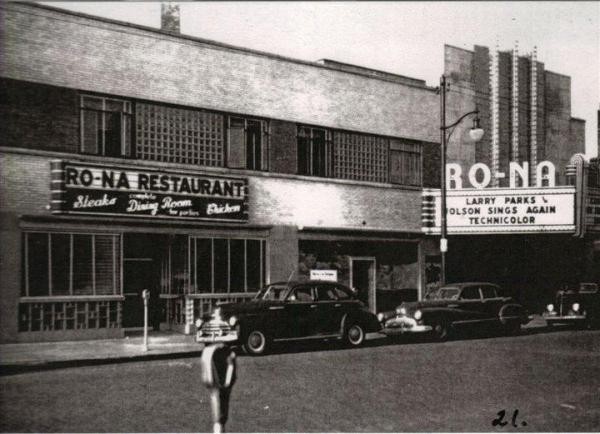 Backstory and Context
The Ro-Na Theater opened in 1949, coming in at a cost of $300,000. It was operated by Ro-Na Theatre, Inc. with Mrs. Ron Sexton as the president, James Richardson the vice president and manager, and James Kellogg as secretary and treasurer. The theater was rather luxurious for its time with air-conditioning, 1,000 cushioned seats, and carpeted aisles. Next-door was the Ro-Na Grill, and upstairs and downstairs were two lounges. The theater was decorated in the art-deco style featuring glass block columnns and neon lighting. Most notably, the lobby had murals with historical scenes from the Tri-State's history.
The Ro-Na Theater remained dormant after closing in 1973 until its owners, the Hampton family, donated the theater to the city in February 2008. By July, volunteer efforts to clean up the building had begun. One year later, the roof was replaced. The Ro-Na Restoration Committee continues to work on renovations today. When completed, the Ro-Na will boast an expanded stage, a professional kitchen, and more rehearsal and office space. The goal is for the Ro-Na Cultural Center to bring new performers and tourism to the area.
Sources
About the Ro-Na Theater. Ro-Na Cultural Center. Accessed July 11, 2018. http://www.ro-na.net/about/. Information and photo source.

Ro-Na Theater. The Lawrence Register. Accessed July 11, 2018. https://lawrencecountyohio.wordpress.com/history/businesses/ro-na-theater/. Information and photo source.


Additional Information