Eden Park Standpipe
Introduction
Rising 172 feet above Cincinnati's Eden Park, this historic standpipe is a fine example of a 19th century water tower. It was completed in 1894 and was part of a larger water supply system that was designed to deliver water to the Walnut Hills neighborhood. Along with a large reservoir and pumping station, both also located in Eden Park, the system was deemed obsolete and taken out of service in 1916. Designed by prominent Cincinnati architect, Samuel Hannaford, the standpipe features a sandstone base, while the rest is constructed of red brick in an eclectic Victorian architectural style. It was placed on the National Register of Historic Places in 1980.
Images
The Eden Park Standpipe has stood silent sentinel at this spot since 1894.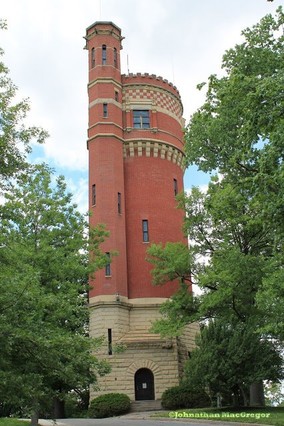 Two of the gargoyles that ring the standpipe near its top.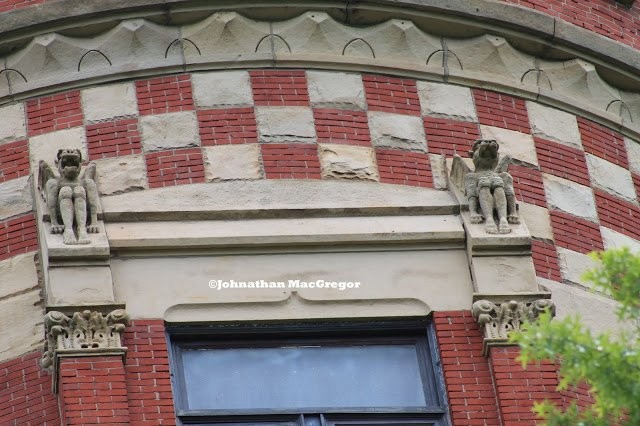 A close up of the standpipe's base.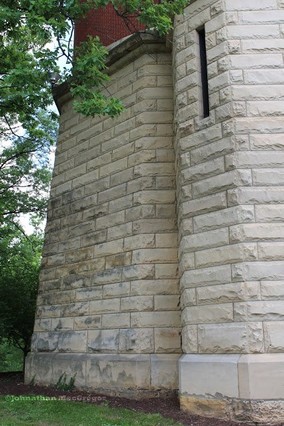 Notice the similar architecture in Eden Park's Standpipe and Station no. 7, seen here.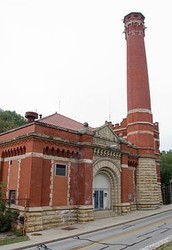 This photo features the standpipe's copper spire which was removed in 1943.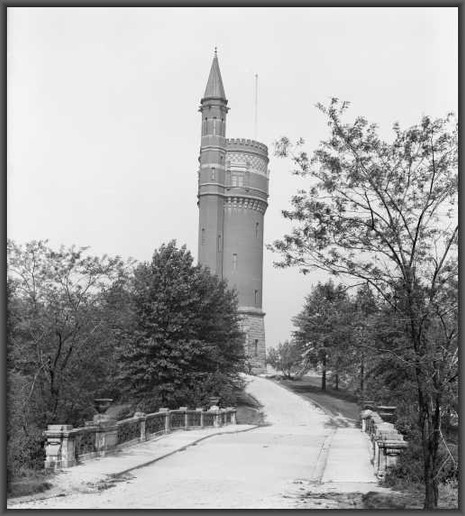 A 1901 photo of Eden Park's reservoir, which has since been removed. Station no. 7 and the Ohio River can be seen in the background.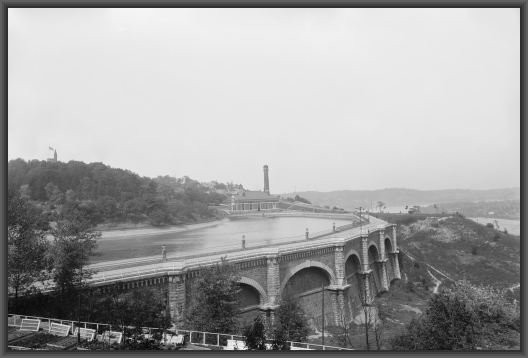 Backstory and Context
As the city of Cincinnati grew outward at the end of the 19th century, public services were forced to expand with it, to include a reliable and safe water supply. In 1859, the city began to acquire land from landowner and horticulturist, Nicholas Longworth, just to the northeast of downtown along the Ohio River. A large 12-acre, 96-million-gallon reservoir was built on Longworth's former vineyard, which he called his "Garden of Eden," along with Eden Park Station no. 7 and the Eden Park Standpipe. A large public park, Eden Park, was also created from Longworth's land.
This new water supply system utilized massive steam-driven engines, located within Station no. 7, to pump water from the Ohio River into the newly created reservoir. It was then pumped through the standpipe which sat atop Eden Park's highest ground. The standpipe was not a water storage tank, that was the role served by the reservoir. Rather, the standpipe's tank was used to regulate the water pressure in order to prevent pressure spikes and troughs. This system served the Walnut Hills area until new technology rendered it obsolete. It pumped and delivered its last water in 1916.
Both the Eden Park Station and Standpipe were designed by the local architectural firm of Samuel Hannaford & Sons. Hannaford's family immigrated to Cincinnati from England in 1844. He attended Farmer's College and opened his firm with his two sons, Harvey and Charles, in 1887. Hannaford also designed Cincinnati's Music and City Halls. For the standpipe, Hannaford chose a Victorian design that featured an arched entrance and arrow-slit windows. Those windows, circular form, gargoyles and battlements make it look like something from a medieval castle rather than an integral part of a once operational water supply system.
This particular standpipe is actually comprised of two, interconnected towers, an octagonal turret quite a bit smaller in diameter and the standpipe itself. Perhaps the smaller turret houses either the stairwell that granted access to the standpipe's water tank or its intake and outlet pipes. Regardless, a copper spire once sat atop the smaller tower. It was removed during a World War II scrap drive in 1943. Today, Eden Park Standpipe's interior is not open to the public as it is used by the city for a communications tower. However, its unique exterior can be observed, explored and enjoyed any time Eden Park is open.
Sources
"Eden Park Stand Pipe." Revolvy. Accessed July 4, 2018. https://www.revolvy.com/main/index.php?s=Eden+Park+Stand+Pipe
John. "Eden Park Standpipe." Ohio Explorations. June 16, 2013. Accessed July 4, 2018. http://ohio-explorations.blogspot.com/2013/06/eden-park-standpipe.html
"Eden Park Stand Pipe." Ohio Pix. Accessed July 4, 2018. http://www.ohiopix.org/contentdm-search-results/?cdm-keywords=Cincinnati%20(Ohio).%20Water%20Works&c...
Additional Information