Battle of Monocracy Marker
Introduction
The Battle of Monocracy was one of the battles during the Civil War. This battle was led by Jubal Early, a Confederate general and had Major General Lew Wallace attempting to stop General Early's advance. This battle took place in Frederick County, Maryland, United States during the summer of 1864. Specifically, July 9, 1864 on a Saturday. This battle only lasted a day, but the total casualties were 2,400 on both sides. It ended with a Confederate victory.
Images
A close up view of the Marker, it was erected in 1964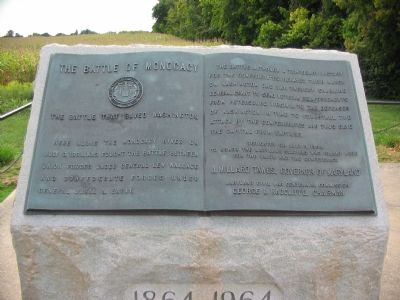 Backstory and Context
The Battle of Monocracy was a one-day battle during the Civil War. On Saturday, July 9, 1864 forces from the Confederates led by General Jubal Early invaded Frederick County, Maryland near the Monocracy River in hopes of linking up with General John C. Breckenridge, also a Confederate general, to clear out the Shenandoah Valley. This strategy was thought up by Confederate general Robert E. Lee as a way to put pressure on the Union Capital, Washington D.C.
General Early was met with some resistance as Union Major General Lew Wallace and 3,200 inexperienced troops headed west from Baltimore, MD until they had a position south of Frederick, MD at the Monocracy Junction. By July 9th the union had mustered a force of nearly 6,600 against the Confederate force 15,000 soldiers. This battle would be a tough one for the Union. The Battle began at 8:30 a.m. when Confederate soldiers who were commanded by General Stephen Ramseur advanced southward along the Georgetown Pike and encountered the same Union soldiers who were led by Major General Lew Wallace.
The soldiers began fighting each other by 10:30 a.m. as Wallace learned of the Confederate presence in Southern Monocracy and had the wooden bridge near them burned to protect his flank. The attacks from the Confederates came at 11:00 a.m. from another Confederate General, John McCausland. John McCausland attacked a Union Infantry under General James Rickett but was repulsed. He later came back around 2:00 p.m. with help from another Confederate General John B. Gordon who by 3:30 p.m. was ready to bring his full force to fight the Union force.
At 5:00 p.m. the Union was in full retreat and the Confederates would win the day. However, the Confederates were not completely successful. Lew Wallace ultimately had the victory as he had delayed Jubal Early's advance enough to have Union reinforcements to rally into Washington D.C. When Early's men made it to the Union capital on July 11, some skirmishes occurred between the forces in the outskirts of the city, but Early's forces were forced back into Virginia. This Battle became to be known as "The Battle that Saved Washington."
Sources
National Park Service. "The Battle of Monocacy." National Parks Service. Accessed June 28, 2018. https://www.nps.gov/mono/learn/historyculture/the-battle-of-monocacy.htm.
Ohio State University. "Monocacy (Battle That Saved Washington)." The Rise of Big Business | EHISTORY. July 09, 1864. Accessed June 28, 2018. https://ehistory.osu.edu/battles/monocacy-battle-saved-washington.
Platteborze, Peter L. "Crossroads of Destiny." History.army.mil. Accessed June 27, 2018. https://history.army.mil/html/bookshelves/resmat/civil_war/articles/article_from_AH61w.pdf.
Additional Information