Battle of Kellogg's Grove Monument
Introduction
This historical monument was dedicated in 1887 to commemorate the two minor battles of Kellogg's Grove that occurred in 1832 and honor those killed in the Blackhawk War, many of whom are buried nearby. The first battle occurred on June 16th, 1832, when Illinois militia engaged about 80 Kickapoo warriors. The second battle occurred on June 25th, 1832. In this battle, a much larger force of Sauk and Fox warriors under the command of Black Hawk attacked a U.S. detachment. Between both battles, eight U.S. soldiers were killed while at least fifteen Kickapoo warriors died. On the morning of June 26th, 1832 members of Captain Jacob M. Early company arrived at Kellogg's Grove to help bury the dead. One of those soldiers was Abraham Lincoln who assisted in the burial of soldiers. Lincoln later made public statements about his experience in burying the dead.
Images
A picture of the monument and graves on Kellogg's Grove.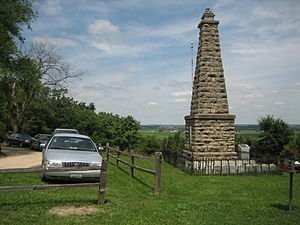 U.S. National Register of Historic Places plaque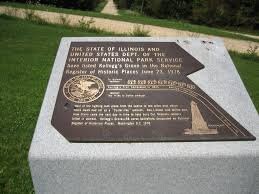 A Map of the Black Hawk Battlefields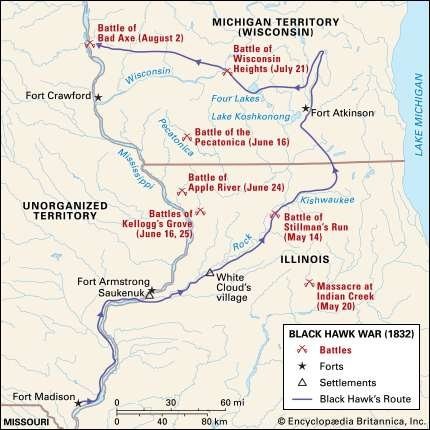 Backstory and Context
The two battles were part of the larger Black Hawk War, a conflict between the United States and Native Americans led by a Sauk leader named Black Hawk. The war was a result of disputes regarding treaties signed by some Native Americans without consulting neighboring tribes or the entire tribal council. Believing the treaties to be invalid for this reason, Black Hawk led several attacks in retaliation which increased tensions between Native American warriors and the militias of Michigan and Illinois.
The first Battle of Kellogg's Grove (also known as the Battle of Burr Oak Grove) occurred on June 16th, 1832. The night before, while Captain Snyder's company was sleeping at Kellogg's Grove, nearby Native Americans reportedly stole a horse. The next morning, Captain Snyder and some of his men found these men and killed four of them in retaliation. One of the soldiers was also killed in the skirmish. Carrying back this soldier's body slowed their return to the rest of their force, and as the men rested and replenished their water supply, a large group of Native warriors ambushed the soldiers and killed two men.
The second Battle of Kellogg's Grove occurred a few days later on June 25th, 1832 and was the last battle between Native Americans and U.S. soldiers in the state of Illinois. On the morning of June 25th, U.S. troops went in search of three horses had wandered away during the night. As they were looking for them they spotted Native American warriors in the area and went after them. This may have been a trap, as the men ran into the woods and when the soldiers entered the woods they were ambushed by a small force leading to the death of two soldiers and severe wounds for a third.
This resulted in a small skirmish as U.S. troops attempted to form a line of battle. Warriors led by Black Hawk pushed the soldiers all the way back to the log house at Kellogg's Grove. After the battle, nine of Black Hawk's men were dead along with three soldiers and twenty-five horses. Black Hawk had this to say about the battle.1
"This young chief deserves great praise for his courage and bravery, but fortunately for us, his army was not all composed of such brave men." – The Black Hawk War by Frank E. Stevens.1
On the morning of June 26, 1832 members of Captain Jacob M. company arrived to help bury the dead at Kellogg's Grove. One of these soldiers was Abraham Lincoln who assisted in the burial and had this to say about his experience.
"I remember just how those men looked as we rode up the little hill where their camp was. The red light of the morning sun was streaming upon them as they lay head towards us on the ground. And every man had a round red spot on top of his head, about as big as a dollar where the redskins had taken his scalp. It was frightful, but it was grotesque, and the red sunlight seemed to paint everything all over. I remember one man had on buckskin breeches." -(Page 83)2
In 1887 this monument was erected to honor the U.S. soldiers who died. The grove was included on the U.S. National Register of Historic Places on June 23, 1978.
Sources
1. "Kellogg's Grove Archived 2007-09-27 at the Wayback Machine.," (PDF), National Register of Historic Places Nomination Form, January 18, 1978, HAARGIS Database, Illinois Historic Preservation Agency. Retrieved June 28, 2018.
2.Herndon, William H.. Weik, Jesse W.. Life of Lincoln. FORUM HOUSE PUBLISHING CO, 1942.


Additional Information