Tony Pastor's Downtown (1939-1967) Gay Community Center (1970-1971)
Introduction
From 1939 until the New York State Liquor Authority revoked its license, this was the location of a bar that earned a reputation as serving all patrons, including gay and lesbian residents of the community. The bar was raided by police in 1944 for serving gay customers in violation of the era's "morals laws." Although the bar owner was ordered to close for good, he continued to operate and given the bar's mob backing, the police generally looked the other way. The bar was raided again in the 1950s and 1960s and closed in 1967. In 1970, Gay Liberation Front operated the Gay Community Center at the site of the former bar.
Images
A postcard showing Tony Pastor's in the 1940s. Image from Lost Womnyn's Space.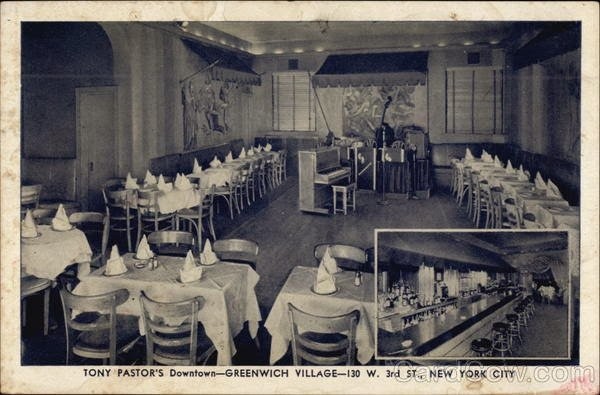 Sources
Daniel Hurewitz, Stepping Out: Nine Walks Through New York City's Gay and Lesbian Past. New York: Holt, 1997.

Jay Shickley, Preservation of LGBTQ Historic and Cultural Sites, National Park Service, LQBTQ America, 2016.

Additional Information