Sauerkraut Tower, Saint Vincent Archabbey
Introduction
The Sauerkraut Tower at Saint Vincent Archabbey, built in 1893, was once a gravity-powered water distribution method for the St. Vincent Campus. It carried 80,000 tons of water and housed tanks, pumps, and pipes designed by Brother Wolfgang Traxler. Wanting not to waste space, Brother Innocent, the chief cook, found that the cool dark inside of the tower also provided an excellent space for storing cabbage and kraut.
Images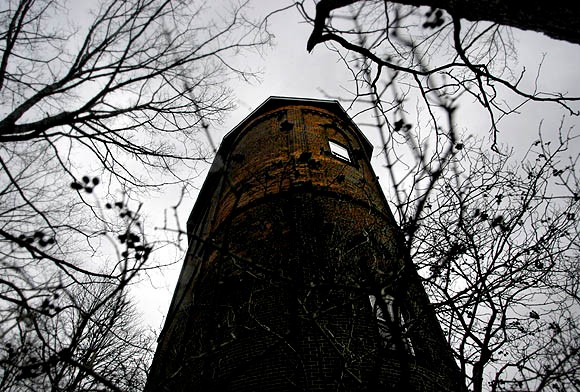 Backstory and Context
The Benedictine Sisters of Eichstatt, Bavaria used the tower to store the kraut. Don Orlando, a spokesman for the school, said "Sauerkraut Tower. I think through the years they must've served a lot of kraut, and some students thought the entire building was full of the stuff, floor to ceiling." In the mid-1930s, the spring that fed the tower was being drained by a local coal mine, but the tower remains today as a focal point on the highest rise on campus. Even though it's now used as a storeroom, it still is a major focal point on campus. St. Vincent hosts the Pittsburgh Steelers football team's training camp every season and the Sauerkraut Tower is one of the places on the St. Vincent campus that is a recommended visit for fans.

St. Vincent de Paul, who the university is named for and the tower is located, was a French Roman Catholic who is now considered the patron saint of charity. He lived from 1581 to 1660. The St. Vincent Basilica, originally St. Vincent Parish, was named after St. Vincent de Paul. It was started in 1790 and was the first Catholic Parish in Pennsylvania to the west of the Allegheny Mountains. The university was founded in 1846 by Boniface Wimmer, a Bavarian monk, and was the first Benedictine monastery in the US.

Sources
1. Lifestyle-Here in Latrobe. Pittsburgh Post-Gazette. January 14, 2014. Accessed June 22, 2018. http://old.post-gazette.com/lifestyle/20040118herel3.asp.

6. Varine, Patrick. St. Vincent offers more than just football at Steelers training camp. Trib Total Media. July 28, 2017. Accessed June 22, 2018. http://triblive.com/sports/steelers/trainingcamp/12559738-74/st-vincent-offers-more-than-just-footba....
Additional Information