Bryan Lathrop House
Introduction
This home was constructed in 1891 for the family of businessman and philanthropist Bryan Lathrop. Like many who built mansions along Chicago's Gold Coast Bryan at the turn-of-the-century, Lathrop's influence in Chicago is striking. As a real-estate mogul, he proved instrumental in the development of Graceland Cemetery, the resting place for some of Chicago's most famous citizens. As well, he served as President of the Chicago Symphony Orchestra and provided more than $700,000 (1910 value) to the cause. Much of his artwork and library found its way to the Art Institute of Chicago and the Newberry Library. Meanwhile, his house that he shared with his wife Helen, stands as a reminder of the growth of the Gold Coast, an area noted for its abundance of wealthy residents.
Images
Early photo of the Bryan Lahtrop House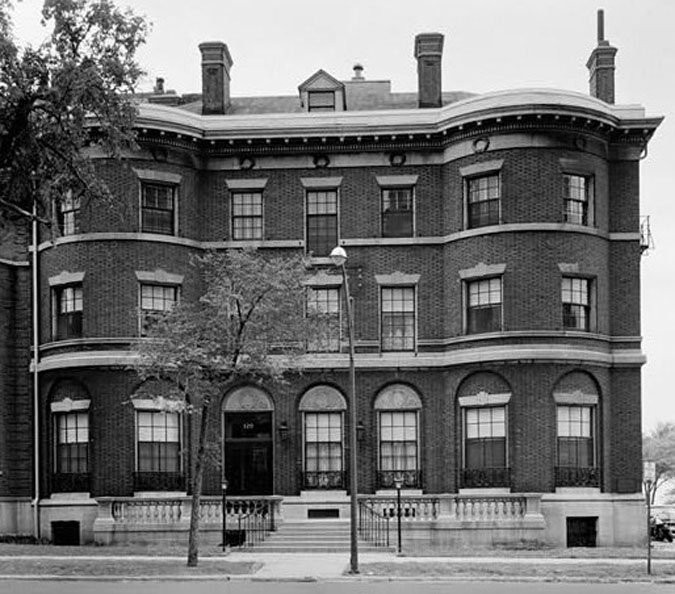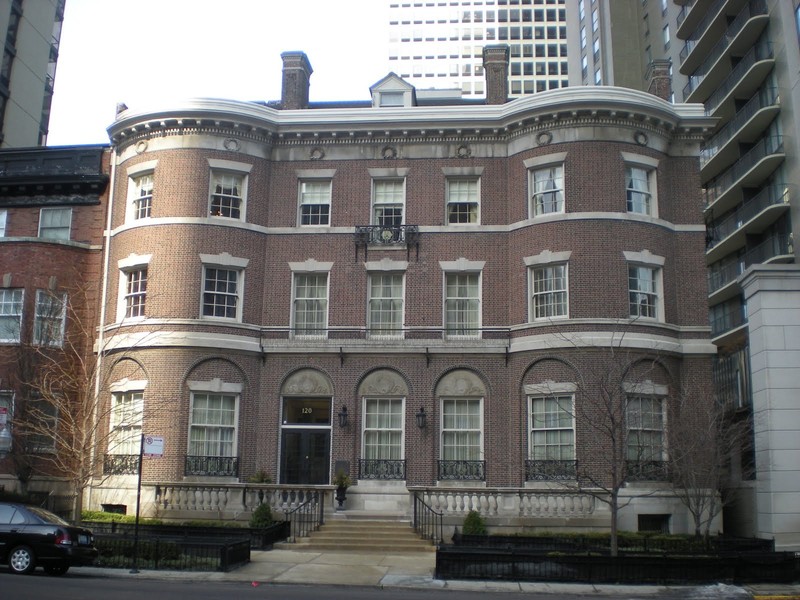 Modern Photo of the Bryan Lathrop Mansion.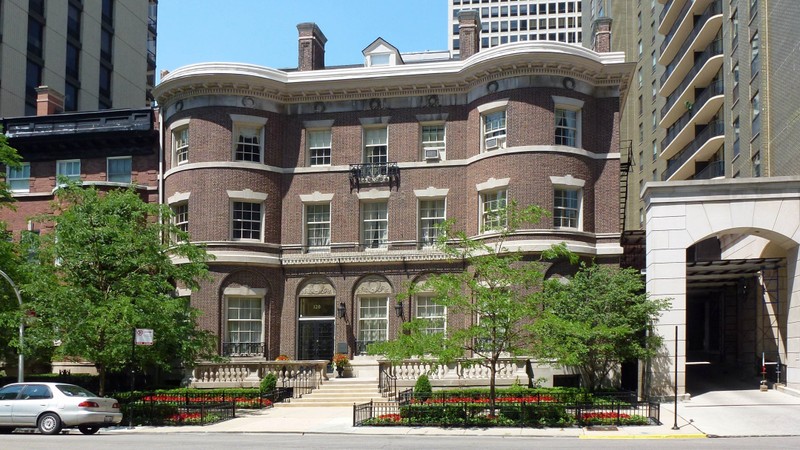 Backstory and Context
Bryan Lathrop amassed a fortune in Chicago as a real estate and insurance mogul, which presented him with the capability to engage heavily in philanthropy, notably the funding and development of the Chicago Symphony Orchestra. He also worked most of his life towards the progress of one of Chicago's most well-known cemeteries and parks. He and his wife Helen (married in 1875) had the house built in 1891 within Chicago's Gold Coast neighborhood -- an area renowned for its wealthy residents.
Bryan Lathrop was born in Alexandria, Virginia in 1844, but his family moved to Chicago at the onset of the Civil War -- Bryan's uncle worked in the real estate business in Chicago. However, Bryan did not arrive in Chicago until the war was nearly over in 1865. Instead, for roughly four years, Lathrop studied in Europe where he developed a sincere appreciation of art and landscape design that guided his philanthropic activities.
Lathrop joined his uncle in real estate when he returned to Chicago. Both men enjoyed shared an appreciation for landscape gardening, so it is no surprise that Lathrop's uncle allowed him to work on the development of Chicago's famous Graceland Cemetery, the resting place for some of Chicago's most famous and influential residents. Lathrop later joined the board of managers (1867), and then when his uncle moved to Washington in 1877, Lathrop became board president. He managed the cemetery's development for nearly forty years, up to the time of his death.
He championed the idea of planning and constructing more parks in Chicago. As vice president of the Lincoln Park board, he led an effort to extend the park along the Lake Michigan shore.
As Lathrop's fortunes grew, so did his philanthropy. He donated money and time to the Chicago Relief and Aid Society, as well as the Newberry Research Library. Lathrop, though, is mostly known for his ties to the Chicago Symphony Orchestra. Lathrop donated nearly $700,000 (worth $1.8 million in 2018), for the development of the Civic Music Student Orchestra, the predecessor of the current Civic Orchestra.
Moreover, he became a trustee of the Orchestral Association in 1894, its vice president in 1898, and then president in 1903. Under his direction, the symphony moved to Orchestra Hall and changed its name to Chicago Symphony Orchestra (1913).
Lathrop died from heart disease at his historic home on Bellevue Place in the Chicago's wealthy Gold Coast neighborhood in 1916. His love of art can be seen in the items donated to Chicago institutions after his passing. For instance, his extensive collection of Whistler's artworks went to the Art Institute of Chicago, and the Newberry Library obtained possession of his comprehensive library.
The funeral service was held, appropriately, at the Graceland Cemetery chape. Frederick Stock, Chicago Symphony Orchestra conductor, canceled their concert in Buffalo and returned to Chicago in time for the funeral. He and his wife, who died in 1935, were buried next to each other in Graceland. Cemetery.
Sources
Carey, Heidi Pawlowski. "Graceland Cemetery." Newberry Library: Encyclopedia of Chicago. Accessed June 15, 2018. http://www.encyclopedia.chicagohistory.org/pages/1732.html

Clague, Mark. "Chicago Symphony Orchestra." Newberry Library: Encyclopedia of Chicago. Accessed June 15, 2018. http://www.encyclopedia.chicagohistory.org/pages/270.html

Glessner House Museum. "Remembering Bryan Lathrop." Glessner House Museum Blog. May 30, 2016. http://glessnerhouse.blogspot.com/2016/05/remembering-bryan-lathrop.html

Seligman, Amanda. "Gold Coast." Newberry Library: Encyclopedia of Chicago. Accessed June 15, 2018. http://www.encyclopedia.chicagohistory.org/pages/524.html

Photo Sources

Early Photo: Property of Glessner Museum - http://glessnerhouse.blogspot.com/2016/05/remembering-bryan-lathrop.html

2010 Photo: http://chilandmarks2010.blogspot.com/2011/02/trip-92-lathrop-house.html

Modern Picture: http://yochicago.com/the-sheridan-park-6-flats-built-to-look-like-mansions/29456/

Additional Information