Strong-Porter Museum, Coventry
Introduction
The Strong House was originally constructed in the 18th century and today serves as the home of the Strong-Porter Museum. In addition to its collections, the museum itself is an artifact that shares the history of the area and the way historic interpretations change over time as new evidence and perspectives are considered. The home was purchased and restored due to a case of mistaken identity. Renowned 20th century antiquarian and Nathan Hale fan George Dudley Seymour, who had previously purchased and restored the Hale Homestead, snapped up this neighboring property because he believed that it had once been the home of Hale's mother, Elizabeth Strong Hale. As it so happens, Elizabeth never actually lived there, but her mother may have lived at the property as the house was built by one of Nathan's relatives. Some believe it was built by his great-great-grandfather, great-grandfather, or his great-uncle…opinions vary.
Images
A front view of the Strong-Porter House.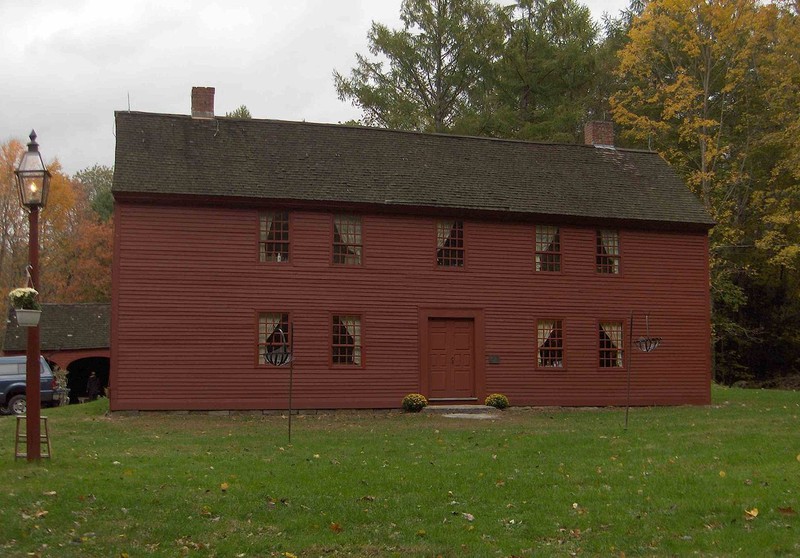 A rear view of the Strong-Porter House, showing the lean-to addition probably provided by the prolific Porters.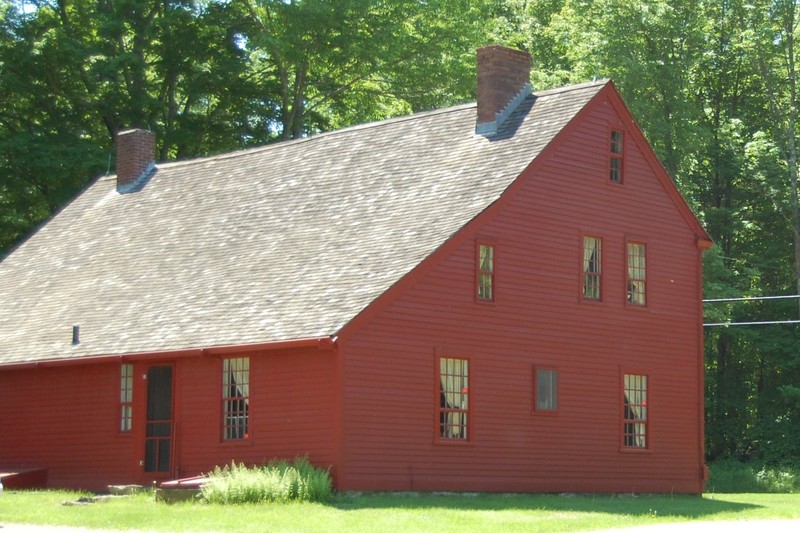 The "Lytle House" privy was restored and moved back to this historic home after substantial effort by local historians.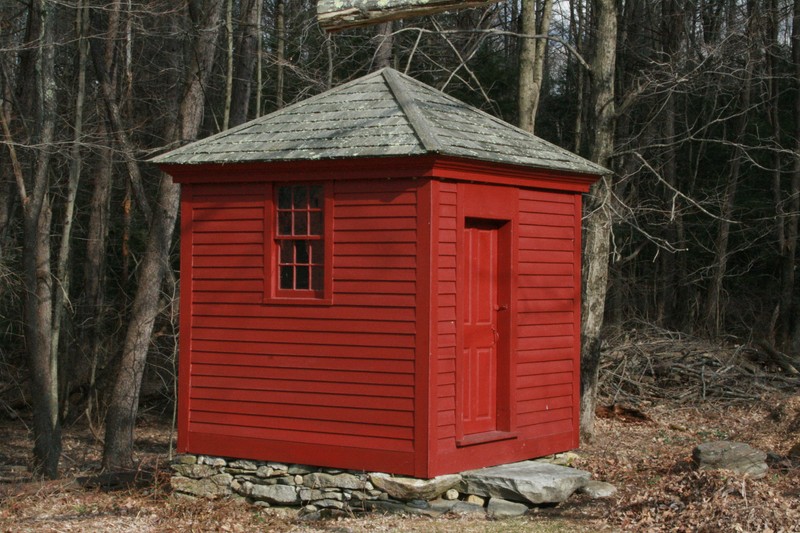 Backstory and Context
The Strong House is a 2 ½ story clapboard structure dating back to the early 18th century. Its oldest portion, characterized by exposed beams, wide-paneled walls, and a fireplace cupboard, is thought to have been built around 1710. Later additions to the home include architectural details such as woodwork and hardware that are typical of the 1770s. When the property was purchased by Seymour in 1930, he removed Victorian add-ons such as a Greek Revival portico, an enclosed porch, and a bay window. As part of his effort to make the building appear as it might have in the 18th century, he also repaired, restored, and furnished the home with items to closely approximate how it would have appeared in the late 18th century just as he did with the neighboring Hale Homestead.
Documentation submitted to support the Strong House's application for the National Register for Historic Places (which status was granted in 1988) attributes the house's construction to Jedediah Strong, or possibly his son Preserved. Preserved was the father of Elizabeth Strong, whose daughter, also named Elizabeth, married Deacon Hale and subsequently gave birth to Nathan Hale. A sign at the site attributes construction to Aaron Strong, son of Preserved and brother to Elizabeth, a great-uncle of Nathan Hale. It is quite possible that all three of these men may have been involved in the original construction, as this is thought to have occurred in at least three stages prior to the Victorian additions and the 1930 restoration work.
Not only did the house undergo several stages involving various builders, but it has also gone through quite a few name changes. Originally the Strong House, it was later known as the Porter House after the family that purchased the house in 1758. The Porters were quite a large family and very influential locally in the 18th century. The Porters were likely responsible for the 1770s-era lean-to added to the house to expand it as well as giving it that classic New England saltbox appearance. At one point there were actually 21 Porters living under the same roof, so it's little wonder that expansion was necessary.

By the early 20th century, most of the Porters had either died out or moved on, and the house was sold to Mr. Seymour who once again renamed it. He chose to call it Northampton House, after the Massachusetts town from whence the Strong family had relocated to Coventry. Upon Seymour's death, the house and its contents were bequeathed to the State of Connecticut along with lands that would become part of the Nathan Hale State Forest. Today the house is operated by the Coventry Historical Society under a name that reflects both families who helped build the house but the town of Coventry itself: the Strong-Porter Museum.


The museum features numerous 18th-century furnishings and paintings, many of these collected by Mr. Seymour during his painstaking restoration. As it also serves as a local history museum, however, there are several exhibits more recent in nature, such as one dedicated to early 20th-century kitchen paraphernalia and another showcasing local 4-H club memorabilia. The museum grounds hold several outbuildings open to the public, including carriage sheds, carpenter shop, and a barn. The foundations of another barn, which stood two stories high until burning to the ground in 1890, were uncovered in 2002.
The building which garners the most interest from visitors, however, is a 19th-century outhouse known as the "Lytle House." The privy was at one point relocated to the grounds of the Hale Homestead, but by the late 1980s, local historians began lobbying for its return. It took a lot more time and fundraising than originally anticipated to move the privy but with persistence, the necessary permission and funding finally came through and the Lytle House has been returned and restored.
The Strong House may not be as high profile as the Hale Homestead, but it is likely that Nathan was familiar with this house as it belonged to nearby relatives. By contrast, the family homestead that bears his name was not completed until after his death. Hale family ties aside, the Strong House is also significant as being one of Coventry's earliest buildings, and a rare example of several features of early 18th-century domestic architecture.

The historic home is also the site of a letterboxing adventure sponsored by the Connecticut Sons of the American Revolution. It also serves as a jumping-off point for Coventry's Halloween "Hauntingly Enchanted Evening" lantern tour and woods walk, which is a popular annual event. As of 2018, admission to the Strong-Porter Museum is free.
Sources
Strong-Porter House Museum. Connecticut: Still Revolutionary. . Accessed June 13, 2018. http://www.ctvisit.com/listings/strong-porter-house-museum.

Museums. Coventry Historical Society. . Accessed June 13, 2018. http://www.ctcoventryhistoricalsociety.org/.

Strong-Porter House: A Museum for What Ales You. Connecticut Museum Quest. May 02, 2007. Accessed June 13, 2018. http://www.ctmq.org/a-museum-for-what-ales-you/.

National Register of Historic Places Inventory Nomination Form: Strong House. National Park Service. September 30, 1987. Accessed June 13, 2018. https://npgallery.nps.gov/NRHP/GetAsset/NRHP/87001906_text.

Strong-Porter House. The Connecticut Society of the Sons of the American Revolution. June 30, 2009. Accessed June 13, 2018. https://www.connecticutsar.org/sites/2009/06/strong-porter-house.html.

A Family's War. Revolutionary CT. . Accessed June 13, 2018. http://www.revolutionaryct.com/a-familys-war/.

Strong-Porter House Museum. Online Highways. . Accessed June 13, 2018. http://www.ohwy.com/ct/s/stpohomu.htm.

Strong-Porter House (1730). Historic Buildings of Connecticut. May 09, 2008. Accessed June 13, 2018. http://historicbuildingsct.com/the-strong-porter-house-1730/.

Generation 10. Peterson Family Home Page. . Accessed June 13, 2018. http://www.jfredpeterson.com/tree/g10stro.htm.

Elizabeth Strong. Geni. November 15, 2014. Accessed June 13, 2018. https://www.geni.com/people/Elizabeth-Strong/6000000001473639185.

"A Hauntingly Enchanted Evening" Lantern Tour and Haunted Woods Walk in Coventry. Eventful: Hartford. . Accessed June 13, 2018. http://hartford.eventful.com/events/ahauntinglyenchantedevening-lantern-tour-and-ha-/E0-001-033536649-4.


Additional Information