Battersea Grounds
Introduction
Battersea overlooks a 37-acre property with several interesting features. They include a long-lost garden on the south terrace of the lawn, a pet cemetery, a guinea house, tenant house, and the Banister Mills. In the 1867 Micheler map there are also four clearings shown where possible slaves' quarters once stood, though no evidence of those quarters remains today.
Images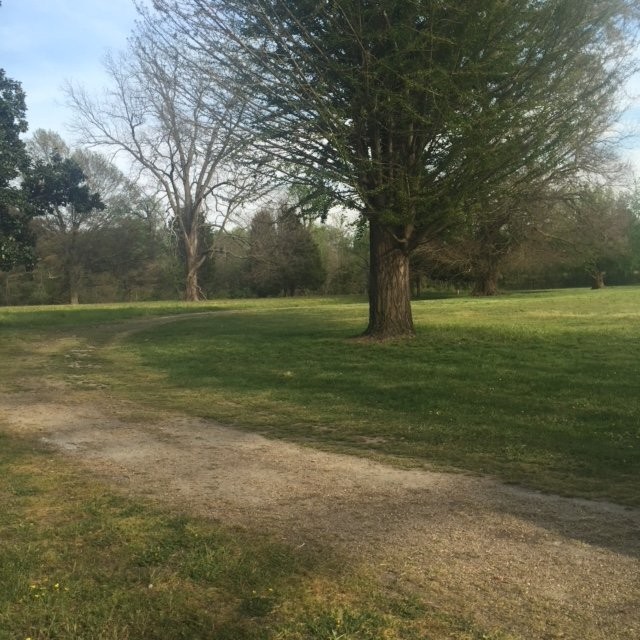 Backstory and Context
Garden
To the front of Battersea, there exists a level and spacious south lawn or terrace. Although no formal landscape plans have been discovered, there are several written accounts from the Banister to Wright periods (c. 1768-1905) suggesting this space was a garden. Furthermore, an 1860 plat drawing of the property labels the south lawn as such and a 1971 map shows a grid-like pattern there, a feature also shown in LiDAR readings done by James River Institute for Archaeology. These landmarks, in addition to the level terrace itself and the nearby greenhouse are evidence that a formal garden with straight walkways was once part of the Battersea estate.
Pet Cemetery
Next to the Battersea home is a "cemetery" of sorts complete with "headstones". Battersea Foundation has had this area scanned with Ground-Penetrating Radar (GPR) to see if there were human remains buried there. Instead they found these markers to be the resting places of family pets left by previous private owners of Battersea, an eclectic touch to the already unique property.
Guinea House
To the west of the house is a brick ruin dating from the 20th century. It is a structure remolded into a hen house by the removal of the roof and addition of "windows". Its place near the house signifies the agricultural nature of the grounds. The Foundation does not plan to restore this building, but does feel it contributes to the Battersea story.
Goodwill House
The tenant house or Goodwill Center served as such in the early 20th century. Built between 1915 and 1932, it sits southeast of the Battersea villa at the end of West High Street.
Banister Mils
Battersea was built next to the Appomattox River for two reasons. One was for agricultural use like irrigation and the availability of fertile soil. The other was to exploit the power of the river by means of the Battersea Mills, industrial mills along the Appomattox maintained by the Banister and May families from c. 1768 to 1838. In 1838 two railroad lines were built between Battersea and the river, thus closing off necessary foot and carriage traffic from the mills to the main house and ending an era of industrial mill entrepreneurship at Battersea.
Additional Information