United Methodist Church (South Point)
Introduction
The first Methodist church in South Point was built nearly a hundred years after the town was first settled in 1798. The Delta Chapel, as it was named, and another group of South Point Methodists came together in 1911 for the construction of a united Methodist church. It was completed in 1916 and located on Third Street. Over the years, the congregation built new churches, ultimately settling in its present location in the 1970s.
Images
The United Methodist Church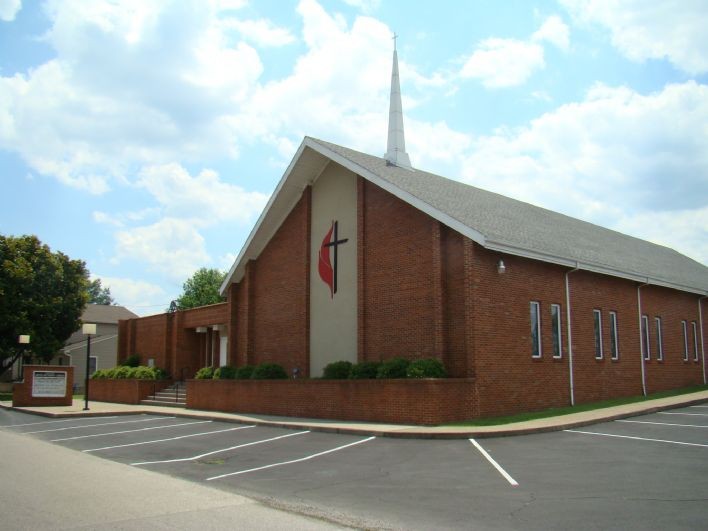 Backstory and Context
During most of the nineteenth century, there was only one church in South Point, Ohio: The First Baptist Church. Methodists of South Point often went to the Methodist church in nearby Burlington or held services in the McCoy home. In 1873, the latter congregation received a deed that said the McCoy homestead was to be used for church purposes. And so, the Delta Chapel was erected. It remained an active church for over fifty years.
In 1911, the Delta Chapel Methodists of South Point and those who traveled to Burlington for service gathered together and decided to build a new church. Construction began in 1913 on the corner of Third and Main Streets. The United Methodist Church was dedicated on June 16, 1916. It featured stained glass windows from a demolished church in Portsmouth and, later, the bell from the Delta Chapel. Reverend J. W. Wine served as pastor for the church's initial seventeen members.
Improvements were made to the church over the next few decades, such as the installation of electricity in 1930. In 1950, three more church rooms, a kitchen, and restrooms were added. Two years later, the building was sold, and a new church was built on Third Street. The church bought land for another new church in 1959, but almost twenty years passed before it came to fruition. After services were held temporarily on Mulberry Street, the new United Methodist Church was dedicated on October 22, 1978, adjacent to the location of the original church. Over the next decade, the parking lot was Blacktopped, the fellowship hall was remodeled, and glass stain windows were installed.
Sources
South Point United Methodist Church. The United Methodist Church. Accessed May 31, 2018. http://www.umc.org/find-a-church/church/60458. Photo source.

Ferguson, Art. The History of South Point Village. South Point, Ohio. The South Point Centennial Committee, 1988.