First Baptist Church (South Point)
Introduction
In 1833, the First Baptist Church became the first church built in the town of South Point. It was originally located on 20 acres of land between what is now Ferry Street and Davidson Street. The church was replaced in 1868 by a white frame building on the corner of Solida Road and the old US Route 52. The modern, brick First Baptist Church was built at that same location in 1964.
Images
From the First Baptist Church Website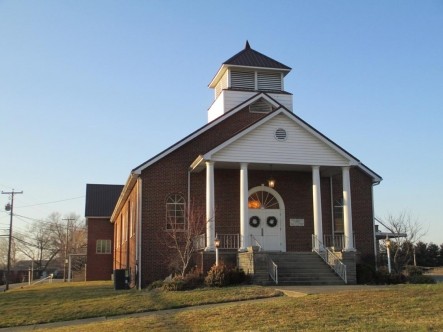 Backstory and Context
South Point, Ohio was first settled in 1798, but no church was built there until 1833. Since 1823, formal worship services had been held simply in the home of Stephen Ballard on Solida Creek. The congregation was organized by Reverend John Lee of Virginia, a "church planter" who helped establish multiple churches in Lawrence County. Reverend William Warrington Davidson, son of an early settler of South Point, donated 20 acres of land for the construction of the First Baptist Church and a cemetery. He took over as pastor from Reverend William Fusen in 1842 after becoming ordained.
In 1867 or 1868 (sources differ), a new First Baptist Church was built on the corner of Solida Road and old US Route 52 on land donated by Fusen Davidson. The congregation numbered 200 at that time. The new church was larger and had a belfry and bell. It was replaced 96 years later in 1964 by a brick church on the same site. During the 1970s, the church withdrew from the Ohio and American associations and became an independent Baptist Church. Renovations were also done to add room for 120 more people in the sanctuary. The church later bought the yellow-brick Elementary Number One school building from the local school board and used it for youth services and a gymnasium.
The First Baptist Church of South Point still congregates in the same place today.
Sources
Our History. First Baptist Church South Point. Accessed May 31, 2018. http://fbcsp.com/about-us/our-history.

Home. First Baptist Church South Point. Accessed May 31, 2018. http://fbcsp.com/home. Photo source.

Ferguson, Art. The History of South Point Village. South Point, Ohio. The South Point Centennial Committee, 1988.


Additional Information