The Carlyle
Introduction
The Carlyle is located on Ocean Drive in Miami, Florida. It has been one of the most recognizable fixtures of the Ocean Drive hotel sprawl for nearly 75 years. Miami Beach's National Register Art Deco District, which measures roughly one square mile and includes about 800 contributing buildings, is among the largest historic districts in the country. Today, the Carlyle is both a hotel and residential condominium.
Images
Corner Exterior. Front is a public restaurant. Credit: Alexander International Realty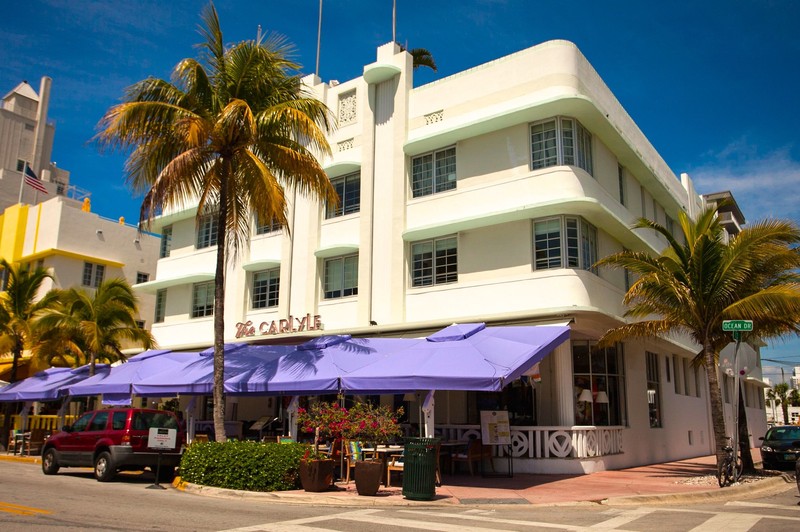 Pictured on cover of Tropical Deco: The Architecture and Design of Old Miami Beach by Laura Cerwinske, Random House Incorporated, 1981.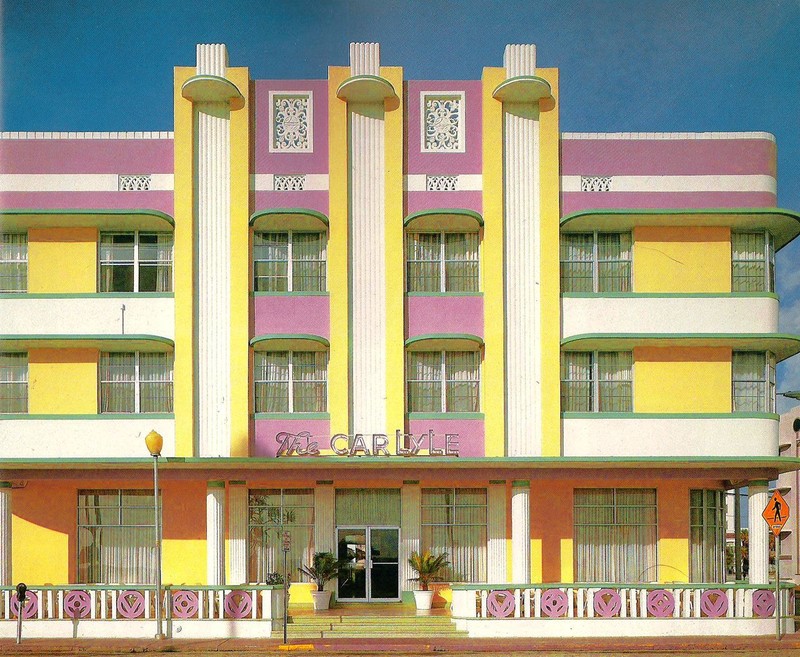 Miami Beach, FL.The Carlyle Hotel, Curteich Linen Roadside Postcard c. 1955. Credit: walkerspostcards, ebay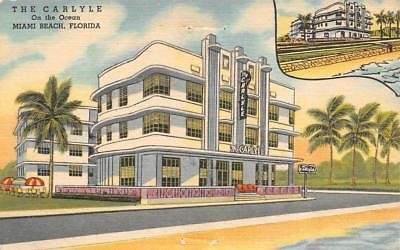 Credit: Courtesy Creative Commons / Flickr / Alfredo Aponte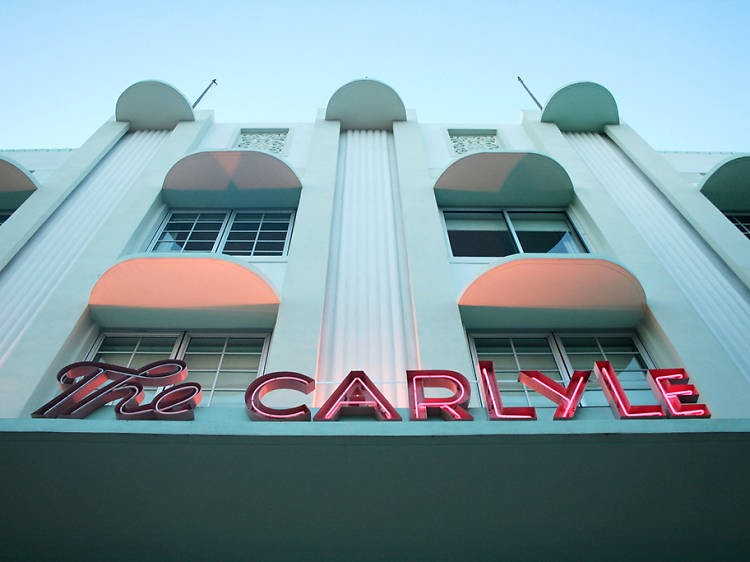 Backstory and Context
Designed by the late German architect Richard Kiehnel, of the Kiehnel & Elliot firm, The Carlyle is classic Miami Beach deco: a flashy ensemble of striking vertical piers, horizontal lines, visor-like sunshades and curvaceous corners. The Carlyle also adheres to a number of standard Art Deco stylistic attributes, like the rule of thirds, with its three dividing vertical sections at the front and the step tops that cap them. The façade today remains virtually unchanged from the original.
The Carlyle was built in 1939 and opened in 1941 and has remained an iconic Art Deco landmark. Known as one of the most sought-after settings for photo shoots, televised programming, Hollywood, and independent film-making, The Carlyle has been featured in films such as Bad Boys 2 (2003), Random Hearts (1999), Pronto (1997), The Birdcage (1996), and Scarface (1983).
Sources
The Carlyle About Us. South Beach Rentals Online. Accessed May 22, 2018. http://southbeachrentalsonline.com/about.html.

Clemons, Audra. The 10 Best Art Deco Buildings in Miami. The Culture Trip. February 09, 2017. Accessed May 22, 2018. https://theculturetrip.com/north-america/usa/florida/articles/profiling-art-deco-in-miami-the-10-bes....

Cohen, Travis. The ten best art deco buildings in Miami beach. Miami New Times. May 14, 2013. Accessed May 22, 2018. http://www.miaminewtimes.com/arts/the-ten-best-art-deco-buildings-in-miami-beach-6517806.


Additional Information