This entry includes a walking tour! Take the tour.
Introduction
Located on the 4th floor of the Guerrieri Academic Commons, on the campus of Salisbury University, the Nabb Research Center houses documents, photographs, and artifacts from the Colonial era through the present day and is a remarkable resource for understanding the people and places of the Eastern Shore and all of Delmarva. The mission of the Edward H. Nabb Research Center is to cultivate and sustain the advancement of scholarly research through collecting, preserving, disseminating, and providing access to records and artifacts which illustrate the rich historical and cultural heritage of the greater Chesapeake (Delmarva) region. Salisbury University students and faculty, local K-12 students and educators, community and regional groups, and individual researchers utilize Nabb materials, participate in classes and workshops, and attend lectures and exhibits to broaden their understanding of the history and culture of the area.
Images
The Edward H. Nabb Research Center is located on the 4th floor of the Guerrieri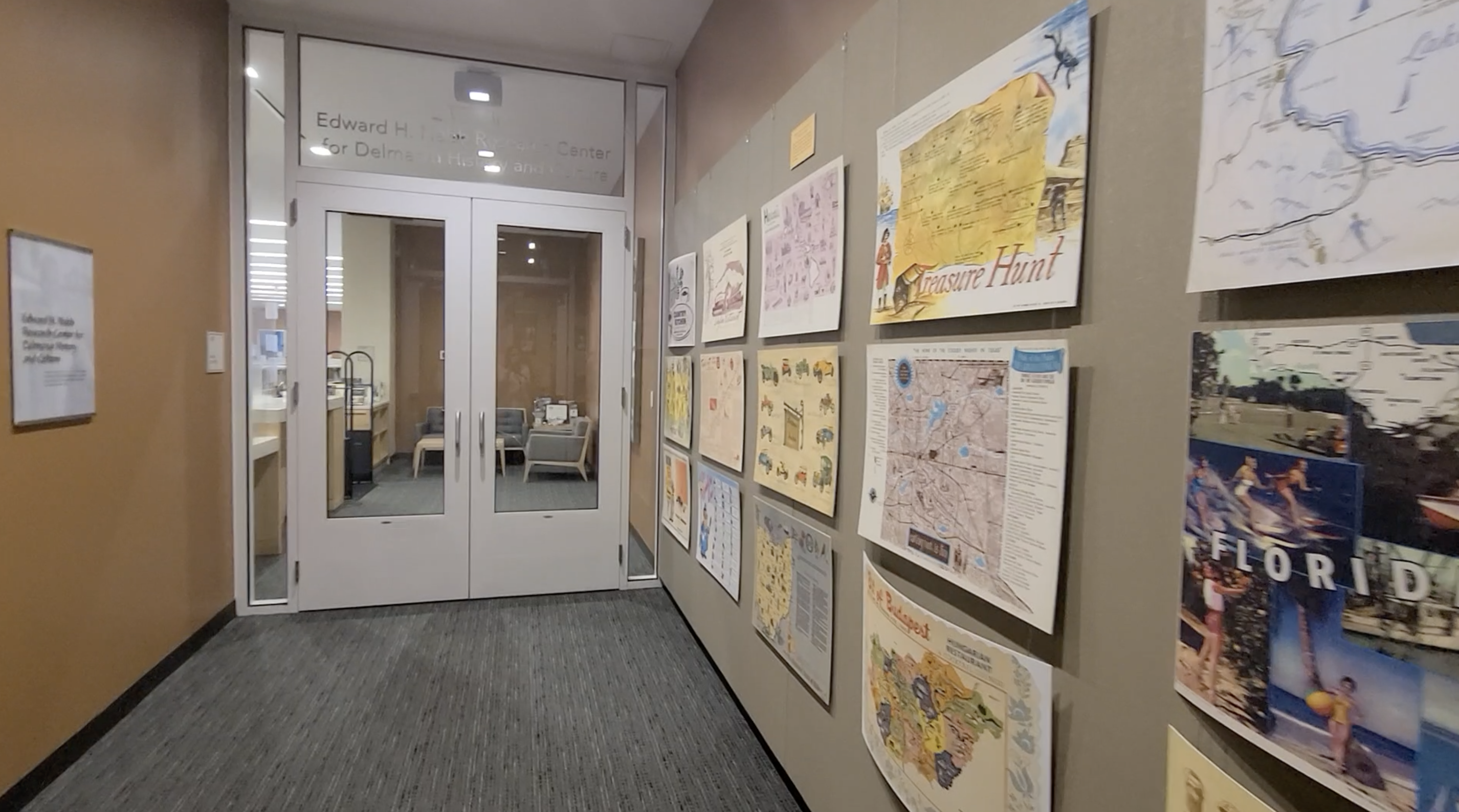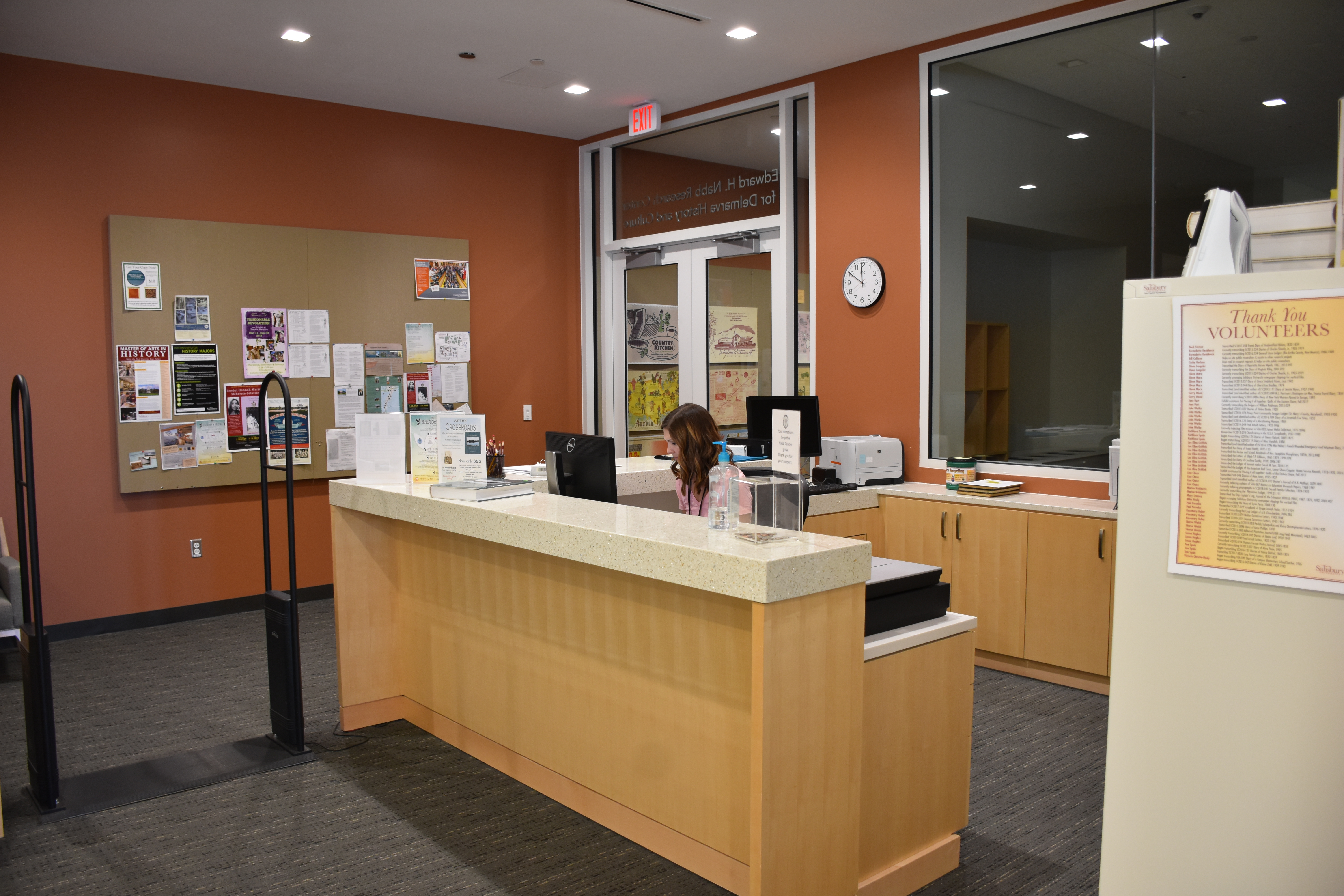 Backstory and Context
The Edward H. Nabb Research Center for Delmarva History and Culture was founded in 1982 as a history laboratory for students by Dr. G. Ray Thompson and Mrs. Sylvia Bradley of the Salisbury State College Department of History. They began acquiring microfilms of historical land records, wills, inventories, censuses, and other resources pertaining to the lower counties of the Eastern Shore of Maryland, Delaware, and Virginia. Recognizing the convenience of having these diverse records in one central location, local researchers and family historians generously supported these efforts.
Over the next decade, after outgrowing its location in Holloway Hall on the main campus and merging with the Folklore Archives, headed by Dr. Polly Stewart from the Department of English, the collection of books, microfilms, archival materials and artifacts was moved to larger quarters on the school's East Campus and became the Research Center for Delmarva History and Culture.
The Research Center became a popular repository for family journals and papers, surveyors' papers, maps, research notes of local historians, book and pamphlet collections, business records, and other ephemera donated by the public. An endowment of $500,000 by Edward H. Nabb, Sr. in June of 1998 resulted in the renaming of the Center to the Edward H. Nabb Research Center for Delmarva History and Culture at Salisbury University.
The Nabb Research Center is now part of the Salisbury University Libraries. In the summer of 2016, the Nabb Research Center moved back to the main campus onto the fourth floor of the Patricia R. Guerrieri Academic Commons, a new state-of-art facility housing the library. In addition to the local history collections, the Nabb Research Center is also the repository for Salisbury University's archives and special collections.
If you'd like to learn more about the our organization visit the Nabb Research Center Website.
Sources
Nabb Research Center. Accessed September 25th 2020. https://www.salisbury.edu/libraries/nabb/.
Image Sources
Edward H. Nabb Research Center

Edward H. Nabb Research Center

Edward H. Nabb Research Center

Additional Information