Henry Johnson Memorial Statue-Washington Park
Introduction
Henry Johnson was an African American soldier in the 368th Infantry, a regiment known as the "Harlem Hellfighters" during World War I. Johnson may soon be awarded the Congressional Medal of Honor for single-handedly turning back a German attack that saved the lives of his comrades.
Images
Henry Johnson Memorial Statue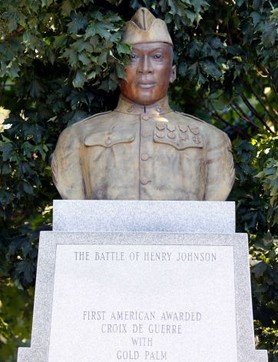 Backstory and Context
Prior to the war, Johnson was a porter in Albany. Because of the U.S. military's policy of segregation, and because the United States had sent very few combat units to France when the 369th arrived in 1918, Johnson and other Black troops fought under French commanders. Like others in his regiment, Johnson was awarded the Croix de Guerre, the highest honor France bestows upon soldiers of other nations. Johnson's selfless courage and timely action won to accolades of Teddy Roosevelt and others, yet he had few employment options and upon his return. Once again finding work as a porter, Johnson may have suffered from PTSD and would died in a military hospital in 1929. Johnson posthumously received the Distinguished Service Cross, the nation's second-highest military decoration, and applications for the Congressional Medal of Honor are pending.
Additional Information