La Brea Tar Pits Museum
Introduction
Located in Hancock Park, the La Brea Tar Pits Museum is one of the city's more unique attractions. It is named for a group of natural asphalt tar pits ("brea" is the Spanish word for tar) that have been seeping tar, and trapping animals and plants, for tens of thousands of years. As such, the pits have been a treasure trove paleontologists who have recovered an estimated one million (and counting) well-preserved specimens—231 species of invertebrates, 234 species of vertebrates, and 159 species of plants—since 1906. These include large animals such as saber-toothed tigers, mammoths, dire wolves, and smaller creatures such as rodents, insects, and mollusks. The museum features many of these on display, including a nearly complete Columbian mammoth skeleton. The museum also offers tours and features a lab where visitors can see paleontologists process fossils. The tar pits site is National Natural Landmark and a California Historical Landmark.
Images
The La Brea Tar Pits Museum preserves a large and growing collection of prehistoric animals and plants dating to tens of thousands of years ago.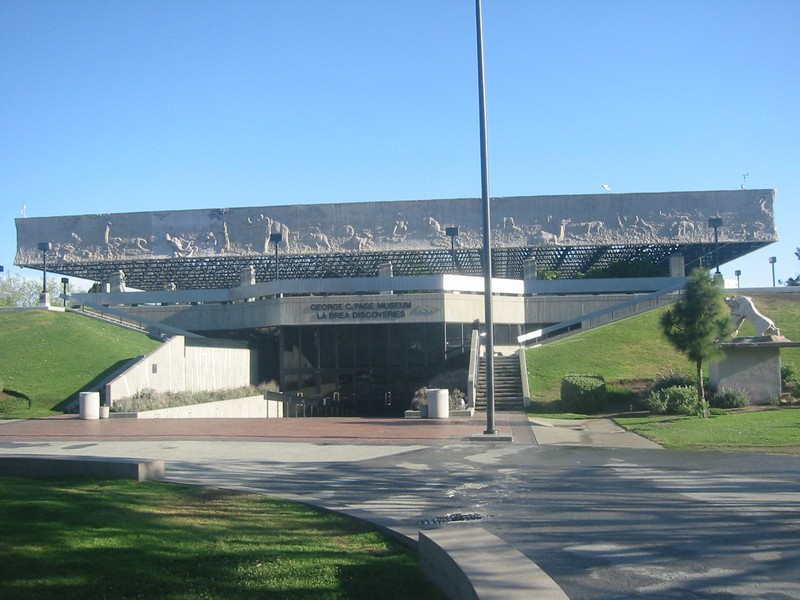 The grounds feature this tar pit pond that has life-size replicas of mammoths.

Backstory and Context
The land on which the museum stands was once part of a large 4,400-acre property called Rancho La Brea owned by Antonio Jose Rocha. Local residents were allowed to have access to the pits for personal use. Over time, the ranch was subdivided. The last owner of the tar pits was George Allan Hancock (for whom the park is named). He donated land for the park on the condition that the pits be preserved and studied.

Interestingly, it took quite some time for people to realize the significance of the pits. The earliest written record of the pits came in 1769 when a Franciscan friar wrote about them. The first published mention of ancient animals found at the pits came in 1875. Finally, the significance of the pits was fully recognized in 1905. Amateur and professional excavations took place in the coming years, the most of important of which occurred in 1913-1915 when the Natural History Museum of Los Angeles County (under its previous name) conducted thorough excavations that revealed 750,000 specimens. The most recent excavations came in 2006, which were collectively called Project 23. The nearly complete Columbian mammoth and numerous other specimens were discovered and are still being studied and processed.
Sources
"About the Museum." La Brea Tar Pits Museum. Accessed May 4, 2018. http://www.tarpits.org/our-story/about-the-page.

Photos: Wikimedia Commons
https://commons.wikimedia.org/wiki/Category:La_Brea_Tar_Pits

Additional Information