Clifton Caboose - Norfolk & Western Caboose # 518590
Introduction
This antique caboose and corresponding historic marker commemorate the history of the region its former train stations, one of which was utilized by Union forces in the Civil War. The marker mentions that there were two railroad stations between Manassas Junction and Fairfax: Sangster's Station and Devereux Station. After the war ended, both of the train stations were replaced, and the construction of a passenger station at Devereux Station led to Clifton's rise as a resort community. Near the marker is a late-twentieth-century red caboose from the Norfolk & Western Railway, one of the many railroads that have passed through Clifton over the past 150 years.
Images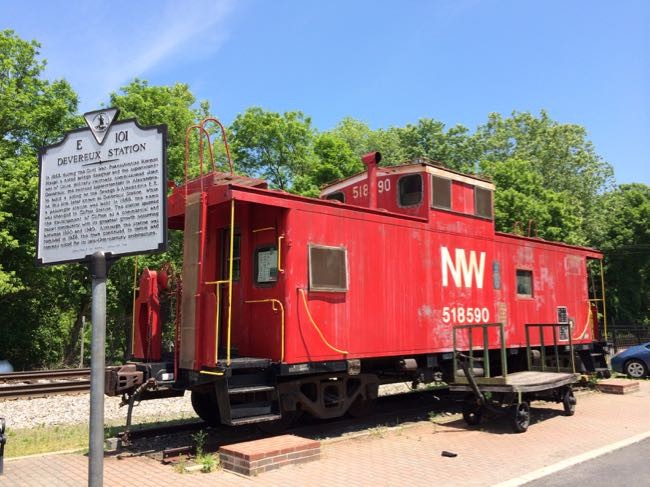 One of two historical markers in the area, this sign offers a short history of the area.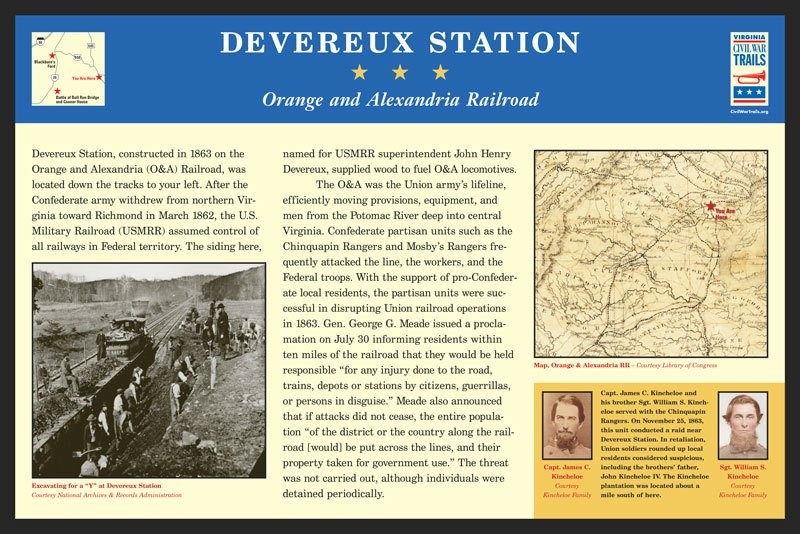 This marker offers a short history of Devereux Station
Backstory and Context
The caboose marks the original location of the Devereux train station, constructed in 1863 on the Orange & Alexandria Railroad. After Union troops took control of northern Virginia in 1862, the U. S. Military Railroad took control of rail lines, and U.S. Military Railroad rail superintendent Herman Haupt commissioned Alexandria rail superintendent John Henry Devereux to construct a "siding," or low-speed spur track, at this site. Railroad workers in named the station honor of Devereux. Devereux Station was part of a lifeline for supplies and troops, as it was used for moving wood for locomotives, and the railways were targets for Confederate raids.
When a passenger station was built in 1868, the area was renamed Clifton Station by Harrison G. Otis, who purchased much of the land around the rail line and opened a hotel the following year. As a result, Clifton experienced an evolution into a resort community in late nineteenth and early twentieth centuries. The Orange & Alexandria railroad became the Southern Railway. Norfolk and Western Railway merged with the Southern Railway in the early 1980s and the merged company was also known as the Norfolk Southern Railway.
The station was removed in 1958, but the tracks are still in use by Amtrak and Virginia Railway Express. The Norfolk and Western Railway caboose, or the end car of a freight train, was in use from 1974 to 1991 and was later placed at the site to mark where Devereux Station once stood. The Virginia Department of Historic Resources placed the marker in 1996.
Sources
garmin geek. Norfolk & Western Caboose # 518590, Waymarking. June 17th 2010. Accessed November 23rd 2019. https://www.waymarking.com/waymarks/WM92B2_Norfolk_Western_Caboose_518590_Clifton_VA.
Hodge, Hilary. History, Clifton VA. 2002. Accessed November 23rd 2019. http://clifton-va.com/About/History/.
Peterson, Tim. Lorton: Holiday Homes Tour 'Warm Hospitality', Fairfax Connection. December 1st 2016. Accessed November 24th 2019. http://www.fairfaxconnection.com/news/2016/dec/01/lorton-holiday-homes-tour-warm-hospitality/.
Prats, J. J.. Devereux Station, Historical Marker Database. June 16th 2016. Accessed November 23rd 2019. https://www.hmdb.org/marker.asp?marker=7402.
Image Sources
https://www.waymarking.com/gallery/image.aspx?f=1&guid=a5e22b83-60a1-4ab8-80cf-9fb71066afdf&gid=3

http://clifton-va.com/About/History/

https://www.hmdb.org/marker.asp?marker=7402

Additional Information