Independence Seaport Museum
Introduction
The Independence Seaport Museum is an exhibit of warships along with various other artifacts and information involving the Delaware River. The museum is located right along the river on Pennsylvania's side at 211 South Columbus Blvd., Philadelphia PA. The Museum was founded in 1961 but the history that will be discussed dates all the way back to 1639. This port is significant because of its early involvement in the importation of slaves into what is now Pennsylvania. William Penn played an important role in all of this for he is one of the main reasons Pennsylvania was such an early advocate against slavery. The Independence Seaport Museum lies on such a historical site. The Museum offers various tours of the war ships they have (via online appointment) at $18.00.
Images
The museum transformed into what it is today after a $15 million renovation in 1995.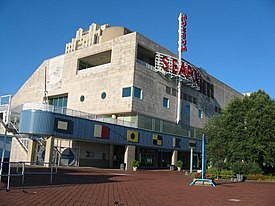 Display at Independence Seaport: James Forten was born free during the transition into slavery abolishment.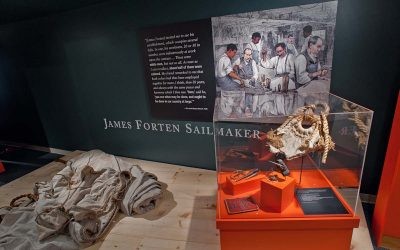 Display at Independence Seaport: Cruiser Olympia (C-6) is the oldest remaining steel ship afloat.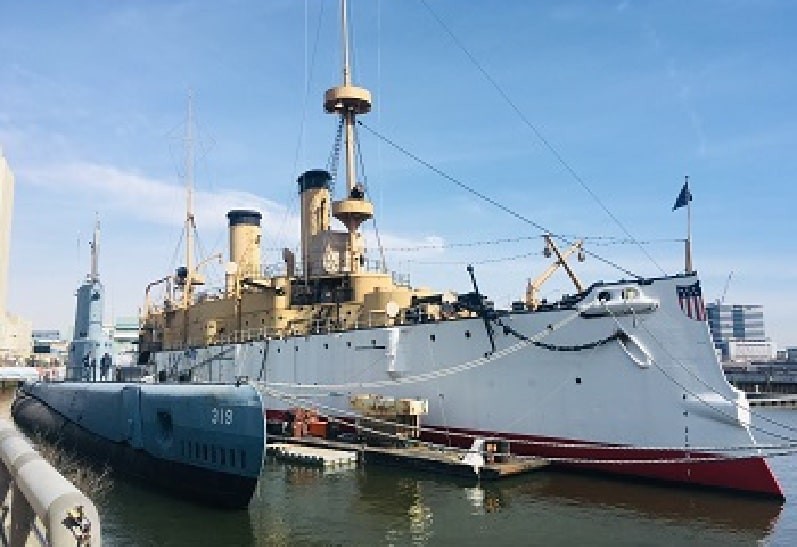 Backstory and Context
The Independence Museum is located on Penn's Landing at the Port of Pennsylvania. This area is significant in American history for this was the port where slaves were imported into Pennsylvania. Slaves started to be imported as early as 1639 and lasted till it was abolished in 1780. Penn's Landing is names after William Penn, founder of the colony and developed mores that included anti-slavery beliefs. Tides of Freedom is an exhibit in the museum that showcases multiple displays for African American presence along the Delaware River.
The first known African Americans in Pennsylvania lived in the Delaware River valley region as early as 1639. Philadelphia became the major Pennsylvania port for the arrival of slaves. With slavery still on the incline, in 1681 William Penn, English writer and religious thinker belonging to the Religious Society of Friends, was the founder of the English colony of Pennsylvania. Penn acquired the land of Pennsylvania from King Charles II as a payment of debt for his deceased father. It was reported Penn owned twelve slaves. However, he was a key role in the eventual abolishment of slave trade in Pennsylvania. This was mostly due to his appeal to the quaker religion.
Another important role in slave trade abolishment is the effect of war. The end of the French and Indian War in 1763 developed a sprout of many European immigrants. This caused slave importation to fall off aggressively. During the American Revolutionary War (1775-1783), African Americans fought on Pennsylvania soil at Brandywine and served at Valley Forge. Many African Americans won their freedom fighting either for the British or the Americans in that war. As time progressed on March 1st 1780, An Act for the Gradual Abolition of Slavery was passed in Pennsylvania. It was the first act in the colonies to ever be established against owning slaves. 
In the Independence Seaport Museum is an exhibit called Tides of Freedom. It shows all different kinds of ways African Americans have made an impact along the Delaware River. In regards to the time period focused on in this passage, the exhibit has an original ledger containing sixty three entries for the sale of enslaved Africans in colonial Philadelphia in the 1760s! It also showcases James Forten, a wealthy sailmaker who took over the business of his friend after several years. James Forten was a spokesman of the African American community in Philadelphia. At his house in 1833, the American Antislavery Society was assembled.
The Independence Seaport Museum is located upon one of the noteworthy locations of Pennsylvania history. Along this port is where the first and most of slaves were imported in the 1600-1700's. It is at Penn's Landing, names after William Penn who was a main anti-slavery influence. In the Museum you can find exhibits alone the lines of slave sale ledgers, and a showcase of a famous African American sailmaker during the time. The Independence Seaport Museum is mostly known for its more current history and tours of famous war ships. However, the museum is much more than that, it is an underlying remembrance of the slave trade happening at its very location. This spot changed the history of Pennsylvania, even the United States, forever!
Sources
Newman, Richard. James Forten Historical Marker, ExplorePAHistory. Accessed December 8th 2021. https://explorepahistory.com/hmarker.php?markerId=1-A-28C.
Kraft, Randy. New Seaport Museum Docks at Waterfront, The Morning Call. June 25th 1995. Accessed December 8th 2021. https://www.mcall.com/news/mc-xpm-1995-06-25-3028958-story.html.
Cruiser Olympia, Independence Seaport Museum. Accessed December 8th 2021. https://www.phillyseaport.org/cruiser-olympia/.
Tides of Freedom, Independence Seaport Museum. Accessed December 8th 2021. https://www.phillyseaport.org/exhibits/tides-of-freedom/.
Hopkins, LeRoy and Ledell Smith, Eric. African Americans in Pennsylvania, PHMC. May 27th 2008. Accessed December 8th 2021. https://web.archive.org/web/20080527221406/http://www.phmc.state.pa.us/ppet/africanamericans/page1.asp.
Schick, Jack. Slavery in Pennsylvania, Friends Journal. September 1st 2012. Accessed December 8th 2021. https://www.friendsjournal.org/slavery-in-pennsylvania/.
Harper, Douglas. Slavery in Pennsylvania, Slavery in the North. Accessed December 8th 2021. http://slavenorth.com/pennsylvania.htm.
Image Sources
https://upload.wikimedia.org/wikipedia/commons/thumb/0/0c/Seaport_museum_penns_landing.jpg/275px-Seaport_museum_penns_landing.jpg

https://www.phillyseaport.org/wp-content/uploads/elementor/thumbs/Tides-of-Freedom-2-pcdtbukgu8r35uo6pbl7n5ruyogq9pn1befporgp1g.jpg

https://www.phillyseaport.org/wp-content/uploads/2021/04/Rectangle-101.jpeg

Additional Information