Dwight Perkins House
Introduction
The house, built in 1904, stands as a monument to Dwight Perkins, one of the founders of the Prairie School architectural style that became a standard for Midwestern homes in the late 19th and early 20th centuries. The house also showcases landscaping and outdoor access, a key element of the Arts & Crafts style of architecture. Dwight and his wife Lucy Perkins loved nature and it influenced Dwight's career. Lucy,'s career was just as successful as she went on to sell more than two million children's books. Their two children and daughter-in-law also contributed heavily to local history, architecture, education and writing.
Images
Dwight and Lucy Perkins' house, built 1904. The Perkins Family lived in the house for 81 years.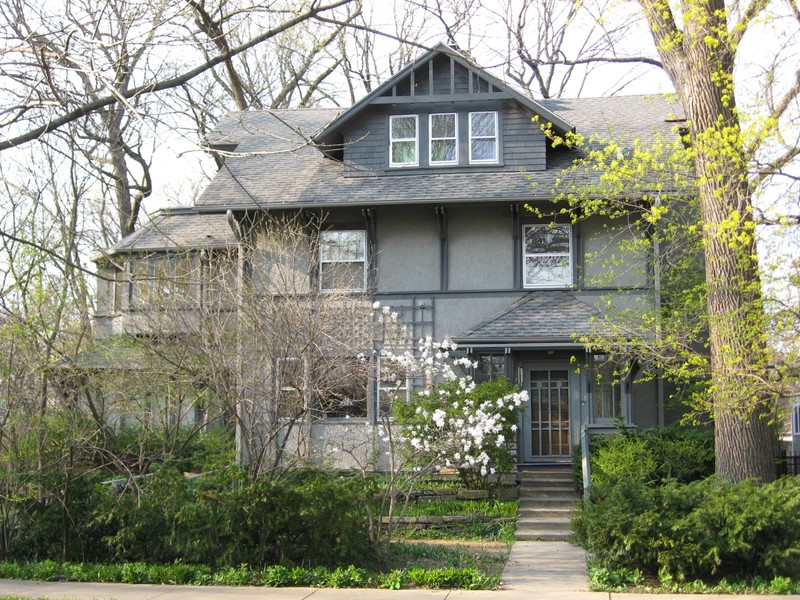 Embedded in Nature: The Perkins house was designed to include extensive landscaping, trees and other outdoor features.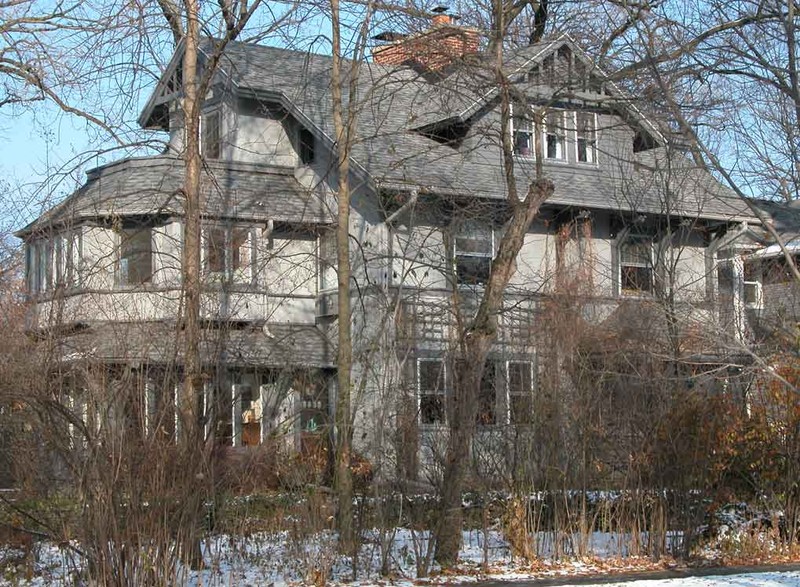 Backstory and Context
The Perkins house (1904) enjoys historical relevance both for its architectural story and due to achievements of the Perkins family, who lived in the house for eighty-one years. Dwight Perkins, a nationally-known architect who worked with some of the original members of Chicago's School of Architecture, drew upon the Prairie School, as well as the Arts & Crafts Movement, to design the house. Dwight, his wife Lucy -- a renowned children's author, and their kids left a lasting impression on numerous aspects of Chicago's and Evanston's cultural and environmental history.

The house itself, while drawing heavily upon Prairie School styles, included designs intent on encouraging access to the outdoors, such as open-air patios and decks, as well as beautiful gardens and landscaping, which became known as the Arts & Crafts Movement. To see the house is to see Dwight's personality, one dedicated to Prairie School architecture and love of nature. However, it's the people who lived and assembled at the house that genuinely make the house "historical;" they influenced education, children's' writing, the recording of town history, and so much more.

Dwight Perkins

Anyone who has been to Chicago's Lincoln Park Zoo will notice one its most famous award-winning structures -- the Lion House. Chicago's home for the "king of the jungle," provides insight into Perkin's work, as he was both an ardent lover of nature as well as an architect. The Massachusetts Institute of Technology (MIT) graduate first worked with Chicago's famous architects, Burnham & Root, during the 1893 Chicago World's Fair (Colombian Exposition) and then later supervised the development of one of the first Chicago-School skyscrapers: the Monadnock Building (1891-1893).
A year later (1894), as an independent architect, he accepted a commission from the Steinway Piano Company to design a new building for them, He moved into the top floor and effectively established his own downtown-Chicago office. He also invited many of his friends to share the space with him, the first of whom to arrive was fellow M.I.T. graduate, Robert C. Spencer, who also brought his close friend Frank Lloyd Wright. They were soon followed by Myron Hunt. And with that congregation of architectural talent sharing space and ideas, the Prairie School of Architecture was born.
As his career progressed, went on to play a pivotal role in the establishment and development of the Cook County Forest Preserve in 1903 (Evanston and Chicago are both in Cook Country). A Progressive by nature, he also was heavily involved in expanding the availability of parks and playgrounds for the poor. Perkins routinely provided his plans and designs for park spaces to the University of Chicago and Northwestern University to be used in settlement buildings, similar to those made famous by the likes of Jane Addams.
To list every aspect of Perkins' resume goes beyond the scope of this entry, but he also served as the chief architect for the Chicago Board of Education, designed buildings for the Chicago Park District, and the Lincoln Park Zoo. Even after going mostly deaf by 1925, he continued to sit on the Park District and Forest Preserve boards, not to mention he consulted on the designs for the 1933 Century of Progress Exposition, effectively allowing his career to come full circle.

Lucy Perkins

Dwight met Lucy while he attended, and later taught at, MIT. Lucy had just begun her soon-to-be successful career as a children's author when the two married in 1891 and subsequently moved to Dwight's hometown of Chicago.
While in Chicago, she chose to tend to the house and write as a hobby, but the Panic of 1893 spurred Lucy to explore a career in writing to supplement Dwight's income. Lucy took a job with the Prang Educational Company, where she worked for a decade.
In 1904, Lucy left Prang when the couple moved to Evanston and built the now-historical house. And then, In 1906 and 1907, Lucy published her first two children's books: The Goose Girl, a collection of rhymes, and A Book of Joys: A Story of New England Summer. But, it wasn't until 1911 that she published her first book that enjoyed major success -- The Dutch Twins. That led to a 26-book series for the Houghton-Mifflin Company. All told, Perkins sold more than two million copies of her various books and was Houghton-Mifflin's most profitable author.

The Perkins' Children
Dwight and Lucy's children and in-laws also enjoyed many accomplishments. Dwight and Lucy's daughter, Eleanor, wrote plays produced at the Goodman Children's Theater, published books, and wrote columnns for newspapers. She also was a founding member of the Evanston League of Women Voters and Evanston Art Commission.
Dwight and Lucy's son, Lawrence, went on to establish his own successful architectural career focused on designing building used for education. He received the 1975 Distinguished Service Award from the American Association of School Administrators for his contribution to education. Lawrence's wife (Dwight and Lucy's daughter-in-law) published many books about Evanston, mostly focused on the town's history and architecture.
Sources
Berman, Alissa, Micaela Sullivan, and Tae Hwan Ok. "Nomination Form: Dwight Perkins House." National Register of Historic Places. http://gis.hpa.state.il.us/pdfs/201376.pdf

"Dwight Perkins Commissions." Prairie Styles. Accessed April 27, 2018. http://www.prairiestyles.com/perkins.htm.

"Lion House." City of Chicago: Chicago Landmarks. . Accessed April 27, 2018. https://webapps.cityofchicago.org/landmarksweb/web/landmarkdetails.htm?lanId=11382.

Merriman, C. D.. "Lucy Finch Perkins." The Literature Network. Accessed April 27, 2018. http://www.online-literature.com/lucy-perkins/.

Perkins, Eleanor Ellis. Eve Among the Puritans: A Biography of Lucy Fitch Perkins. Boston: Houghton-Mifflin, 1956.


Photo Source(s)
Dwight and Lucy Perkins' house, built 1904: By Zol87 from Chicago, IL, USA - Dwight H. Perkins House, CC BY-SA 4.0, https://commons.wikimedia.org/w/index.php?curid=10302542

Embedded in Nature: Picture from Prairie Styles (prairiestyles.com) --http://www.prairiestyles.com/perkins_comm.htm
Additional Information