Auto World Site of Short-Lived Amuseument Park 1984-1985
Introduction
Auto World was an indoor theme park in Flint, built to make the town attractive to tourists. The theme park opened in July 1984, and closed during its first year. It was originally set up as a Six Flags amuseument park venture. After failed attempts at revival in the summer of 1985 and other attempts at making the complex viable (once even being opened as an indoor golf course), it went bankrupt. The $80-million theme park finally closed its doors January 1985, later reopening for holidays and other special occasions before finally being demolished in 1997.
Images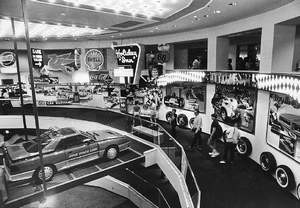 Backstory and Context
These photos show Auto World when it opened in 1984.
Additional Information