Hamburg Armory
Introduction
The Hamburg Armory is a National Guard Armory located in the town of Hamburg, Pennsylvania. Built in 1938-39, the building takes shape inspired by the Art Deco style. The architects that worked on the project were Elmer H. Adams and John M. Kostecky Jr.
Images
Southwest facing picture of the Armory, 2013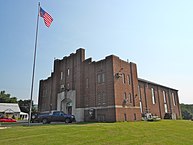 Sources
"Hamburg Armory." Wikipedia, Wikimedia Foundation, 29 Nov. 2016, en.wikipedia.org/wiki/Hamburg_Armory.