Richard Dowling Statue
Introduction
Hidden within the sprawling metropolis of Houston, Texas, stands the statue of a man nearly forgotten to time. In his short time here on Earth, this prominent Irish-Houstonian would attain financial success and heroic status during the mid 19th Century for his entrepreneurship within the city and his Civil War accolades earned from his victories. He is credited with helping lay the foundation for Houston's economy and saving Texas from Union invasion. Although he is mostly forgotten, it is imperative that his contributions to the state of Texas always be remembered for the sake of preserving a vital piece of Texas history.
Images
Richard Dowling Statue at entrance to Hermann Park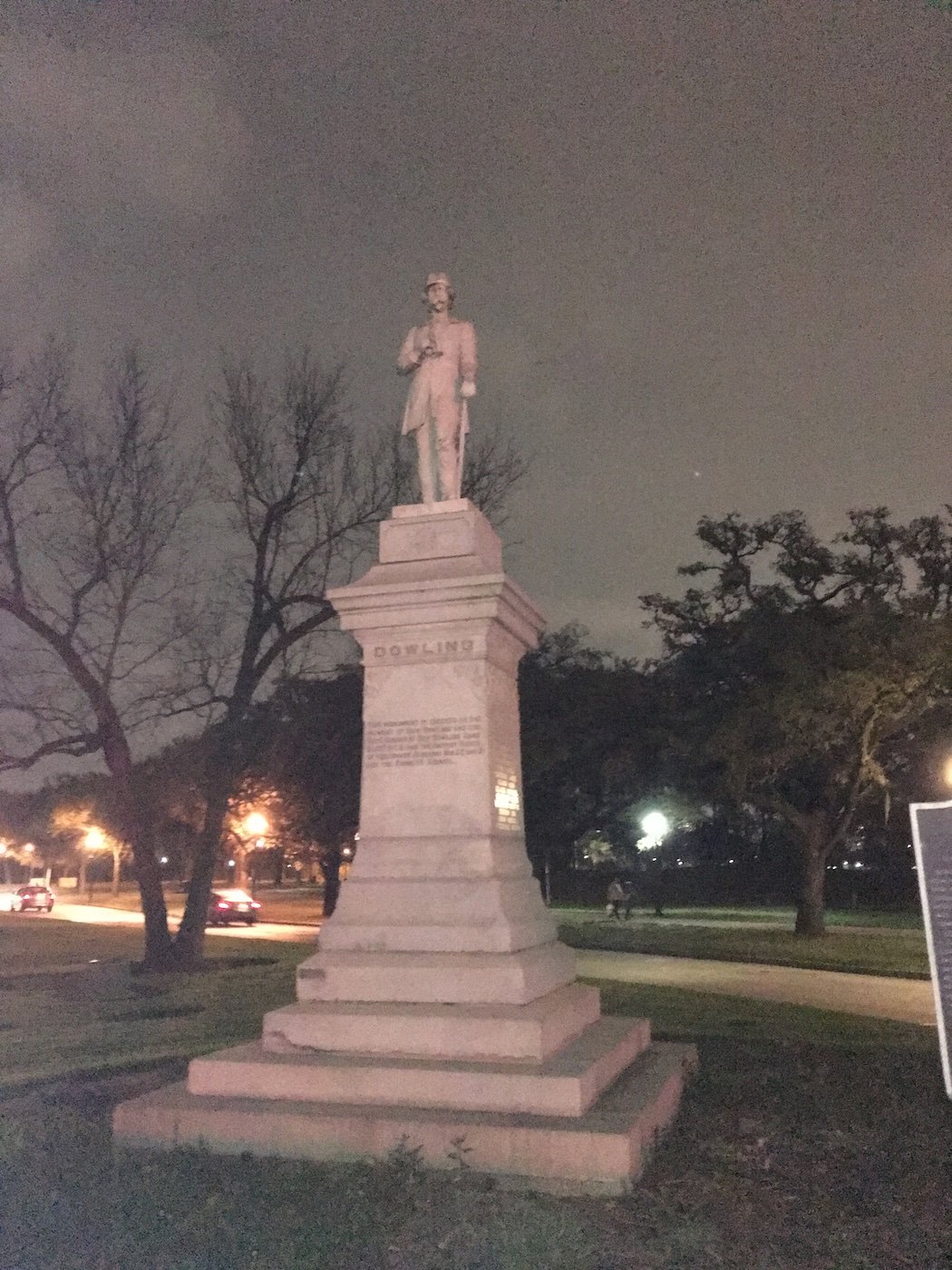 Texas State Historical Commission Marker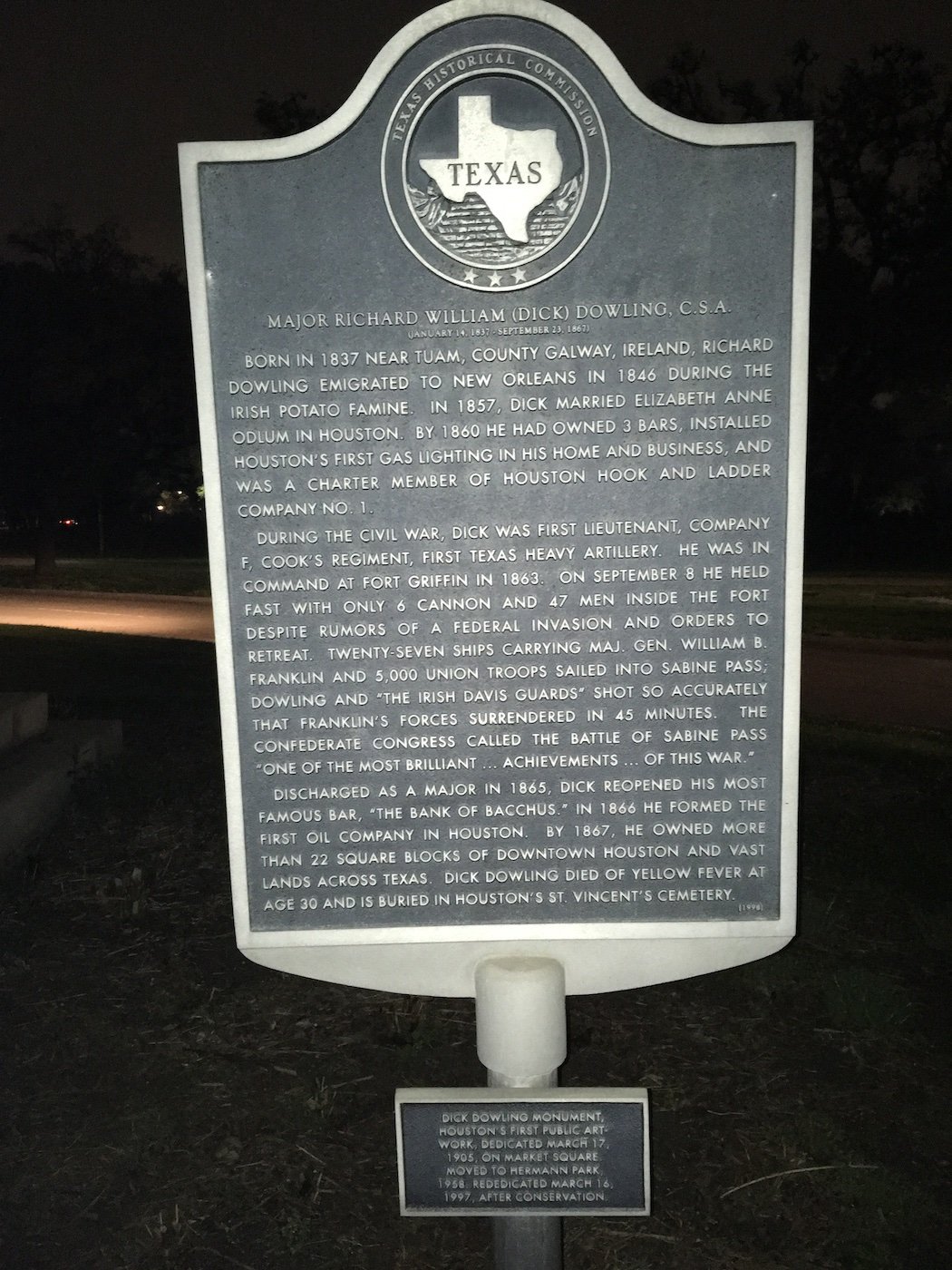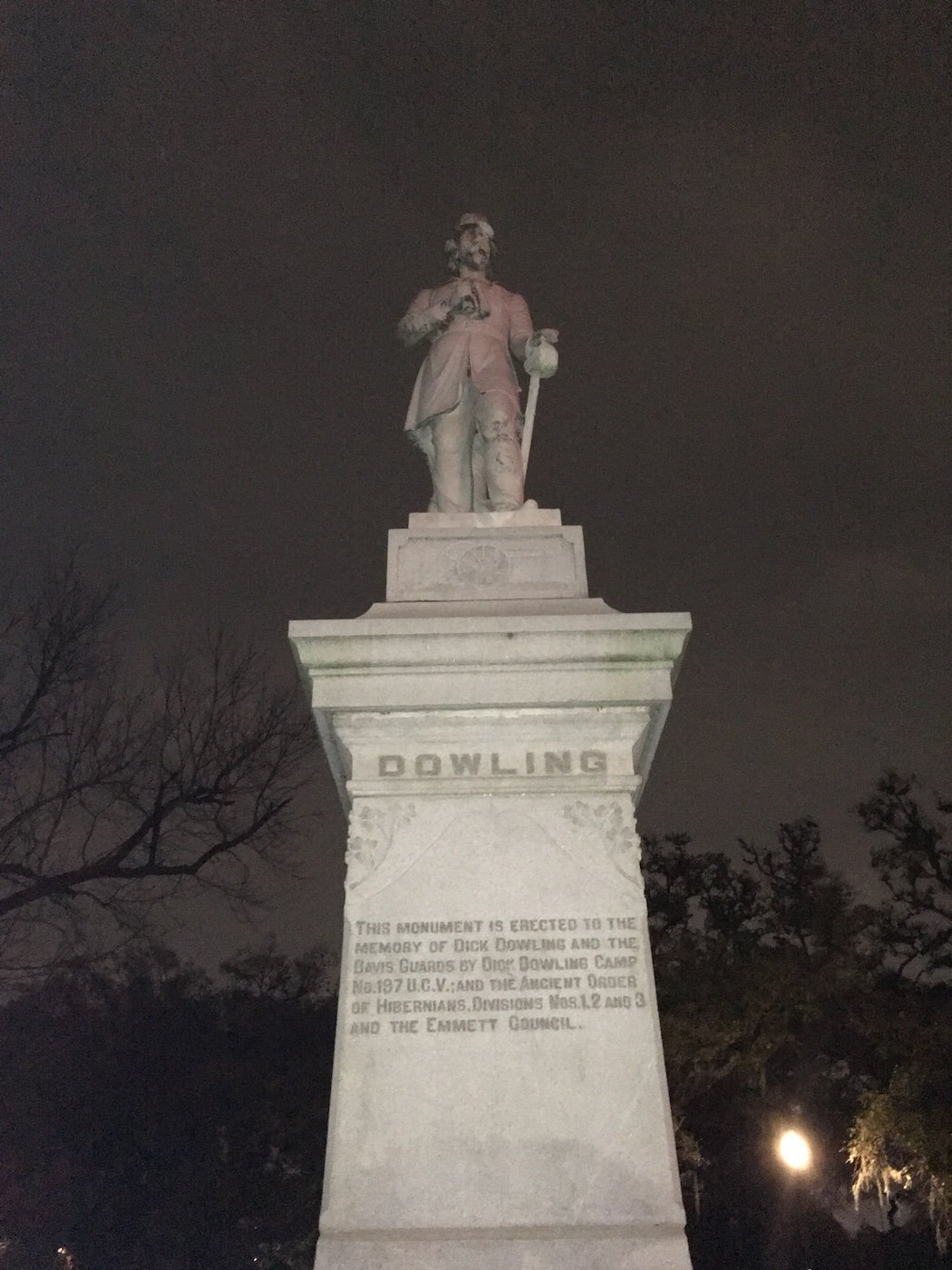 Backstory and Context
Among the many war heroes to emerge from both sides of the United States Civil War, one could probably name some like Ulysses S. Grant, Robert E. Lee, Thomas J. "Stonewall" Jackson, or William T. Sherman. Unfortunately, many more names are either lost or forgotten over time. However, the state of Texas produced some of its very own leaders who had a significant impact on the war and the state's history such as Major Richard "Dick" Dowling. Major Dowling played a critical role in the defense of Texas during the Civil War and was widely known across the Lone Star State. Additionally, Richard Dowling enjoyed economic prosperity back home in Houston where he left a lasting influence.
Like many of the era, Dick Dowling was not a native Texan. In fact, he was born in Ireland at the heart of Irish migration to the United States. Originally settling in New Orleans, Dowling would eventually move to Houston as a teenager after his parents died. Fortunately, he had a charisma that helped foster the growth of his entrepreneurial establishments throughout the city of Houston and , as a nineteen-year-old, Dowling's likeable personality helped him open the Shades Saloon. The saloon was a two-story building featuring a bar and billiards hall. The saloon was made famous because it was the first Houston business to use gas lighting, a unique luxury that would set the standard for future area businesses. By 1860, Shades' success facilitated the expansion of Dowling's businesses leading to the establishment of The Bank of Bacchus, another popular downtown bar. Bacchus would become Dowling's most successful saloon, for by the 1860s it was the city's "most popular social gathering place" with a reputation for its hospitable atmosphere.[1]
With the country on the verge of conflict, Dowling paused his business adventures as he joined a Texas Confederate unit comprised of Irishmen from the Houston-Galveston region. It is likely that Dowling's character made him a stand out among men which is why he was appointed First Lieutenant in Company F of the 3rdTexas Artillery Battalion. The unit's first actions of the war involved capturing Federal outposts along the Mexican border where they distinguished themselves as formidable opponents of the Union Army. Eventually, the battalion was absorbed into a larger regiment and Dowling was redeployed to the Texas Gulf Coast in Galveston. Lieutenant Dowling and his men played a small role in the successful recapture of the Port of Galveston in 1863 which is significant because the loss of Galveston could have opened up another theatre of the war.[2]
Shortly after the Battle of Galveston, Dowling's company was sent to man Fort Griffin in Sabine Pass. The defense of the Sabine River was absolutely critical to the Confederacy because it was another outlet for Union troops to stage a landing before they attempted to occupy Texas and separate it from the rest of the South to disrupt Confederate logistics. Despite such a major task, Dowling only had a company of 44 men under his command. Nevertheless, under Dowling's leadership, the men were drilled constantly in preparation of such an invasion.
In the fall of 1863, more than 5000 Union troops and 27 ships from New Orleans made entry through the Sabine River with intentions of advancing westward and occupying Houston for its strategic location as a railroad hub and as headquarters for the Confederacy's southwest command. As four Union gunboats approached, Dowling and his men unleashed a devastating barrage of fire upon them. Company F was credited with delivering some of the most accurate and lethal artillery support by any unit in the war. By the end of the battle, two of the four Union gunboats were disabled forcing the remaining two to retreat to the safety of the Gulf of Mexico while Dowling's forces captured nearly 350 Union troops. Thanks to Lieutenant Dowling's leadership, the outnumbered Confederates sustained zero casualties.[3]
The victory at Sabine Pass is often overlooked and forgotten. However, had this outcome resulted in a Union victory, the Civil War would have changed immensely. One could only guess what would have happened had the North occupied Texas in 1863. Surely at the time though, this battle did not go unnoticed by Southerners. The Davis Guards received recognition by the Confederate Congress and Jefferson Davis himself who even went as far as to describe the battle as the "Thermopylae of the Confederacy."[4]Furthermore, the unit received medals from Houstonians, an award equivalent to the Northern Medal of Honor, and a special flag from the women of Sabine City. As for Richard Dowling, he was promoted to Major and was appointed as a recruiting officer for Texas considering his widespread fame in the state. Upon completion of the war, Dowling returned to Houston to manage and expand his businesses to include a third saloon, the Hudgpeth Bathing Saloon and a liquor farm in Galveston.[5]
By the end of his life, Major Dowling had achieved financial success due to his saloon chains, real estate sales, and properties across Texas. Dowling was one of the first men to invest in oil and gas in Texas (as early as 1867), created the first gas lighting company in Houston, and started an oil company.He further contributed to the welfare of Houstonians with the founding of Houston Hook and Ladder Company No. 1, the predecessor to the Houston Fire Department. Most importantly, however, Dowling saved Texas from total invasion, and he helped the Confederacy continue the war effort. It is quite impressive how a man could do all of this in a span of 29 years, for he would die of yellow fever in 1867.[6]
The Major's legacy would live on in Houston. In 1905, "one of the largest crowds in Houston history" gathered for the dedication of its first ever public monument, an eight-foot statue of Dick Dowling built by Frank Teich was planted outside of city hall. When his daughter unveiled the statue, she was met with "deafening cheers" from "dignitaries, Confederate veterans, school children, and interested citizens." Even the Texas Governor was in attendance. The ceremony and the crowd's reaction serves as a testament to the kind of man Dowling was and the respect he had when he was living. It is clear that he was highly revered for his character and his heroism he displayed during his lifetime.
Although many citizens were proud of their new public monument, the statue's relocation has nevertheless been the subject of controversy throughout the century. As appreciation for the Confederate "lost cause" dwindled, so did the appropriateness of the dedication. The statue was moved to Sam Houston Park in 1939, and once more in 1958 to its current location at the entrance of Hermann Park at the demands of angry citizens and politicians attempting to erase the past and focus on a new future.[6]More recently, issues over the naming of schools and streets after Dowling from Houston to Beaumont have resulted in requests for the removal of the statue in Houston completely. There is no doubt that preserving Dowling's role in Texas history, along with his statue, will prove to be a difficult challenge due to his association with the Confederacy and what it stood for, and the increasingly diverse population of Houstonians and Texans.
There is no question to the contributions that Richard Dowling made to his state and city. He was popularly known for his business success in Houston, but was even more known for thwarting a Union invasion of Texas. Once can only assume that he spared the state of Texas from the same devastation Georgia suffered at the hands of General Sherman in 1864. His statue serves as a symbol of heroism and leadership for Texans past, present, and future. The statue tells the story of an Irish immigrant and a Southerner looking for the "American Dream" and then answering the call of duty to serve his people. After all, monuments are only erected for people that exhibit exemplary behavior and who make lasting impacts on society. Although he may never know, Dowling's legacy of courage will continue. As long as his statue remains, a part of history lives on, and people like him should not be forgotten.
Sources
[1] "Lt. Dick Dowling: A Brief Biography." Texas Historical Commission, April 08, 2018. Accessed March 06, 2018. http://www.thc.texas.gov/historic-sites/sabine-pass-battleground/history/lt.
[2]Handbook of Texas Online, James R. Ward, "Dowling, Richard William," accessed March 05, 2018, http://www.tshaonline.org/handbook/online/articles/fdo28.
[3]Handbook of Texas Online, Alwyn Barr, "Sabine Pass, Battle Of," accessed March 05, 2018, http://www.tshaonline.org/handbook/online/articles/qes02.
[4]Handbook of Texas Online, James R. Ward, "Dowling, Richard William," accessed March 05, 2018, http://www.tshaonline.org/handbook/online/articles/fdo28.
[5]Cotham, Edward T. Jr. "Dick Dowling Statue: First Public Monument in Houston Turns 100 Years Old on St. Patrick's Day." Texas Escapes.Accessed March 05, 2018. www.texasescapes.com/Houston/Dick-Dowling-Statue-Houston-Texas.
[6]Cotham, Edward T. Jr. "Dick Dowling Statue: First Public Monument in Houston Turns 100 Years Old on St. Patrick's Day." Texas Escapes.Accessed March 05, 2018. www.texasescapes.com/Houston/Dick-Dowling-Statue-Houston-Texas.