Lewis Spring House
Introduction
Designed in a hemicycle (i.e., a semi-circle) shape, this unique-looking home was created by famed architect Frank Lloyd Wright and constructed in 1954. The house is one of only two homes designed by Wright in this shape, as designated by the Frank Lloyd Wright Foundation. It was added to the National Register of Historic Places in 1979. The Spring House Institute, which was founded in 1996, is currently working to raise funding to purchase the home to begin its preservation and restoration for use as a public meeting space for artists, activists, and enthusiasts, just as it was used historically.
Images
The Lewis House was designed by architect Frank Lloyd Wright and built in 1954.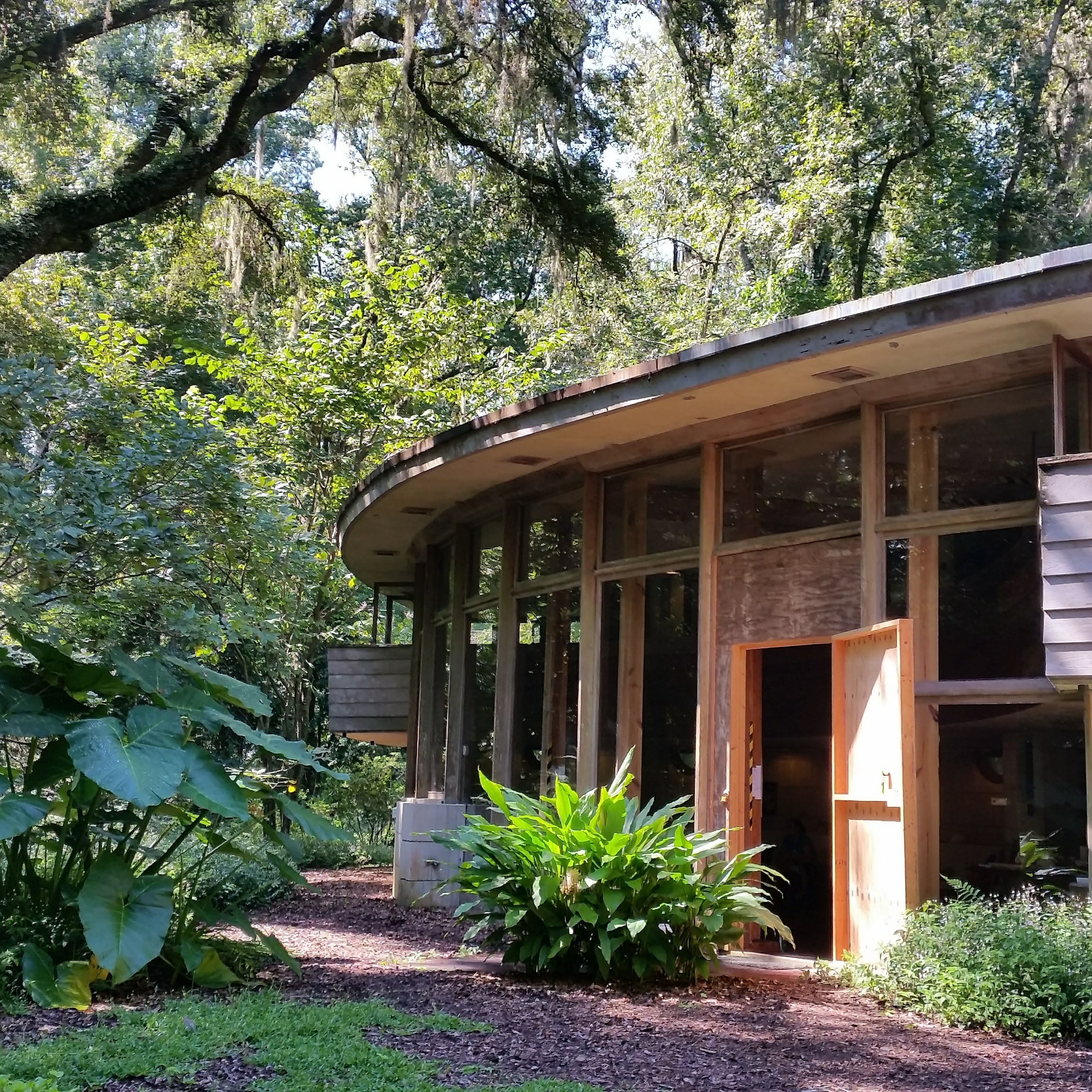 Backstory and Context
In 1950, Clifton Van Brunt and George Lewis II met Frank Lloyd Wright while visiting Lakeland, FL, as Wright oversaw the opening of one of his buildings at Florida Southern College. Clifton asked him to design a house for her and her family, stating that they "had many children and not much money." Wright sympathized with the Lewises and told Clifton to "find her ground" for their new home. In 1952, they presented Wright with a five-acre piece of land near Lake Jackson, in Tallahassee, Florida.
Wright's design was completed in 1954, and the Lewises with their four children moved into the home. George Lewis worked at his family's bank while Clifton kept herself busy raising her children and being active in the local civil rights movement. In addition to her activism, she helped found many of Tallahassee's beloved cultural institutions, such as LeMoyne Center for the Visual Arts, the Tallahassee Junior Museum (now Tallahassee Museum), and helped to save the Lichgate Tree and Laura Jepsen cottage. In the 1960s, Clifton rented the Randall-Lewis House to many local artists, writers, and designers, many of whom worked as professors at FSU. Clifton protested against public pool segregation, gave office space to Tallahassee CORE founder Patricia Stephens (later Due) for voter registration, and she offered an integrated gallery space at the Lewis State Bank in the lobby, known then as the Little Gallery.
Sources
"History." Spring House Institute. Accessed April 07, 2018. http://www.preservespringhouse.org/history.html.

Little, J. Rodney. "Lewis House." National Park Service - National Register of Historic Places Nomination Form. https://npgallery.nps.gov/GetAsset/bb3474bb-494e-448a-8d23-debdbcea1914.

Nabors, Lydia. "Clifton in the Capital: Tallahassee Civic Activist." April 07, 2018. Accessed April 07, 2018. https://cliftoninthecapital.omeka.net.

Additional Information