American Indian Athletic Hall of Fame
Introduction
The American Indian Athletic Hall of Fame was built in order to recognize the great athletes of American Indian heritage and to serve as a model for the Indian youth to strive for their own physical greatness. Every athlete honored by induction in this HALL of HEROES is selected on the basis of an outstanding, colorful, exciting and action punctuated record of performance.
Images
THE EAGLE: Signifies bravery and courage of all the winged creatures, the eagle soars closest to the Great Spirit. The eagle is also the emblem of America. THE CIRCLE: Signifies unity among people. It is unending. THE SPEAR: Represents an ancient tool.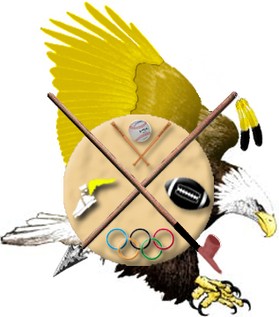 Haskell Indian Nations University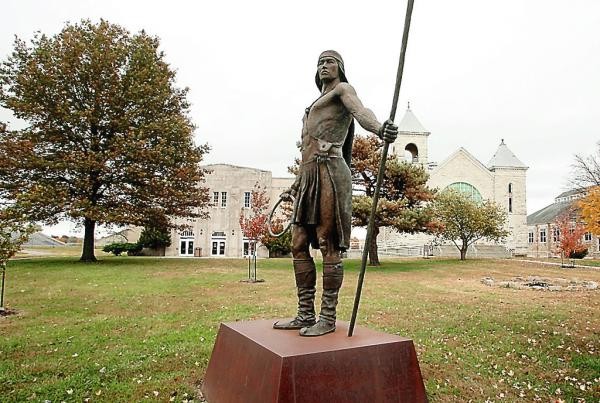 Backstory and Context
The American Indian Athletic Hall of Fame was founded in 1972 by Robert L. Bennett (Oneida) and Louis R.Bruce (Mohawk/Sioux), both former Commissioner's of Indian Affairs in Washington D.C. Mr. Billy Mills, Olympic Gold Medal Winner, was appointed the first Coordinator and Matt Wacond became the Executive Director. George LaVatta was elected Chairman of the Board of Directors.
For thirty-four years the American Indian Athletic Hall of Fame has been housed in the student union, girls gym, and presently in the boys gym at Haskell Indian Nations University in Lawrence, Kansas. Many thousands of Indian students, adults and non-Indians have visited the Hall and marveled at the achievements of Jim Thorpe, Billy Mills, Sonny Sixkiller, John Levi and Moses Yellow Horse as well as 90 others.
Enshrinement banquet ceremonies are held as the Board of Directors approve nominations for induction. Normally three to five inductees are honored at these exciting banquets.
Admission is free to the public.
Sources
http://americanindianathletichalloffame.com/history.php
Additional Information