Historic Black Theater of Ardmore (1922-1944)
Introduction
The oldest still-standing commercial building to be owned by African Americans in Oklahoma, this brick building was constructed in 1922 within Ardmore's Black business district. One of the first theaters in Ardmore, this Black-owned business allowed African Americans to enjoy entertainment with dignity during the time of racial segregation and also symbolized the economic significance and the resilience of Black-owned businesses in Oklahoma after dozens of Black-owned businesses were destroyed by white mobs in Tulsa in 1920. Ardmore had about 2,000 African American residents in the 1920s, and this business district was home to a variety of restaurants, stores, and service providers. The building operated as a theater until 1944 until it was sold to the Metropolitan African Methodist Episcopal Church. The former theater was listed on the National Register of Historic Places on June 22, 1984.
Images
Admore Theater now known as Greater Love Victory Temple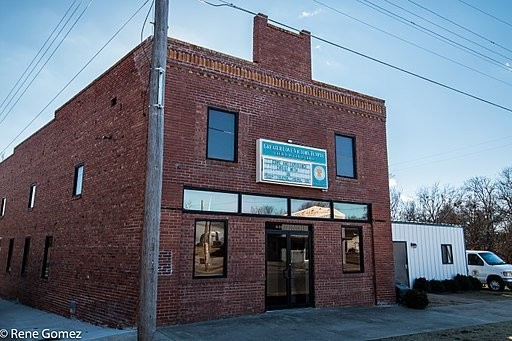 Backstory and Context
This theater provided entertainment and a place to gather for Ardmore's Black community for over two decades. traveled to Admore during the 1900s to seek jobs and a better life, which in consequence created the large outcome of African Americans who lived there and created businesses. By 1920, the African American population of Ardmore represented nearly fifteen percent of the city. Ardmore was one of six Oklahoma cities to see the growth of a Black-owned business district during the era of segregation.
In addition to watching movies, area African Americans would gather in the Admore Theater to listen to plays, watch skits, and simply socialize. Being constructed after the Tulsa Massacre of 1920 that saw the destruction of that city's Back Wall Street, this building is historically significant as a symbol of the persistence and entrepreneurial spirit of Oklahoma's Black communities.
The building served as a theater until 1944, a reflection of Ardmore's declining overall population and the movement of African Americans to larger cities. The building was sold to Metropolitan African Methodist Church who completed minor construction. The structure is now home to the Greater Love Vicory Temple (Church of God in Christ). On June 22, 1984, the building was listed on the National Register of Historic Places.
Sources
Black Theater of Ardmore - Ardmore, OK - U.S. National Register of Historic Places on Waymarking.com. Accessed March 29, 2018. http://www.waymarking.com/waymarks/WMW0GF_Black_Theater_of_Ardmore_Ardmore_OK. 
"Black Heritage Sites." Google Books. Accessed March 29, 2018. https://books.google.com/books?id=Rk7NPRm_nB0C&pg=PA544&dq=Black theater of ardmore&hl=en&sa=X&ved=0ahUKEwiH4rmYvJLaAhVQn-AKHas9CE0Q6AEIKTAA#v=onepage&q=Black theater of ardmore&f=false.    
  "Historic Background of Ardmore OK." Ardmore Historic Preservation Commission. Accessed March 29, 2018. http://www.ardmorehp.org/historic-ardmore/.
Additional Information