Mississippi Museum of Art
Introduction
The Mississippi Museum of Art dates back to 1911 and is the largest museum in the state. Its permanent exhibit, "The Mississippi Story," includes a comprehensive selection of art by Mississippians, including late-nineteenth century painter G. Ruger Donoho, photographer and writer Eudora Welty, and outsider artists Theora Hamblett, Elizabeth Wright Mohammed and Sultan Rogers. The Museum also collects contemporary works by Mississippi natives such as William Dunlap, Sam Gilliam, Birney Imes, Valerie Jaudon, Gwendolyn A. Magee, Ken Marlow, Ed McGowin and Tom Rankin. The Museum fulfills its mission to collect and exhibit art related to Mississippi's artistic heritage with important collections of works by natives Walter Anderson, Caroline Compton, Marie Hull, Mary Katherine Loyacano McCravey, George Ohr, Edgar Parker, and more than 280 works by William Hollingsworth. Among the significant visiting artists included are John James Audubon, Alfred Eisenstadt, and Lewis Hine. The quilting traditions of Claiborne and Jefferson Counties in Mississippi are represented in a collection of 77 quilts, including examples by National Heritage Award recipient Hystercine Rankin.
Images
In 2007, construction was completed on the renovated Mississippi Museum of Art, creating a beautiful new home for the Museum and its permanent collection of art.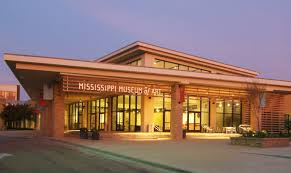 Backstory and Context
In Fall 2011, the Museum completed Phase 2 of its modernization plan, opening The Art Garden at the Mississippi Museum of Art, a 1.2 acre public green space complete with outdoor art installations, the sprawling BankPlus Green, a performance stage, and various spaces for visitors to engage with the arts in a variety of forms. Symbolically, The Art Garden breaks down barriers between the neighboring arts organizations and serves as the nexus of a cultural district that empowers creativity, expression, and synergy in the arts community.
Sources
"About Us." Mississippi Museum of Art. Accessed June 28, 2014. http://msmuseumart.org/index.php/aboutus/history.


Additional Information