Terminal Island Japanese Fishing Village Memorial
Introduction
Terminal Island was home to a community of over 3,000 Japanese and Japanese-American residents, prior to World War II. Sicilian, Slovenian, Portuguese, Mexican, and Filipino immigrants, also lived on Terminal Island, with the Japanese residents the majority population. Originally known as Isla Raza de Buena Gente and Rattlesnake Island, the Japanese American fishing community referred to as "Furusato", or hometown, was in an area of the island known as East San Pedro or Fish Island. The Terminal Island fishermen helped launch a booming industry for canned tuna, working for canneries like Van Camp Seafood Company and White Star Canning Company. The entire community of the Japanese American fishing village was forcibly removed after the attack by Japan at Pearl Harbor in December 1941 and the structures of the village were demolished.
Images
Terminal Island Japanese Memorial. Source: M. Urashima, October 2017.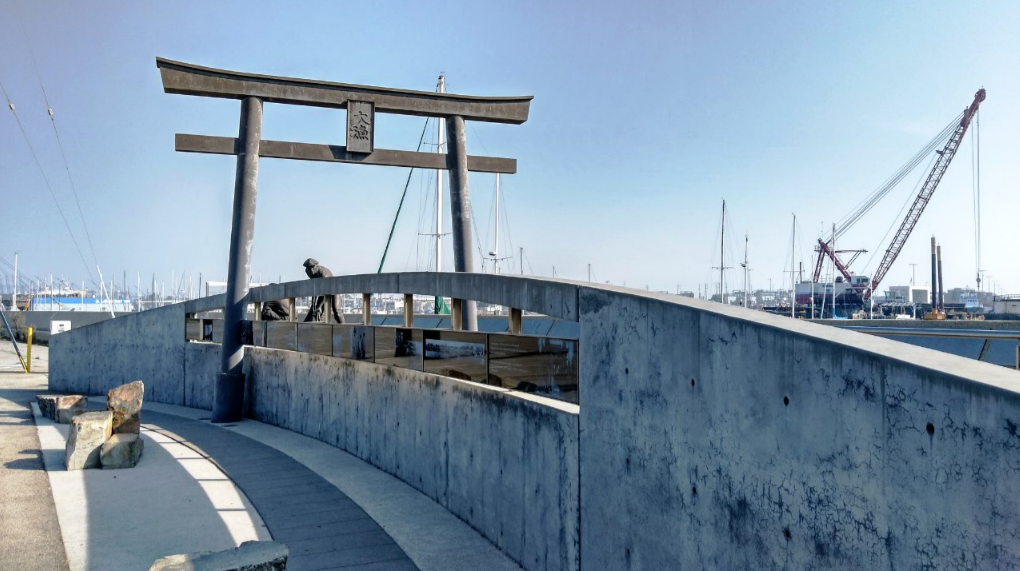 Aerial of "Furusato", the fishing village at Terminal Island. Courtesy of San Pedro Bay Historical Society.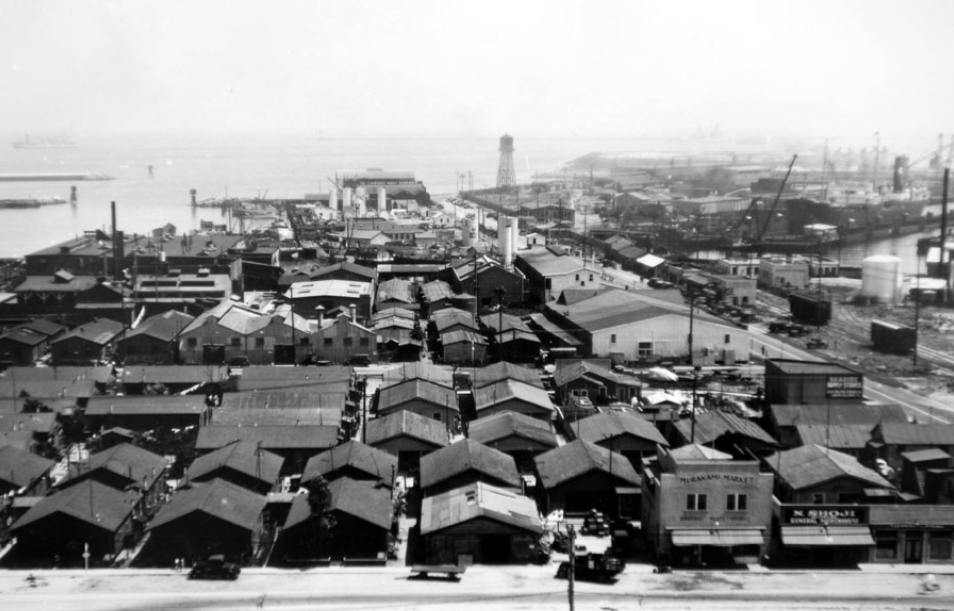 Tuna Street on Terminal Island. Courtesy of Preserving California's Japantowns.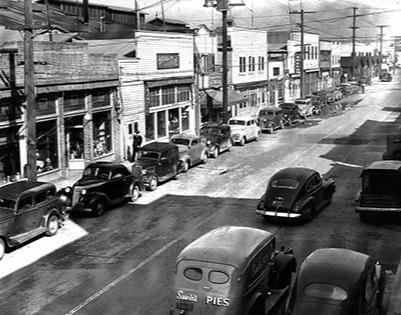 Backstory and Context
Japanese fishermen settled on Terminal Island at the turn of the twentieth century. One of the original names of the two islands comprising Terminal Island, Rattlesnake Island, is due to the snakes that would gather after torrential storms. It was renamed after the Los Angeles Terminal Railway.

In 1903, Terminal Island's first cannery, California Fish Company, perfected a method for canning tuna in order to market it as an affordable substitute to chicken. Japanese immigrants, along with immigrants from Italy, Yugoslavia and Croatia, were indispensable to the canneries as demand for the fish grew. By 1907 an estimated 600 Japanese fishermen operated out of the area, arriving originally from the Wakayama and Shizuoka regions of Japan, via San Francisco and Seattle.

The fishing village at Terminal Island eventually grew to over 3,000 residents. The village included a pool hall, several Buddhist temples, a judo hall, Fishermen Hall, a Baptist church, a bank, and a Shinto shrine. In 1924, the East San Pedro School was built to accommodate hundreds of children, the vast majority of which were Japanese-American.

Terminal Islanders created a unique hybrid culture of their Japanese homeland and new home in California. The physically isolated culture of the fishing village was so unique that the residents developed their own dialect, referred to as "kii-shu ben", a dialect with origins in the Kii district in Wakayama, Japan. Former residents recall feeling distinctly different from the nearby Little Tokyo in Los Angeles and Japanese immigrant community in Orange County.

After the attack by Japan at Pearl Harbor, Hawaii, on December 7, 1941, the FBI immediately took Japanese American fishermen and community leaders into custody. All traffic to and from the Island was suspended. Terminal Island fishermen were accused of being spies, citing as evidence the use of depth meters and other fishing equipment.

After the forced removal of Japanese Americans from the West Coast, the Navy demolished all of the residents' homes and nearly all of the other structures of Furusato, including the Shinto shrine. While most Japanese and Japanese-Americans across the West Coast lost their homes and property during this period, Terminal Island was the only community whose built environment vanished almost entirely.

The majority of Terminal Island's Japanese American residents were incarcerated at Manzanar in the Owens Valley of California for the duration of the war.

In 2002, the Terminal Island Japanese Memorial at Fish Harbor was dedicated. The memorial serves as a reminder of the Japanese-American community, its forced removal and incarceration in 1942, and the once-thriving fishing village at Terminal Island.




Sources
Japanese-American History at Terminal Island. Los Angeles Conservancy. . Accessed March 25, 2018. https://www.laconservancy.org/node/1020.
Japantown Atlas - Southern California - Terminal Island (AKA Higashi San Pedro or East San Pedro). Japantown Atlas. . Accessed March 25, 2018. http://japantownatlas.com/map-terminal1.html. Detailed Map: Terminal Island Japanese American Businesses of 1940.
Japanese Memorial Terminal Island. SanPedro.com. . Accessed March 25, 2018. https://sanpedro.com/san-pedro-area-points-interest/japanese-memorial-terminal-island/. In 2002, the surviving second-generation citizens set up a memorial on Terminal Island to honor their Issei parents and to preserve the memory of their Furusato, their "Home Sweet Home".
Preserving California's Japantowns. . Accessed March 25, 2018. http://www.californiajapantowns.org/preserving.html. Preserving California's Japantowns is the first statewide project to document historic resources from the numerous pre-World War II Japantowns.
Terminal Island, California. Densho Encyclopedia. . Accessed March 25, 2018. http://encyclopedia.densho.org/Terminal_Island%2C_California/.
LoProto, Mark. Terminal Island: A Lost Tale of World War II. Pearl Harbour Visitors Bureau. April 13, 2017. Accessed March 25, 2018. https://visitpearlharbor.org/terminal-island-lost-tale-world-war-ii/.
Terminal Island East San Pedro, Los Angeles County. National Park Service, Five Views: An Ethnic Historic Site Survey for California. . Accessed March 25, 2018. https://www.nps.gov/parkhistory/online_books/5views/5views4h87.htm.
Furusato: The Lost Village of Terminal Island. . Accessed June 30, 2018. http://www.terminalisland.org/index.htm.

LIttlejohn, Donna. "Crowd turns out to honor 'Furusato,' a onetime fishing village on Terminal Island." Daily Breeze(Torrance)April 15, 2018. . https://www.dailybreeze.com/2018/04/15/crowd-turns-out-to-honor-furusato-a-onetime-fishing-village-o...