Grundy Museum
Introduction
The large, red-brick, Queen Anne style Grundy Mansion began as a more modest home that was constructed c. 1818. This smaller home was expanded in the 1830s-40s and then again in 1884-85 after it was purchased by textile magnate, William Grundy. The mansion remained in possession of the Grundy family until Joseph Grundy's death in 1961. Today, the Grundy Mansion is a period home museum that serves as a window into the domestic life of a wealthy family in the late 19th and early 20th centuries. It is decorated with original family furnishings and personal possessions. Also located on the property is Margaret's Garden (named after Margaret Grundy), a rooftop patio, and Riverfront Park. The mansion is open for free guided tours from April through December.
Images
The Grundy Museum and adjacent Margaret's Garden.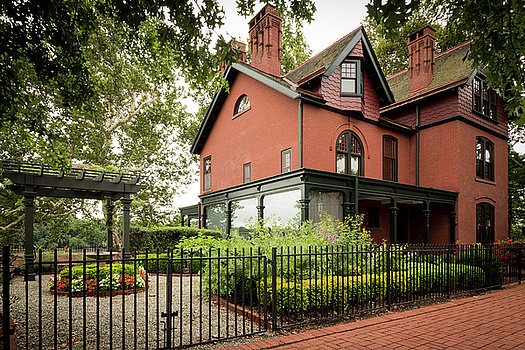 The massive, multi-level porch which was added by the Grundy family, can be seen from the nearby Riverfront Park.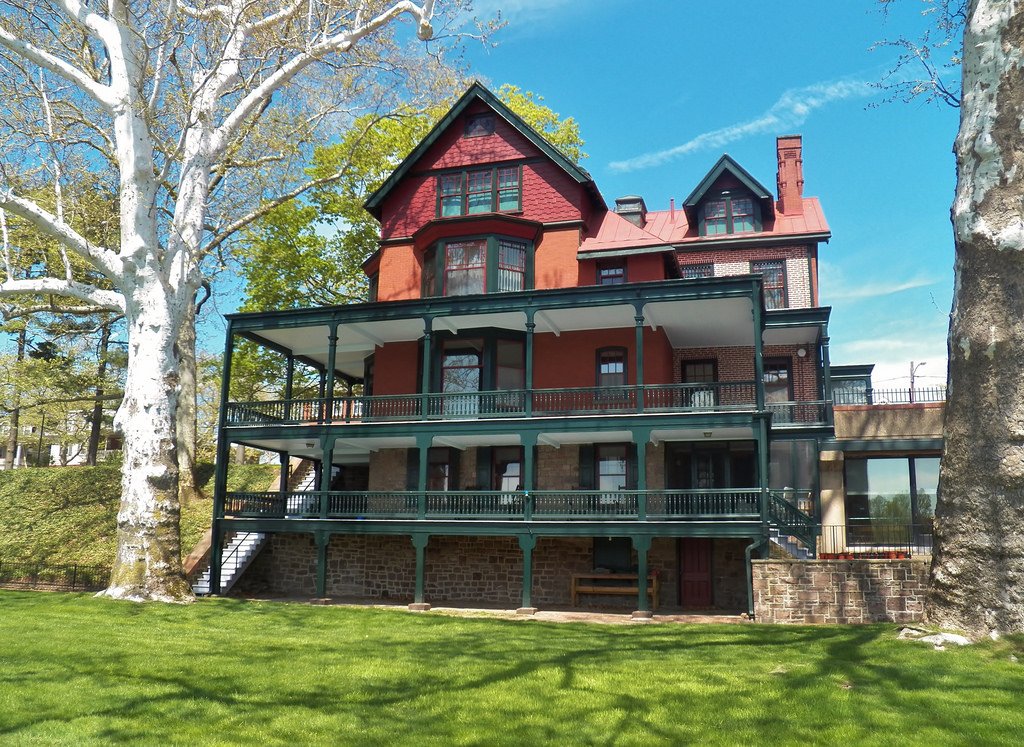 The historical marker dedicated to Joseph Grundy with his former home in the background.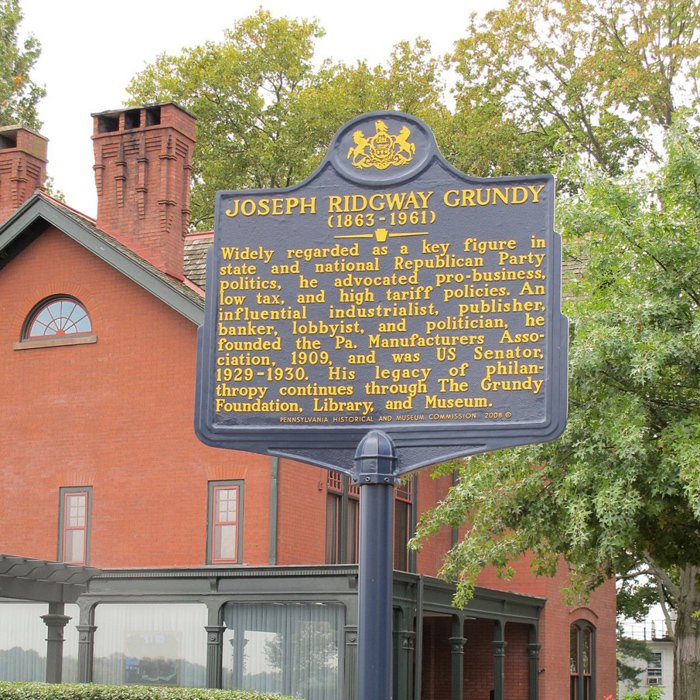 The Museum's dining room with ornately carved woodwork and original dinnerware.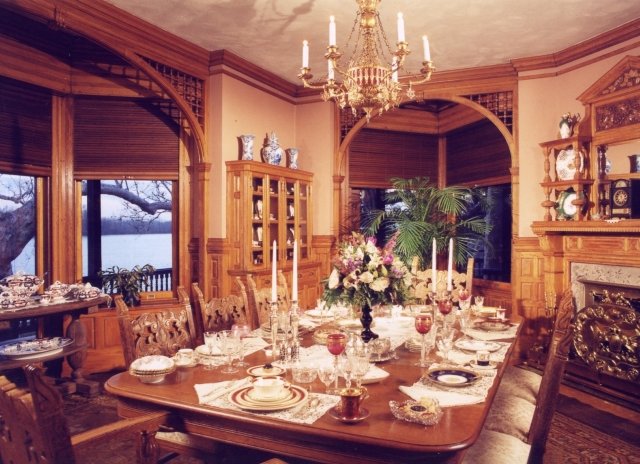 The home's drawing room with its cherry mantle around its jeweled-glass window which is used to display some of the museum's treasures.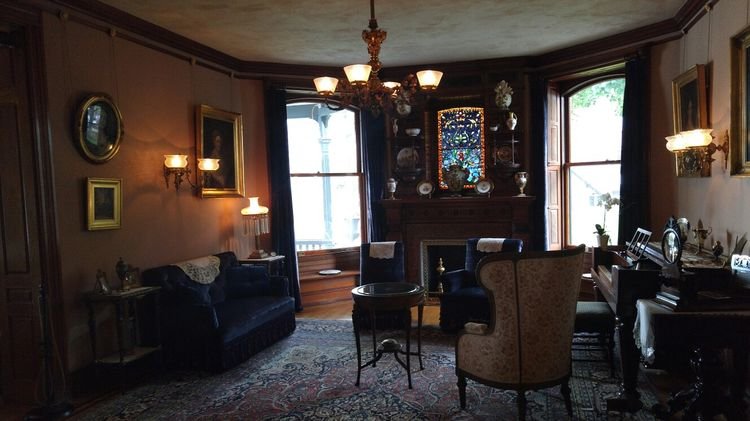 Backstory and Context
Sometime around 1818 coppersmith, William Heiss, built a modest, red brick home, in the Federal style, along the banks of the Delaware River. The home was later purchased by Captain Joseph Hutchinson in 1834. Hutchinson then added a large, hexagonal addition to the home's south side and purchased additional land. It is thought that Hutchinson rented out the home to various families, to include the Grundy family, prior to selling it to them in 1884.
William Grundy arrived in Bristol Township with his family from Philadelphia and married Mary Lamb in 1860. The family was involved in the wool trade and established a worsted yarn manufacturing company in Philadelphia and moved the operations to Bristol around 1876. William served as a Burgess for the borough from 1885-1889 and was president of he Bristol Improvement Company. Upon purchasing his new home from Hutchinson, Grundy immediately began to expand and renovate it, transforming it into an elegant Queen Anne style mansion. The renovations took an entire year and involved adding rooms, a two-story wrap-around porch, opening the ceiling in the entrance way in order to install a grand staircase, adding larger windows, and installing central heating and indoor plumbing.
Upon William's death in 1893, the home passed to his wife Mary. The couple had two children, Joseph and Margaret. Joseph took over the textile operations while Margaret traveled extensively with her mother throughout Europe where she became ill, forcing mother and daughter to remain in Europe for almost a decade. While abroad, Mary purchased many European furnishings and decorations for her home and many are on display to this day. Margaret would later be instrumental in founding the Bristol Free Library, which is now the Margaret R. Grundy Memorial Library.
Joseph Grundy maintained ownership of the mansion until his death in 1961 at the advanced age of 93. He served on the Bristol Town Council for over 30 years and was appointed to the U.S. Senate in 1929. He also founded the Pennsylvania Manufacturers' Association in 1909 and was involved in many philanthropic endeavors, helping to establish a public waterworks, schools and a post office. Joseph's will established the Grundy Foundation in order to create and fund the Grundy Museum and Library, which it still does today.
The Foundation conducts free guided tours of the mansion in which visitors tour the entrance hall, with its oak-paneled walls and ceiling, carved mantle and grand staircase. Guests also get to view the home's library which served as Joseph's home office, the drawing room which is home to a carved cherry mantle around a jeweled-glass window and was used to display Mary's European treasures. Patrons also tour the dining room, Mary's bedroom, Margaret's Garden, the rooftop patio, and can then relax in the property's Riverfront Park.
Sources
"Grundy Museum: The House." Grundy Museum. 2012. Accessed March 21, 2018. http://m.grundymuseum.org/content/house
"Grundy Museum: The Grundy Family." Grundy Museum. 2012. Accessed March 21, 2018. http://www.grundymuseum.org/content/grundy-family
Werner, Jeff. "Margaret R. Grundy Memorial Museum in Bristol celebrates 50th with old time community picnic." Bucks Local News. May 22, 2017. Accessed March 21, 2018. http://www.buckslocalnews.com/news/margaret-r-grundy-memorial-museum-in-bristol-celebrates-th-with/a...
"Grundy Museum." Tour Bristol. Accessed March 21, 2018. http://tourbristol.org/tour/grundy-museum/
Additional Information