Frank Crowe Memorial Park
Introduction
The Frank Crowe Memorial Park honors Frank Trenholm Crowe, the construction superintendent and chief engineer at Boulder Dam, today known as Hoover Dam. The park features a bronze bust of Frank Crowe and a public art piece entitled "Rag Town Goddess" in recognition of the women who endured harsh conditions as they helped settle the town of Boulder City during the Great Depression.
Images
Painting of Frank Crowe, Superintendent of Six Co., Inc. Source: Museum Collection, WikiMedia Commons.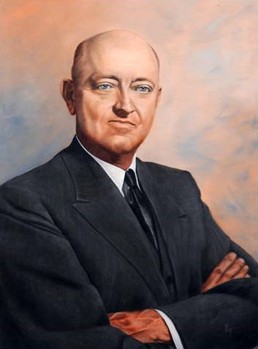 "Rag Town Goddess" bronze sculpture at Frank Crowe Memorial Park. (Source: M. Urashima, April 2018)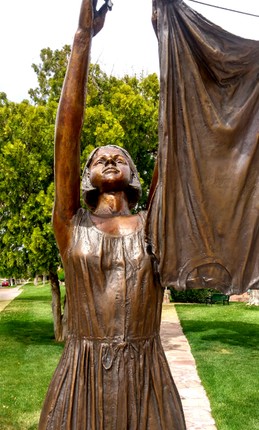 Bronze sculpture near Frank Crowe Memorial Park, "Alabam", honoring workers who held "mundane" but important jobs during construction of Hoover Dam. Alabam helped keep the outhouses stocked with paper. (Source: M. Urashima, April 2018)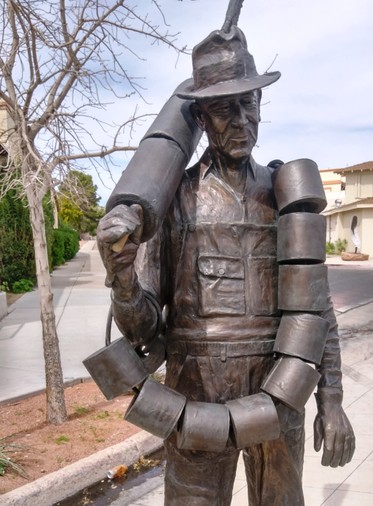 Backstory and Context
The Frank T. Crowe Memorial Park is a one-acre public park named for the chief engineer of the Hoover Dam, Frank Trenholm Crowe.

In 1946, the American Society of Civil Engineers wrote of him: "His projects will stand forever as monuments to his great ability as a constructor, but he will be best remembered by his many friends and close associates for his ever-present human understanding, his extreme fair-mindedness, his wonderful sense of humor, and his absolute integrity. Once his word was given it was carried out, no matter what his personal sacrifices might be."

Frank Crowe said, "I was wild to build this dam, the biggest dam ever built by anyone anywhere." Crowe sketched the original master plan for Boulder City, a desert camp for workers when he arrived in 1931.

A feature by Fortune magazine in 1933 gives a description of Frank Crowe. "Frank Crowe's last vacation was his honeymoon twenty years ago. He avoids cities except for required directors' meetings and an occasional football game. He plays the stock market a bit, buys Buicks exclusively for work on the job, and can be seen matching quarters with $4-a-day "muckers" while waiting for a big dynamite explosion. He twists around in a chair a lot while he talks, preferring the outdoors, and makes an absolute rule that no letter shall go out of his office over one page long. He believes any idea can be expressed in that space and that anything longer is a waste of words."

Crowe managed workers who toiled in 130-degree heat in Black Canyon, dealing with a major workers' strike and extreme conditions during which men were lost to heat, disease, and drowning. A tall man over 6 feet, he was known for his trademark pressed white shirt and a large Stetson hat.

Crowe finished Hoover Dam two years ahead of schedule, in 1936. He worked on other dam projects, including Shasta Dam in California, and Copper Basin and Gene Wash Dams on the Colorado Aqueduct system. Frank Crowe died in 1946 on his cattle ranch near Redding, California.



Sources
McBride, Dennis. "Frank Crowe." Las Vegas Review Journal(Las Vegas)February 07, 1999. . https://www.reviewjournal.com/news/frank-crowe/

Francis T. Crowe. Hoover Dam Notes. . Accessed March 17, 2018. http://www.hooverdamnotes.com/frank-crowe.html.

The Story of Hoover Dam. Bureau of Reclamation. March 13, 2015. Accessed March 17, 2018. https://www.usbr.gov/lc/hooverdam/history/articles/fortune1933.html. Reprint of Fortune Magazine article, September 1933.

Silverman, Dov. Frank Crowe, The Dam Builder Who Changed the Face of the Earth. Amazon Digital Services LLC, 2013. ASIN: B00BYM9N4M



Additional Information