The Chuck Berry House, St Louis
Introduction
Rock and roll pioneer Chuck Berry, born Charles Edward Anderson Berry purchased this modest house with his wife Themetta Suggs in 1950. The couple lived here for eight years, until 1958. During that time, Berry wrote and recorded many songs that have since become classics, including Maybelline, Roll Over Beethoven, You Can't Catch Me, Johnny B. Goode, School Day (Ring, Ring Goes the Bell), Rock & Roll Music, Carol, Run Rudolph Run, Sweet Little 16, Sweet Little Rock and Roller and Little Queenie. Among the artists whom he strongly influenced were The Beatles and the Rolling Stones, and innumerable bands have covered his songs. In 2008, the Chuck Berry House was accepted in the National Register of Historic Places.
Images
View of the Chuck Berry House. While musical genres derive from the work of many artists, Berry's influence was so great that some refer to him as "the father of rock and roll."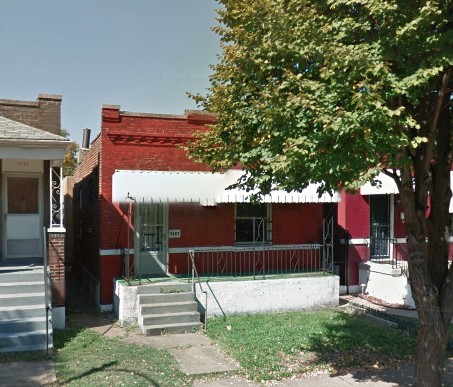 Another view of the Chuck Berry House which some hope to convert into a museum.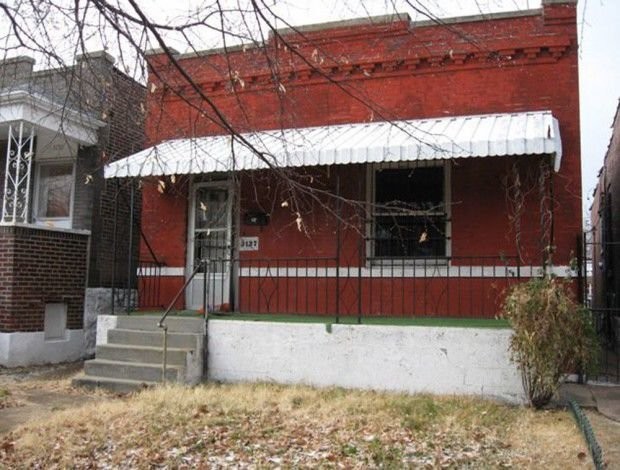 Released in 1964, St. Louis to Liverpool was the first of Berry's studio albums to make it to the Billboard charts.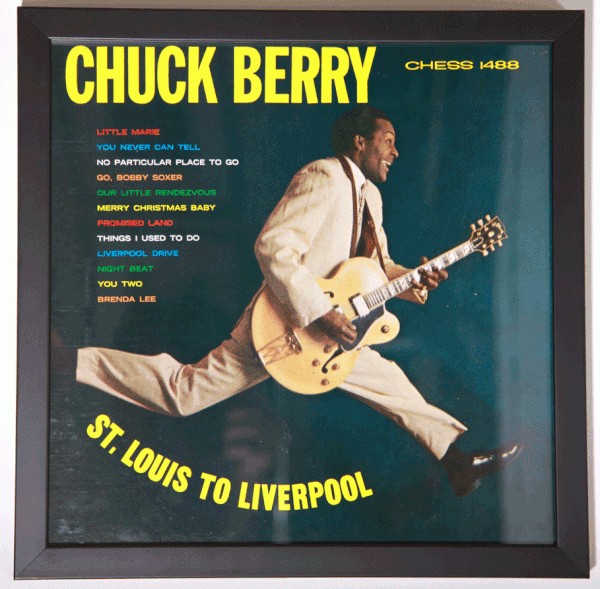 Backstory and Context
The house that has been called, by more than one authority, "the birthplace of rock and roll" now stands vacant and somewhat dilapidated. But when Chuck Berry decided, in 1950, to move with his wife into the modest "three-room brick cottage with a bath and full basement" on Whittier Street in his native St. Louis, the move represented a big step up in status for him. Berry had been born and raised in "the Ville," a predominantly African-American section of the city, where many prominent middle-class Black professionals, like comedian Redd Foxx and singer Tina Turner, had also lived. But Berry's new house was in the "Greater Ville," a predominantly white and affluent section just north of the Ville. Berry and his wife were legally able to move there because the Supreme Court had, in 1948, pronounced racial housing covenants unconstitutional. If Berry wondered whether his white neighbors would accept him, he needn't have worried. In his memoirs, he fondly recalls a local family, the Dimottios, who, on the third day after the Berrys moved in, appeared at the backyard fence with a big pot of spaghetti to welcome the new arrivals.

Small parapet houses such as Berry's were very popular in St. Louis neighborhoods between 1900 and 1920. (The house had been constructed by contractor William J. Moxey in 1910.) After purchasing the property for $4500 (with a $450 down payment), Berry installed a bedroom and half-bath in the basement so his family could live there, and rented out the first floor to others. In 1956, Berry added two rooms with concrete block walls at the rear of the structure. A concrete block porch with a metal railing spans most of the façade, and this is shaded by a metal awning (which includes a faded letter "B," for Berry). As the NRHP nomination form points out, the house "retains integrity of location, design, setting, materials, workmanship, feeling, and association."

Significantly, it was a year after he moved in, in 1951, that Berry purchased his first electric guitar, inspired not only by blues and country artists who had used the instrument, but by jazz musicians Charlie Christian and Carl Hogan, whom he idolized. He also purchased a second-hand reel-to-reel tape recorder on which to record the music and lyrics of the new songs that filled his mind.

On New Year's Eve 1952, Berry joined a popular local group named Sir John's Trio at the Cosmopolitan Club in East St. Louis, Illinois, and was later asked to remain as their lead singer and guitarist. It was as part of this local band that Berry developed his legendary skills as a front man, eventually creating moves such as his famous "duck walk." It was also as part of this band that he began to appeal to a biracial audience. (His wife, a blues fan, was amused rather than impressed by the country-and-western elements in Berry's music that she heard during rehearsals at the house.) Finally, he adapted the humorous approach of Louis Jordan's "jump blues" to his own style, commenting wittily on aspects of everyday American life in his songs.

The St. Louis Land Clearance for Redevelopment Authority, which now owns the property, began in 2017 to solicit private bids not only to restore the house but to create a cultural center and revitalize the neighborhood as a whole. The Chuck Berry Cultural District would ideally include a museum attached or adjacent to the house, including exhibition space, a café, gift shop and parking facilities. The district would be coordinated with the planned extension of the Metro Link mass transit and the future Fair Station. Also, as a condition of the project, developers must improve two local streets, including planting trees, fixing curbs and installing new streetlights. An ambitious agenda, but perfectly fitting as a way to honor the man who had so radically transformed popular music.


Sources
Miller, Mark; Derrington, Lindsey; Maserang, Roger. "The Chuck Berry House NRHP Nomination Form." U.S. Department of the Interior - National Park Service. Publication date: 10/28/08. Access date: 3/4/18. https://dnr.mo.gov/shpo/nps-nr/08001179.pdf.
"Chuck Berry Discography." Discogs. Access date: 3/4/18. https://www.discogs.com/artist/180119-Chuck-Berry?filter_anv=0&subtype=Singles-EPs&type=Releases.
Netsky, Aaron. "Chuck Berry's House." Atlas Obscura. Access date: 3/4/18. https://www.atlasobscura.com/places/chuck-berrys-house.
"Chuck Berry home on National Register." USAToday.com (AP). Publication date: 12/15/08. Access date: 3/18/18. http://www.chuckberry.us/

"Chuck Berry's Old Brick House in St. Louis Eyed for Cultural Museum." Billboard (AP). Publication date: 5/9/17. Access date: 3/18/18. https://www.billboard.com/articles/news/7791979/chuck-berry-museum-st-louis-ville-house.
Naffziger, Chris. "The Birthplace of Rock 'n' Roll: Chuck Berry's Former Home in The Greater Ville." St. Louis (Magazine). Publication date: 6/1/16. Access date: 3/18/18. https://www.stlmag.com/history/the-birthplace-of-rock-%E2%80%98n%E2%80%99-roll-chuck-berry%E2%80%99s....
Bailey, Greg. "'Around and Around': St. Louis Community Hopes to Restore Chuck Berry's House". National Trust for Historic Preservation. Publication date: 6/16/17. Access date: 3/18/18. https://savingplaces.org/stories/around-and-around-st-louis-community-restore-chuck-berry-house#.Wq6....
Faulk, Mike. "St. Louis considers Chuck Berry museum at the singer's 1950s home." St. Louis Post Dispatch. Publication Date: 5/9/17. Access date: 3/18/18. http://www.stltoday.com/news/local/metro/st-louis-considers-chuck-berry-museum-at-the-singer-s/artic....
Additional Information