Dickinson Students Part Ways Historical Marker; Pennsylvania Civil War Trail
Introduction
In the year leading up to the Civil War, the student body of Dickinson College was fairly evenly divided between those who supported the South and those who opposed seccesion. As a result, as war clouds gathered and many students volunteered for military service, many friends parted ways as they joined either the Confederacy or remained loyal to the existing government of the United States. This marker relates a defining moment in the history of the war for Dickinson students, when young men signed a book and offered a few words to fellow classmates as they parted ways. Messages included sentiment such as "Though I am a Secessionist, yet . . . I am your friend. May prosperity attend you in all you do, except in making war upon the South." Many of the students at Dickinson would meet again soon. Rather than meeting in the classroom, library, or lab as colleagues and classmates, they met on the battlefield as enemy combatants.
Images
This marker on the Dickinson campus describes the sentiment of students as they left the college for military service on opposing sides of the Civil War.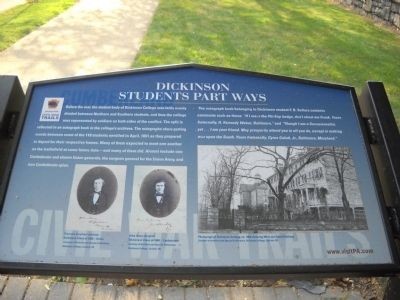 Backstory and Context
This Marker (Dickinson Students Part Ways) is a small part of the Pennsylvania Civil War Trails marker series. Some of the other markers included in this series are; Gettysburg Campaign - Invasion and Retreat and The Battle of Hunterstown.
Gettysburg Campaign- Invasion and Retreat was a battle between Gen. Robert E. Lee and Gen. George G on July 1st, 1863. Meade that was not intended to fight in Gettysburg. This battle wasn't a long battle, only lasting 3 days before the Confederates retreated to Virginia. Lee's troops followed shortly after making it to the Potomac river and crossing back into Virginia.
In the Battle of Hunterstwon, On July 2, Brigadier General Wade Hampton's Cavalry Brigade was told to cover the Confederate Army's left flank. Hampton's Brigade followed the Hunterstown Road, which put it in a perfect position to guard against attacks from the east. however the rear was unprotected and attacted by the Union cavalry. When the Federals retreated, Hampton fell into an ambush were union troops were hiding behind barns and opened fire while Hampton and his men ran by.
Sources
"Dickinson Students Part Ways Historical Marker."
Historical Marker
, 16 June 2016, www.hmdb.org/marker.asp?marker=35162.
Gettysburg, Destination. "Civil War Trails - Gettysburg Campaign: Invasion & Retreat | Gettysburg PA Things to Do."
Destination Gettysburg
, www.destinationgettysburg.com/members/civil-war-trails-gettysburg-campaign.asp.

"Battle of Hunterstown."
Battle of Hunterstown | Pennsylvania Civil War Trails
, PA Tourism Office, www.pacivilwartrails.com/stories/tales/battle-of-hunterstown.