Athens Theatre
Introduction
The Athens Theatre is a historic movie house, community center, and theatre that opened in 1922. The Athens Theatre's architecture is heavily inspired by Italian Renaissance style and was designed by locally famed Orlando architect Murray S. King in 1921. Athens Theatre remained popular throughout the decades, providing affordable entertainment for the local residents of DeLand. Popular performances include burlesque dancer Sally Rand and the jazz musicians, the Dorsey Brothers. After its closure in 1993, the Athens has since been completely renovated and reopened to the public in 2009. Even today, the Athens Theatre remains to be a popular venue of entertainment, producing 6 Broadway styled productions, as well as nearly 20 independently produced stage shows, musicals, concerts, and other events.
Images
Athens Theatre in 1921 (source: West Volusia Historical Society)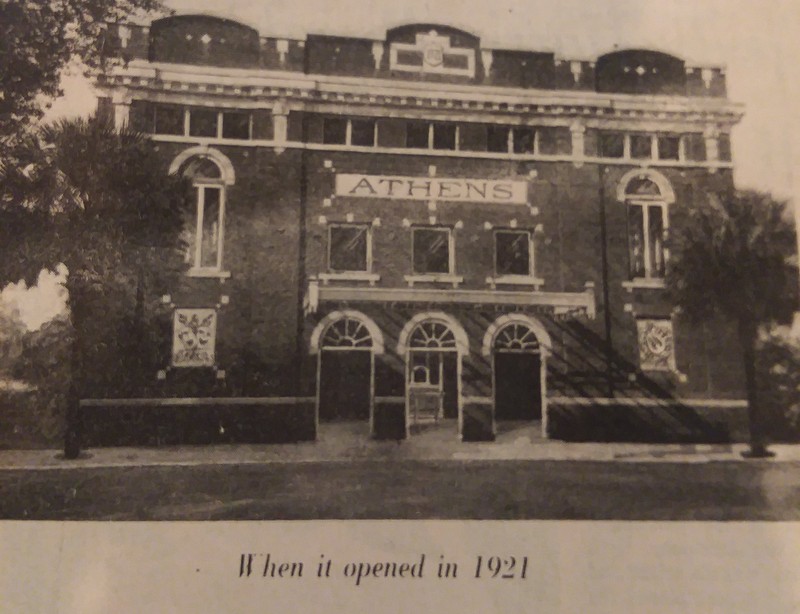 Opening Program 1922 (source: West Volusia Historical Society)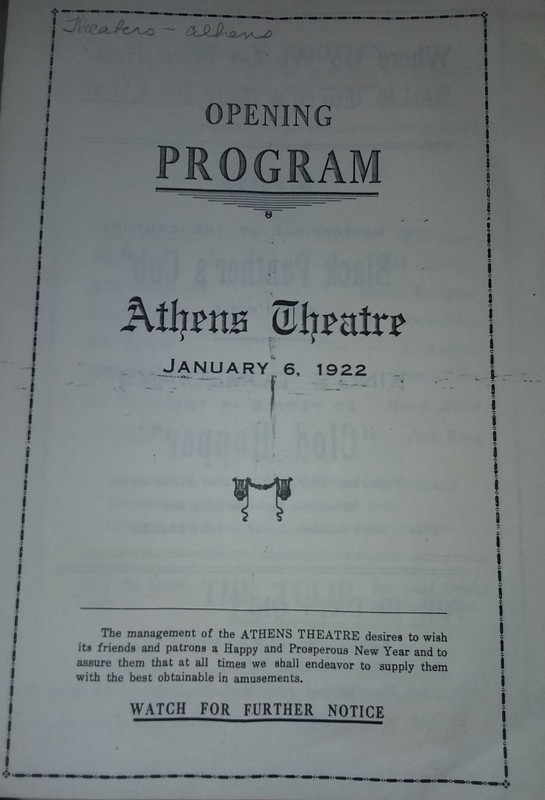 Open Program 1922 (source: West Volusia Historical Society)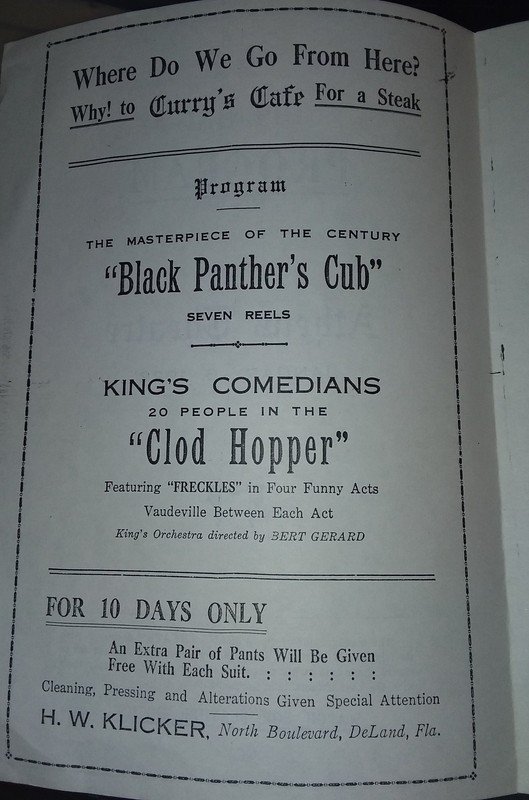 Athens during the 1920s (source: Athens Theatre)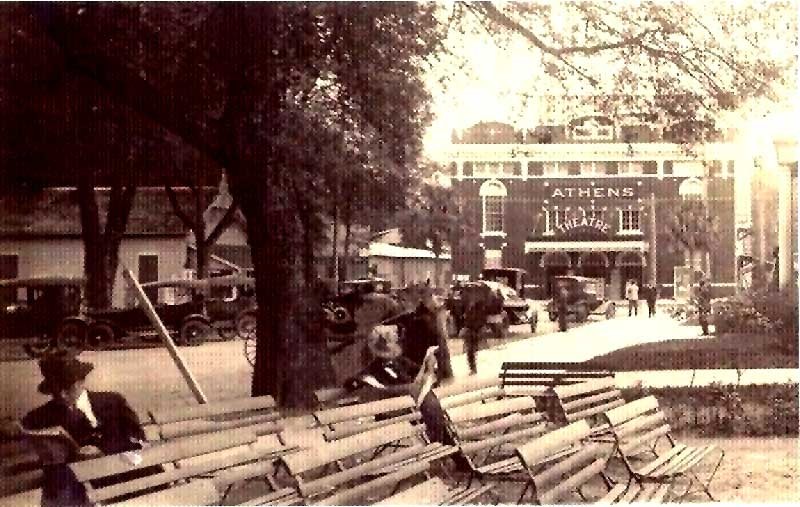 Athens Dinner Theatre 1978 (source: West Volusia Historical Society)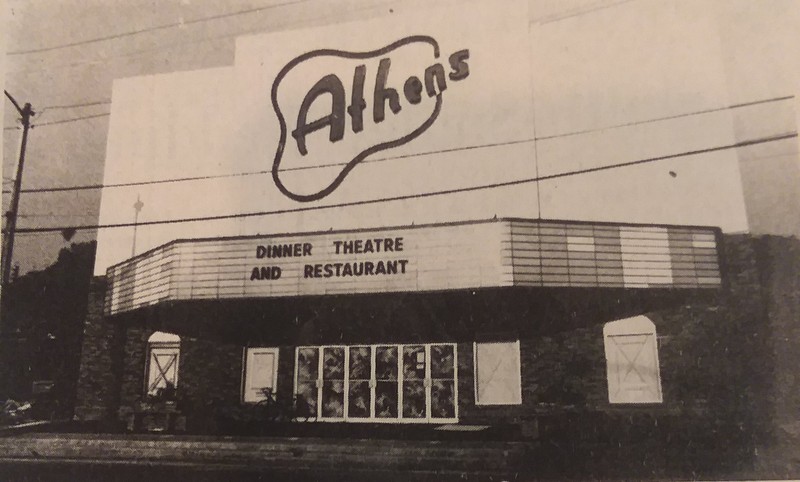 Athens restoration project 2001 (source: DeLand News-Journal)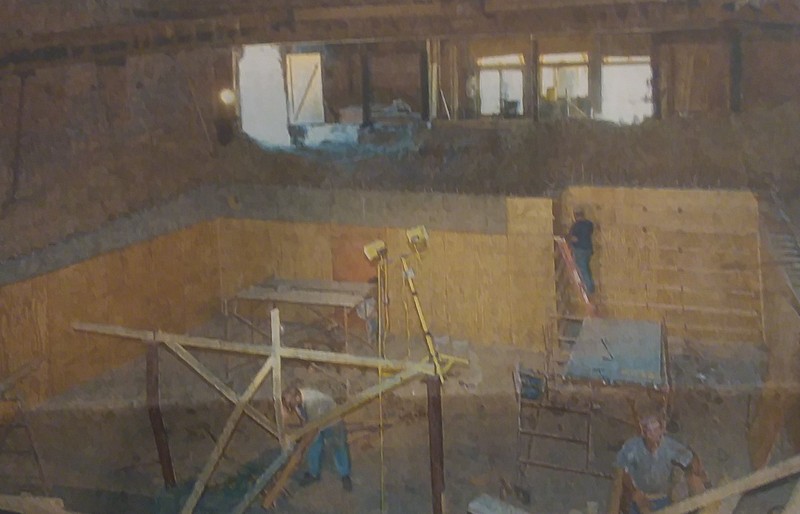 Athens as it appears today (source: Athens Theatre)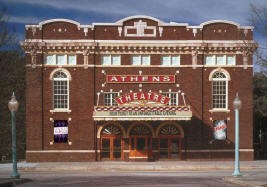 Backstory and Context
Henry DeLand is often cited as wishing DeLand would be seen to the world as the "Athens of the South", or the "Athens of Florida". The historic Athens Theatre is often seen as a fulfillment of this wish. First developed by L.M. Patterson, the owner of the DeLand Moving Picture Company in 1920, the theatre was branded as the cultural center of downtown DeLand. The Athens was part of DeLand's historic cinema culture of the 1920's, one of many in the state. The Athens is one of four movie houses in the area, and the second of which appears on W. Indiana Ave. The movie industry is a key feature behind the Athens, as on its opening night a film was displayed, "The Black Panther's Cub".
Even through the Great Depression, Athens Theatre remained a local source of amusement in DeLand. Locals recall the performances of some of the theatre's most notable performers, including Sally Rand and the Dorsey Brothers. The theatre's history also reflects race relations, as Ann Bell Floyd mentioned in an interview, stating that her father Frank Bell, the theatre's first manager, reserved a section for Blacks; a decision that garnered strong opposition from the town's Ku Klux Klan members. It wasn't until the 1930s that a Black theater, Washington Theater, was build on Voorhis Avenue and provided the African American community of DeLand with a creative space during the era of Jim Crow. To gain a better understanding of DeLand's theater culture, more research should be done to document (via oral interviews) the African-American communities' experiences at the Athens and Washington theatre, as well as their artistic contributions to local cinema and stage shows.
However, despite the Athen's historical legacy, the theatre finally closed its doors in June 1975, after 54 years of entertainment and service to the DeLand community. Little was known about the fate of the theatre, until the demolition date was set for June 14, 1976. The city commissioners quickly mobilized to save Athens Theatre and passed an emergency ordinance that gave buildings with "historic or cultural significance" historical protection. This ordinance, passed only two weeks before the demolition date, bought the Athens Theatre more time.
After a series of failed business ventures from the mid-1970s to the early 1990s, the Athens was once again abandoned. In 1993, after hearing the Athens was set to become a file storage warehouse, Mainstreet DeLand with the financial assistance of two local attorneys purchased the building that same year. Community members quickly got involved with fundraising, restoration, and management of the site, recalling the fond memories that the theatre and its productions brought to DeLand. After 15 years of restoration, costing $10 million dollars, Athens Theatre was restored to its 1922 glory and reopened to the public in 2009.
Today, the Athens is a state-of-the-art, 21st century theatre that has continued to be an important venue for local talents and productions including musicals, concerts, and live shows. However, while Athens Theatre no longer shows films, it is always selling tickets to musical performances, such as the Stetson Jazz Ensemble, and original plays, such as William "Billy" De Silva's, DeLand… Athens of Florida and The Volusia Lowdown, which brings local history alive on the grand stage. Larry Sands, a manager of Athens theatre, said it best: "DeLand needs the Athens… [the Athens] can bring the concept Henry DeLand had when he founded the city as a center of beauty, of learning and of the art".
Sources
Andrews, Pat. "Volusia Lowdown Returns." West Volusia Beacon News (DeLand, FL). May 22-25, 2014.
"The Athens Theatre 1922." West Volusia Historical Society. Date Accessed: February 22, 2018. http://cinematreasures.org/theaters/2970/photos/30299.
"Athens Theatre." Athens Theatre. Date Accessed: February 24, 2018. http://www.athensdeland.com/Blurbs/athens_theatre_history.htm.
"Athens Theatre." DeLand Area Chamber of Commerce & Orange City Alliance. Date Accessed: February 22, 2018. http://www.delandchamber.org/list/member/sands-theater-center-inc-313.
Copelon, Dianne. "Athens Theater Group to get Grant Mainstreet DeLand will receive state money toward the purchase of the Historic Theater." the Orlando Sentinel (Orlando, FL). April 28, 1994. http://infoweb.newsbank.com/apps/news/document-view?p=AWNB&docref=news/0EB4F1C29BA4399A.
Cressy, Linda. "Athens Theatre Has Tales To Tell About DeLand." Orlando Sentinel. Published: February 16, 1995. http://articles.orlandosentinel.com/1995-02-16/news/9502150415_1_krupp-athens-theater-jimmy-armstrong.
"History of Athens Theatre." Athens Theatre. Date Accessed: February 24, 2018. https://www.athensdeland.com/history.html.
Hockaday, Alyce. "Theater Drama—Athens Variety." DeLand Sun News (DeLand, FL). April 8-9, 1978.
Neumann, Elizabeth. "The History of DeLand." Planet Florida. Date Accessed: February 24, 2018. http://www.planetflorida.net/deland-hist/.
Rasche, Kathleen. "'DeLand… the Athens of Florida' to make Encore Performance." Daytona Beach News-Journal (Daytona Beach, FL). March 22, 2012.
"Welcome to DeLand: the Athens of Florida." Mainstreet DeLand. Published: March 4, 2014. https://mainstreetdeland.org/images/content/hotel-whitepaperweb.pdf.
Williamson, Ronald. "Rebirth of Athens Theatre." the News-Journal (DeLand, FL). Thursday, August 14, 2008.