Chapman and Lownsdale Square
Introduction
These two adjacent public parks were originally divided by gender — Chapman Square was intended for women and children and Lownsdale Square was for men — and were popular with public orators who drew crowds they spoke their piece. Today, these historic squares, originally acquired by the city in 1869, serve as quiet urban oases and feature prominent public art and lots of shade.
Images
In the center of Lownsdale Square stands Soldiers Monument, Douglas Tilden's 1906 sculpture in memory of the Oregonians killed in the Spanish-American War (1898).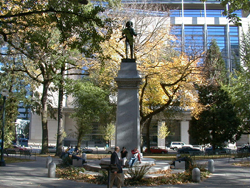 Backstory and Context
Lownsdale is one of two courthouse squares that comprise the Plaza Blocks which are bounded by Third and Fourth Avenues and Salmon and Madison Streets. The north square is named for Kentuckian Daniel H. Lownsdale, who settled in Portland in 1845 when there were fewer than 800 people living in the city. The south square is named for former Iowa territorial legislator and native Virginian William Williams Chapman (1808-1892) who arrived in Portland in 1850.

The Plaza Blocks were lively places where orators held forth and citizens assembled. They are characterized in part by several large old elms and gingko trees. Chapman Square, originally designed for the exclusive use of women and children, features all female gingko trees. Lownsdale Square was to be the "gentlemen's gathering place." Today the Plaza Blocks are still a busy gathering place, although men and women can now safely coexist in either of them.
Between the two Plaza Blocks, Main Street curves around the second oldest sculpture in the Portland metro area - a huge elk fountain given to the city by David P. Thompson. Thompson arrived in Portland driving sheep over the Oregon Trail. He served as Portland's mayor from 1879-1882. One day he looked out of the office window in his New Market Building at the Skidmore Fountain and decided that he wanted to dedicate a fountain to the city as well. As founder and director of the Oregon Humane Society, Thompson's vision for the sculpture was to provide an accessible watering place for "bird, beast, and human." He commissioned Roland Roland Hinton Perry, whose work adorns the Library of Congress and the dome of the Pennsylvania state capitol, to create the sculpture. Local architect H.G. Wright designed the stone base of eastern granite, which included drinking troughs for horses and dogs. In 1900, the 3,000-pound bronze fountain was placed in a site that was a former feeding ground for elk that wandered down from the west hills of the city. The Exalted Order of Elks refused to dedicate it because they considered the statue "a monstrosity of art." Many have tried to have Thompson's elk removed because it can be considered a traffic obstacle, but the statue remains. In 1974, after a debate about disturbing the blocks in order to complement the then-new General Services Building, Thompson's elk and the Plaza Blocks were designated as Historic Landmarks.


Sources
http://www.portlandoregon.gov/parks/finder/index.cfm?&propertyid=243&action=ViewPark